A stay at Straumen Farm
Straumen Farm offers friendly hospitality and scenic surroundings. Guests can stay in the cosy Grandma's House (Bestemorstua) or in one of the geodesic domes that are tucked away in our forest.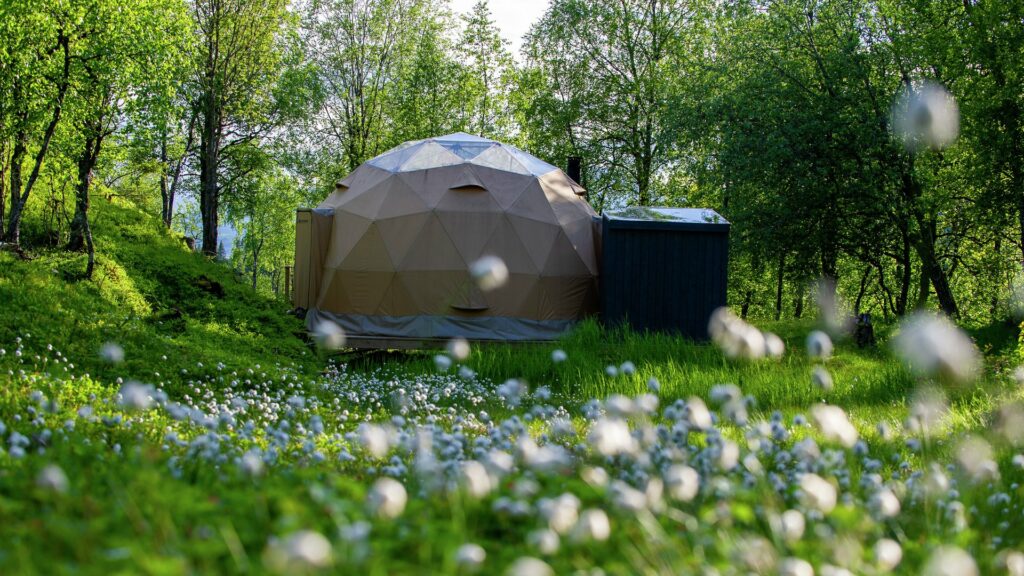 Gjermund Holtet, Build Up Helgeland / Visit Helgeland
Straumen Farm offers friendly hospitality and scenic surroundings. Guests can stay in the cosy Grandma's House (Bestemorstua) or in one of the geodesic domes that are tucked away in our forest.
You may appreciate doing without a TV or the Internet for the duration of your stay, choosing instead to immerse yourself in your beautiful surroundings and the flora and fauna at Straumen. Let your children use the countryside as their playground – and take delight in getting to know the farm animals! You can catch your own dinner in the fjord, or let yourself be inspired by Yoga.
Summer in Helgeland brings bright summer nights, where the sun lingers by the horizon. And there is something deeply peaceful about birdsong from the sky and trees, and the sound of sheep bells from the pastures. Winter has its own charm, with countless stars. If you're lucky you may get to witness the dance of the Northern Lights! Enjoy the magic of an evening shared by the fire.
Domes for couples – Grandma's House for groups and families
For couples, we recommend the cosy and very private quarters in our woodlands. These geodesic domes have large windows let you feel really close to nature. Each unit has a woodstove and a heated bed, both of which you will really appreciate as autumn approaches.
If you are travelling with your family or a group of friends, Bestemorstua (Grandma's House) is the perfect accommodation for you. All in all, there are five attractive bedrooms here and a total of ten very comfortable beds. The bathroom is new and modern. Bestemorstua also has a small meeting room that is well suited for private parties or other events for up to ten people.
The farm has a boathouse that's available for celebrations and private parties. This cosy venue is ideal for gatherings of up to ten people
The food served here is produced right on the farm or locally, and thus naturally varies with the seasons.
Activities
There are great hiking areas right near Straumen Farm. Guests can also rent a boat and go fishing on the fjord, or book a day excursion to the historic mountain farm at Brendberg. At Straumen, you can also sign up for yoga sessions, join us as we bake bread, or make friends with the animals on our farm. If you come in May, you can witness lambs being born and take their first steps onto the lush green fields.
Straumen Farm offers accommodation all year round
In the winter, the domes are best suited for experienced outdoorsmen, as the temperature can drop to several degrees below zero
How to get to Straumen Farm
Straumen Farm is situated 15 km west of Mo i Rana, a town easily reached by plane, train or boat. Alternatively you can take the express boat or Hurtigruten coastal steamer to the village of Nesna, 50 km west of Straumen. Head east on county road Fv810 and take the turnoff at Straumforsen bridge. The farm is situated at the end of that four-kilometre paved road. At the turnoff by the bridge, there are bus stops on both sides of the main road.
Contribute to sustainable tourism
Thank you for respecting the local communities, and for helping us preserve the natural beauty of Helgeland!
Please:
Strive to leave no trace of your visit. Bring back all your rubbish, including used toilet paper, and discard it in the nearest rubbish bin.
Plan your toilet visits and use the opportunity when you pass a toilet. In the wilderness, make sure you are not a nuisance to others.
Respect the local wildlife. Keep a good distance from wildlife, livestock and birds. Keep your dog leashed.
Respect private property. Keep a respectful distance from houses and cabins.
Show good boating sense. Keep a good distance from shore and drive at a low speed, especially when you are close to anyone or anything on the water, including birds or animals. Avoid loud and disturbing engine noise. Be aware that some islands and nature reserves are important nesting sites, and that going ashore is prohibited during the nesting season.
Follow the Norwegian Mountain Code (Fjellvettreglene). Plan your excursion according to the weather forecast, your skills and experience.
Join a guided excursion or consider hiring an experienced guide, especially when you don't have sufficient experience or knowledge to guarantee a safe trip.