3 Kalver - Hearty dining at a farm restaurant
The farm restaurant called 3 Kalver (Three Calves), situated on the island of Dønna, offers satisfying dining in distinctive surroundings. The menu proudly features dishes based on quality local ingredients.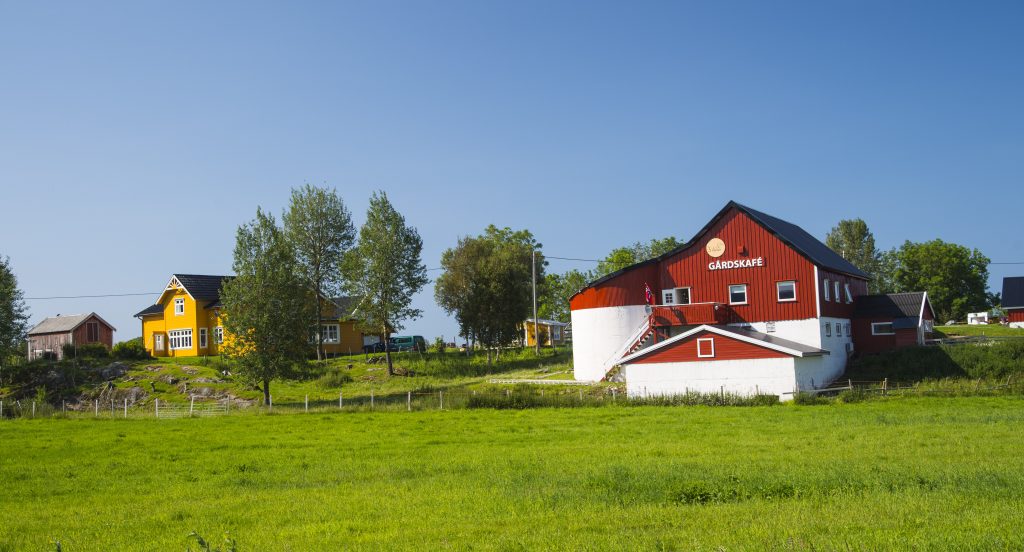 Olav Breen / 3 Kalver
The restaurant is situated in a refurbished old barn, which lends a warm and rustic ambience to the dining venue. Here you are served dishes made according to local traditions and time-honoured recipes, of prime ingredients from local producers right here on the island of Dønna and from elsewhere in Helgeland. The farm's own bread is baked in a stone oven out in the yard.
The story behind the restaurant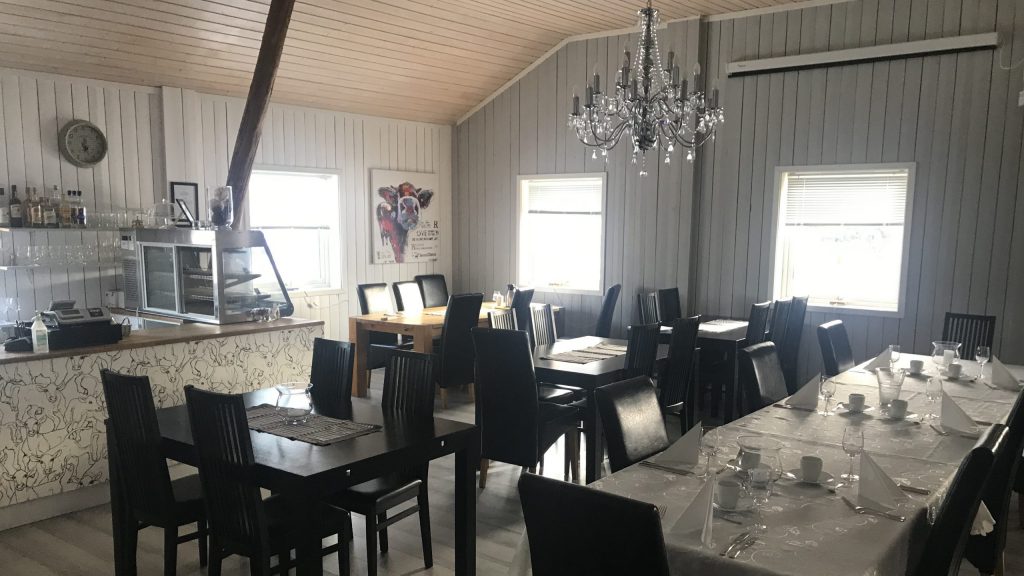 Despite the restaurant's name, veal is not on the menu. The 3 Kalver comes from the chef's childhood memories from his family farm. When the cow Dagros was about to give birth, the then 10-year-old boy Dag was at school – as soon as the bell rang, he ran home to the farm. There, in the barn, he stared in amazement at the sight of Dagros' three calves. Triplet are extremely rare, happening perhaps once in ten thousand bovine births. And not in Dag's wildest dreams did he imagine his cow would bear three calves at once.
In the summer of 2010, when he opened his farm restaurant, the name was clear. It had to be "3 Kalver" – but never would there be any veal on the menu!
Accommodation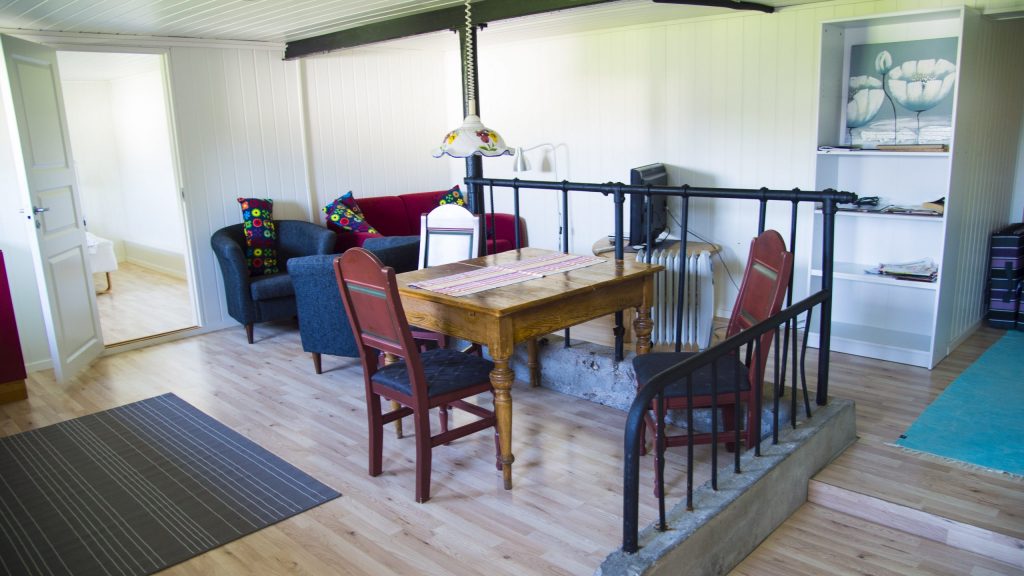 The farm also offers accommodation. There are three cosy, fully-equipped apartments below the farm restaurant. Each apartment has one bedroom with two beds and is based on self-catering. As a guest, you also have the option of staying in Solfjeldbrygga, which is situated right on the sea. Also fully equipped, it has three bedrooms with a total of six beds. Here you can enjoy your morning coffee on the wharf.
In addition, the farm has eight spots for caravans and campers, with power hookups. There is a facility for emptying your caravan sewage tank. You also have access to a service facility with a well-equipped kitchen for preparing your own meals, showers and toilets.
The farm and its distinctive restaurant are situated at Solfjellsjøen on the island of Dønna, about 10 km north of the Bjørn ferry quay.
Vær og klær for Helgeland
Været på Helgeland kan variere mye, og på sommeren kan temperaturen være alt fra 15 til 30 grader, og regnet kan gjerne komme og gå i «ærlinger», eller «byger» som det heter sørpå. Vi anbefaler at du pakker både allværsjakke og badeklær, fjellsko og sandaler, så du er klar for det meste.
Om vinteren varierer temperaturen gjerne fra +5 til minus 15. Hvis du skal være mye ute, er ullundertøy og vindtette klær dine beste venner. Kle deg etter trelagsprinsippet med et innerlag, mellomlag og ytterlag. Tykk lue og tykke hansker eller votter er spesielt anbefalt hvis du skal på være ute med lavt aktivitetsnivå, for eksempel hvis du skal se på nordlyset.
Contribute to sustainable tourism
Thank you for respecting the local communities, and for helping us preserve the natural beauty of Helgeland!
Please:
Strive to leave no trace of your visit. Bring back all your rubbish, including used toilet paper, and discard it in the nearest rubbish bin.
Plan your toilet visits and use the opportunity when you pass a toilet. In the wilderness, make sure you are not a nuisance to others.
Respect the local wildlife. Keep a good distance from wildlife, livestock and birds. Keep your dog leashed.
Respect private property. Keep a respectful distance from houses and cabins.
Show good boating sense. Keep a good distance from shore and drive at a low speed, especially when you are close to anyone or anything on the water, including birds or animals. Avoid loud and disturbing engine noise. Be aware that some islands and nature reserves are important nesting sites, and that going ashore is prohibited during the nesting season.
Follow the Norwegian Mountain Code (Fjellvettreglene). Plan your excursion according to the weather forecast, your skills and experience.
Join a guided excursion or consider hiring an experienced guide, especially when you don't have sufficient experience or knowledge to guarantee a safe trip.