KRED Pub & Café in Brønnøysund
This is the most popular venue for local musicians as well as established artists. The pub has a big-city feel to it, and when you're hungry, the chef offers tasty dishes. KRED is also popular as a stand-up stage, the place to watch the football game, and for its Quiz Evenings.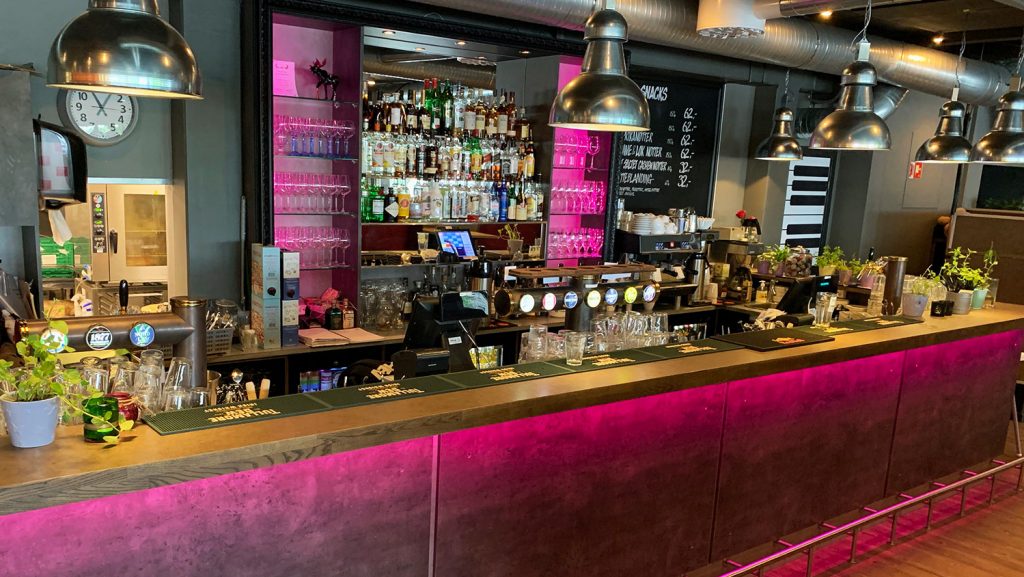 Kred Pub&Cafè
The place to go
KRED's popularity with the locals tells you everything you need to know, and this is the place to mingle with them. The owners wanted to create a cultural venue with broad appeal – and they have succeeded in doing just that.
A culture venue, pub and café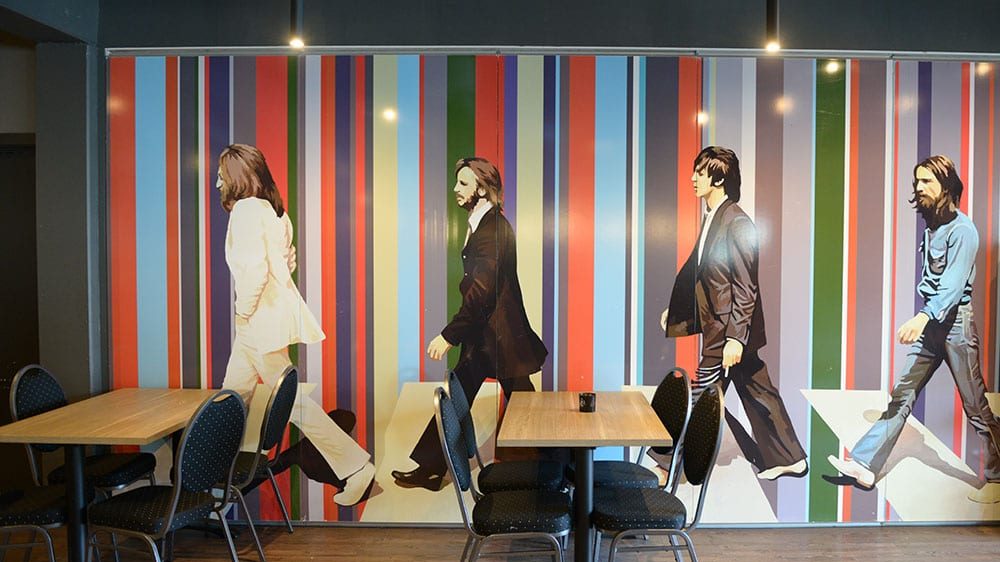 KRED offers a stage for many types of performances. And drop in for a cup of coffee or a bite to eat. The natives will give impassioned and varied descriptions of KRED, but suffice it to say that this is where they bring good friends for a cold foaming pint, good conversation over a meal, a live concert or a literary reading.
Tellingly, oversized images of electric guitars adorn the north wall, facing the Beatles on the opposite wall, while a luminous drum hangs from the ceiling. Music is the soul of KRED.
Roots festival
One of the owners is a key organiser of Brønnøysund's annual Roots Festival.
KRED is a versatile venue situated on Storgata, the main street in the heart of Brønnøysund. The concerts draw audiences of up to 400 people. The hosts at KRED Pub & Café would be happy to help organise a private event for you, whatever the occasion.
To find out more about Kred Pub & Café's programme of concerts and events, please visit their and activity program on their Facebook page.
KRED arranges concerts with up to 400 guests, but is happy to rig the tough venues for social teams, groups of friends, large families, or companies that will celebrate small and large occasions.
Read more about Kred Pub and Cafè's concert and activity program on their Facebook page.
Contribute to sustainable tourism
Thank you for respecting the local communities, and for helping us preserve the natural beauty of Helgeland!
Please:
Strive to leave no trace of your visit. Bring back all your rubbish, including used toilet paper, and discard it in the nearest rubbish bin.
Plan your toilet visits and use the opportunity when you pass a toilet. In the wilderness, make sure you are not a nuisance to others.
Respect the local wildlife. Keep a good distance from wildlife, livestock and birds. Keep your dog leashed.
Respect private property. Keep a respectful distance from houses and cabins.
Show good boating sense. Keep a good distance from shore and drive at a low speed, especially when you are close to anyone or anything on the water, including birds or animals. Avoid loud and disturbing engine noise. Be aware that some islands and nature reserves are important nesting sites, and that going ashore is prohibited during the nesting season.
Follow the Norwegian Mountain Code (Fjellvettreglene). Plan your excursion according to the weather forecast, your skills and experience.
Join a guided excursion or consider hiring an experienced guide, especially when you don't have sufficient experience or knowledge to guarantee a safe trip.