Hildurs Urterarium - Culinary adventures
Hildurs Urterarium is far more than a restaurant. It is a lush oasis imbued with life and personality, offering guests a respite from their busy lives and a unique dining experience shared with friends or family. Restaurant Sagastuen and the old parlour have an ambience that gives visitors a taste of bygone times.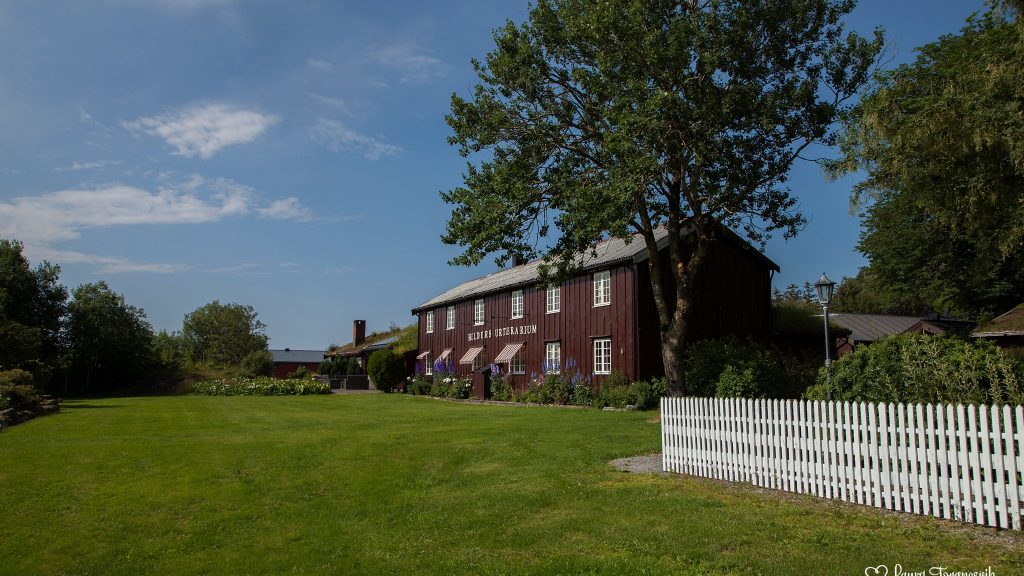 Laura Torgnesvik
Hildurs Urterarium
Hildurs is situated at Tilrem, about 7 km north of Brønnøysund. It has been in the same family for generations, first as a farm and now as a very special place that attracts visitors from far and wide. There is a year-round restaurant, an impressive herb garden, a summer café, and accommodation. You can spend all day exploring outdoors and indoors, and sleep with a satisfied smile on your face.
Restaurant Sagastua
The restaurant décor is inspired by Tilrem's long and colourful history. Guests are seated at a long table before the fireplace. The chef uses the very best local ingredients and wholesome recipes. There is great emphasis on personal service and ensuring that each guest has a memorable dining experience in relaxing surroundings. Each evening during the summer, a five-course menu is offered. Reservations required. In the summer, guests have the option of enjoying Hildurs' legendary herb pizza in the garden café.

Hildurs Urterarium is also known for its theme nights and Christmas dinners.
"Finstua" – the parlour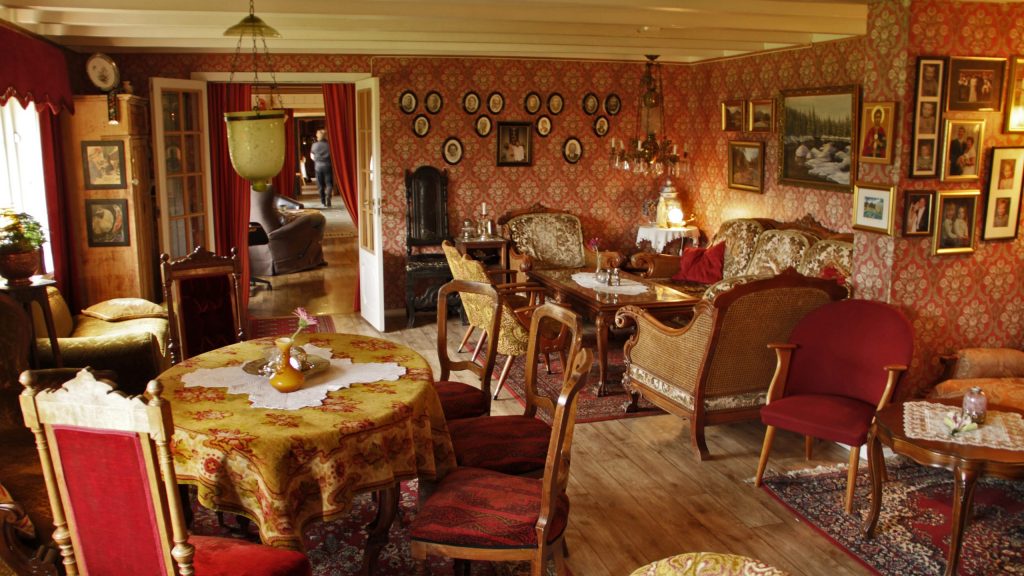 Hildurs has a very special atmosphere found only in old houses. It parlour is decorated with furniture with brocade upholstery, old family photographs and objects from a bygone era.
It's a place to relax and immerse yourself in your surroundings and engage in good conversation, while enjoying tea or coffee or a good drink.
The garden café
Hildurs' conference facility is situated in the middle of the herb garden. In the summer, this is used as a café. Visitors are welcome to drop in – no reservations necessary. On the menu is the legendary stone-baked herb pizza, and a dish called "moose in a blanket", cakes and more. In the café you will also find the farm shop that sells the herbs grown at Hildurs Urterarium, other locally-produced foods, knick-knacks, handicrafts and art.
The herb garden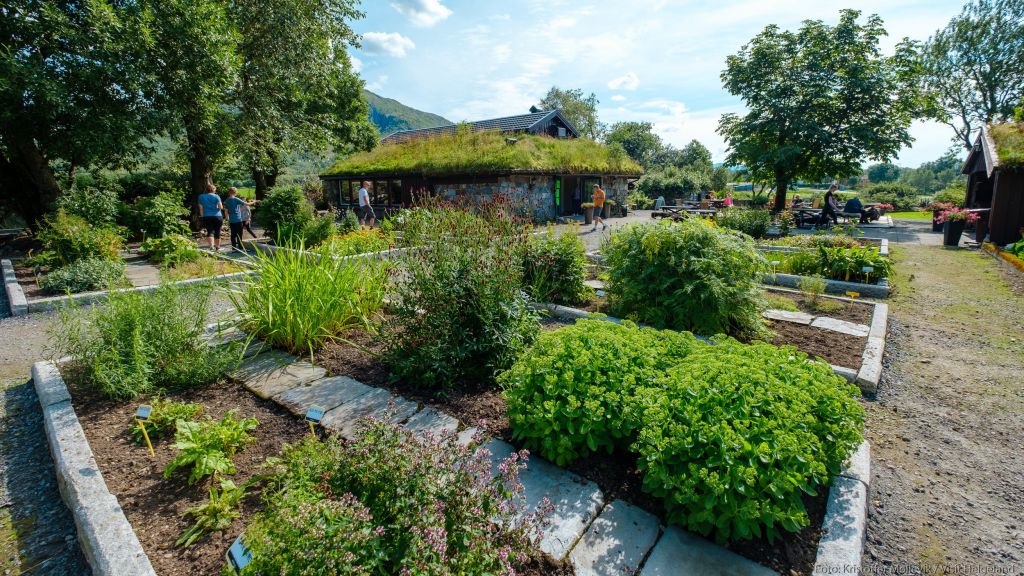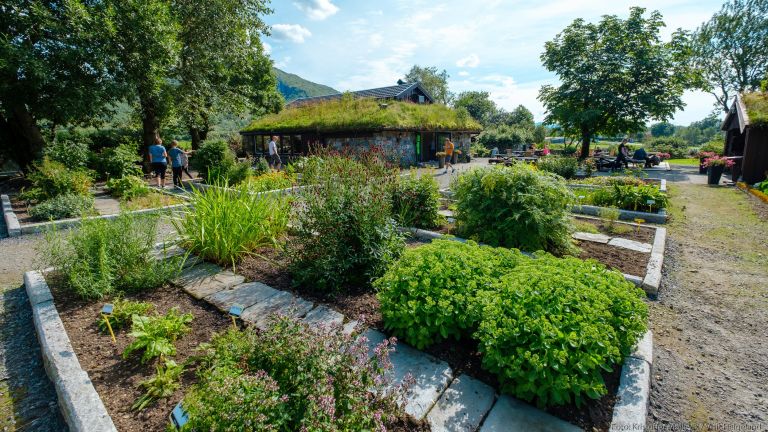 Hildurs' herb garden is both utilitarian and ornamental. It produces herbs for the restaurant and is to be enjoyed by guests. Feel free to stroll around the garden, and to look closely at and feel the scent of the 150 plant species found here. There are separate sections for culinary herbs, medicinal herbs and poisonous plants – and there is even a Biblical Garden. As you explore the farm, you will see that the herb garden is surrounded by roses, rhododendrons and colourful perennials.
An alternative to walking is to choose a tempting spot in the garden and just sit, enjoying the fragrant herbs and the birdsong, perhaps while eating a lunch ordered from the Garden Café.
Accommodation
Since the summer of 2020, Hildurs Urterarium has offered accommodation. The loft of the main house has charming rooms that are rented out to guests. Considering combining a five-course meal in the restaurant with an overnight stay.
For further details about accommodation at Hildurs Urterarium, please visit their website.
Here you can read more about the accommodation at Hildurs Urterarium
Restaurant Sagastuen is open all year. Here you can enjoy the most delicious lunch dishes to 7-course menus.
The summer café located by Urtehagen is open 12-17 every day in July.
At Hildurs you can sleep well all year round!
Hildurs Urteraium is located on Tilrem, 7 km from Brønnøysund city center.
We recommend booking a table for a visit to Restaurant Sagastuen.
Contribute to sustainable tourism
Thank you for respecting the local communities, and for helping us preserve the natural beauty of Helgeland!
Please:
Strive to leave no trace of your visit. Bring back all your rubbish, including used toilet paper, and discard it in the nearest rubbish bin.

Plan your toilet visits and use the opportunity when you pass a toilet. In the wilderness, make sure you are not a nuisance to others.

Respect the local wildlife. Keep a good distance from wildlife, livestock and birds. Keep your dog leashed.

Respect private property. Keep a respectful distance from houses and cabins.

Show good boating sense. Keep a good distance from shore and drive at a low speed, especially when you are close to anyone or anything on the water, including birds or animals. Avoid loud and disturbing engine noise.

Be aware that some islands and nature reserves are important nesting sites, and that going ashore is prohibited during the nesting season.

Follow the Norwegian Mountain Code (Fjellvettreglene). Plan your excursion according to the weather forecast, your skills and experience.

Join a guided excursion or consider hiring an experienced guide, especially when you don't have sufficient experience or knowledge to guarantee a safe trip.