A hiking adventure: Summit hike to Dønnamannen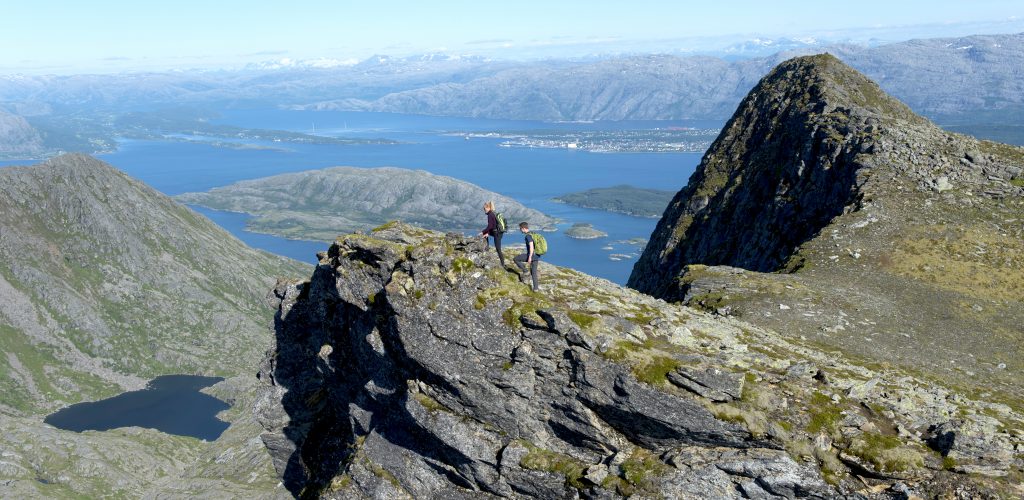 The view from the top of Dønnamannen (858 m), a mountain on the island of Dønna off the town of Sandnessjøen, is quite simply breathtaking. It's a panorama that you can enjoy for many hours. However, the summit hike is very demanding, and is only recommended for experienced mountain hikers.
Key info
Degree of difficulty: Extremely demanding. The path is very steep and can be slippery after rain.
Distance one way: 4.5km
Ascent one way: 858 m
Duration one way: about 3 hours
Wheelchair and pram friendly: No.
Trailhead: The most scenic ascent is from Breivika beach, up the northwestern face of Dønnamannen. (The trails from Einvika to the southwest, and from Teistadvika on the east side, are closed and no longer used.)
Find parking and the trailhead in Google Maps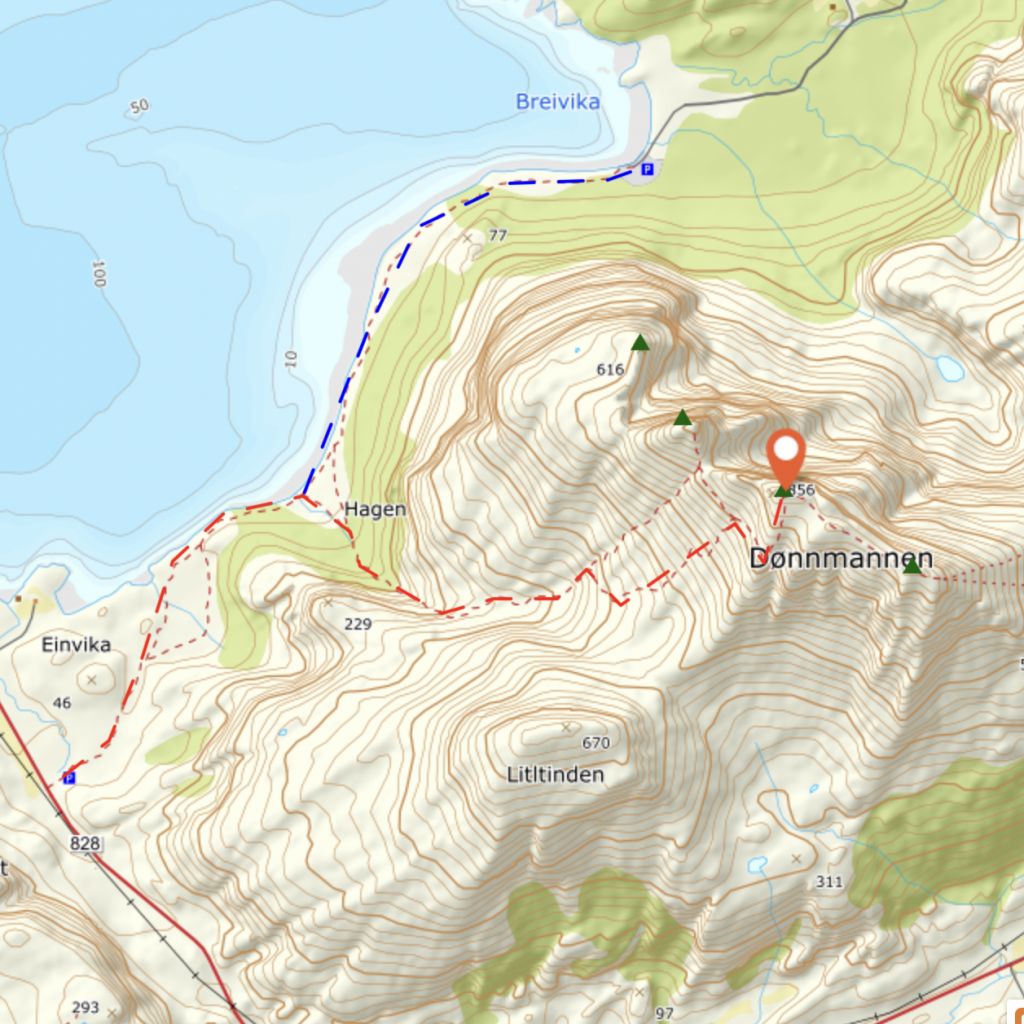 Description of your hike
This renowned mountain is a tempting destination for those yearning for a challenge. Many hikers consider Dønnamannen to be just as challenging as the most difficult peaks of the Seven Sisters. This hike requires that you be used to rough mountain wilderness, and that you don't suffer from vertigo.
From the trailhead at Breivika beach, the first kilometre of your hike passes through flat terrain, before starting a serious climb that is steep all the way to the top. The hiking trail follows a stream through the forest for 400 metres before reaching a small plateau. This is a good place to refill your water bottles.
Dønnamannen looks like the face of a man lying on his back – and indeed, according the legend, the "Dønna man" is lying on his back, taking a nap next to the Seven Sisters. The mountain actually consists of three peaks: Nasen (the nose), Leppa (the lip) and Haka (the chin), with the Lip protruding highest. The most popular peak is the Nose, but once you're up there you might well consider visiting all three. At the summit, your reward is a stunning panorama of large swathes of the Helgeland coast.
You must exercise the utmost caution! The rock can be slippery when wet. Also note that at several points you are very close to the precipice, so be sure to stay on the trail. And do remember that here on the coast, the fog can arrive suddenly, drastically reducing your visibility.
Discover more hiking adventure