A RIB sea-rafting trip around Torghatten
Sea Adventure Helgeland offers to take you on an unforgettable RIB voyage around Torghatten, the legendary mountain with a hole through it. We will explore part of Helgeland's magnificent coastal archipelago. The voyage is also an opportunity to see the birdlife and the coastal culture of Brønnøy up close.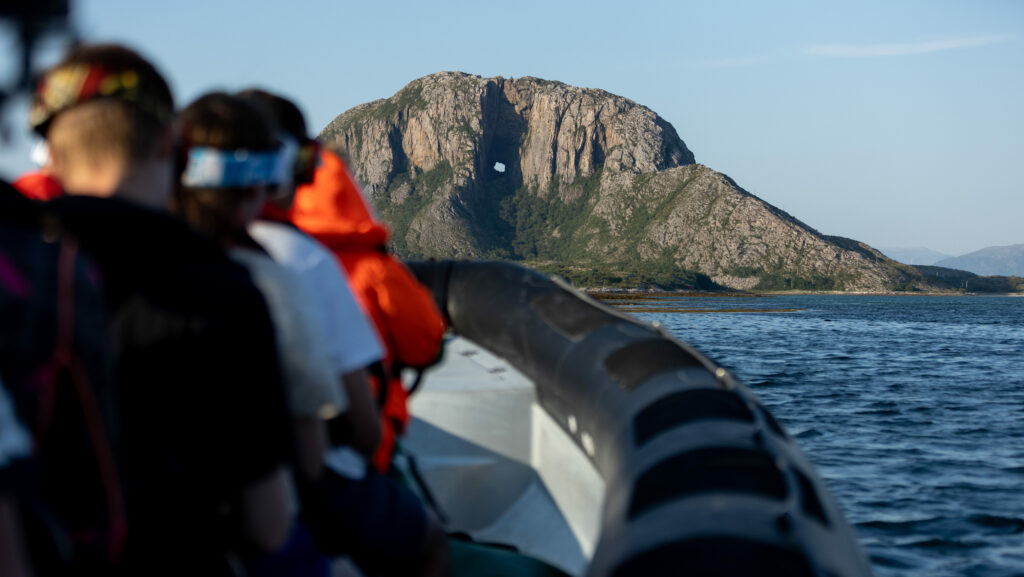 Sea Adventure Helgeland
We invite you to join an unforgettable RIB sea-rafting trip around the legendary Mount Torghatten, and to explore a beautiful part of Helgeland's archipelago up close! It's a great way to see scenic islands, birdlife and marine life up close – an adventure you will never forget!
This excursion, which starts at the quay called Kongebrygga in Brønnøysund, takes about an hour and a half. I our RIB sea raft we'll chart a course past the historic lighthouse at Prestøya, speed through beautiful sound of Toftsundet, and circle Torghatten, so you can see from every angle the famous mountain with a hole through it. It's a very different experience to see this beautiful part of the Helgeland coast from the sea.
There is amazingly rich and varied birdlife on the islets and waters that we explore. On this excursion it is very likely that you will see sea eagles up close. Moreover, your adventure will be enriched by the stories and insights shared by the knowledgeable guides from Sea Adventure Helgeland.
Sea Adventure Helgeland equips all participants with inflatable life jackets, goggles and a flotation suit.
Be sure to bring clothing that is appropriate for the weather to wear under the coveralls. Even on a hot summer day, it can be quite cool on the sea, especially when the RIB sea raft is ploughing through the waves at high speed. We recommend warm boots and a light hat.
Contribute to sustainable tourism
Thank you for respecting the local communities, and for helping us preserve the natural beauty of Helgeland!
Please:
Strive to leave no trace of your visit. Bring back all your rubbish, including used toilet paper, and discard it in the nearest rubbish bin.

Plan your toilet visits and use the opportunity when you pass a toilet. In the wilderness, make sure you are not a nuisance to others.

Respect the local wildlife. Keep a good distance from wildlife, livestock and birds. Keep your dog leashed.

Respect private property. Keep a respectful distance from houses and cabins.

Show good boating sense. Keep a good distance from shore and drive at a low speed, especially when you are close to anyone or anything on the water, including birds or animals. Avoid loud and disturbing engine noise.

Be aware that some islands and nature reserves are important nesting sites, and that going ashore is prohibited during the nesting season.

Follow the Norwegian Mountain Code (Fjellvettreglene). Plan your excursion according to the weather forecast, your skills and experience.

Join a guided excursion or consider hiring an experienced guide, especially when you don't have sufficient experience or knowledge to guarantee a safe trip.