Velfjordferie - A holiday stay for guests who love fishing!
Velfjordferie is beautifully situated by the fjord, with great fishing spots and hiking trails nearby! The area lies just south of the Arctic Circle, which means you have daylight virtually round-the-clock, from mid-May to the end of July. Fishing is especially popular at "night", when the wind dies down and the sea often is calm as a mirror.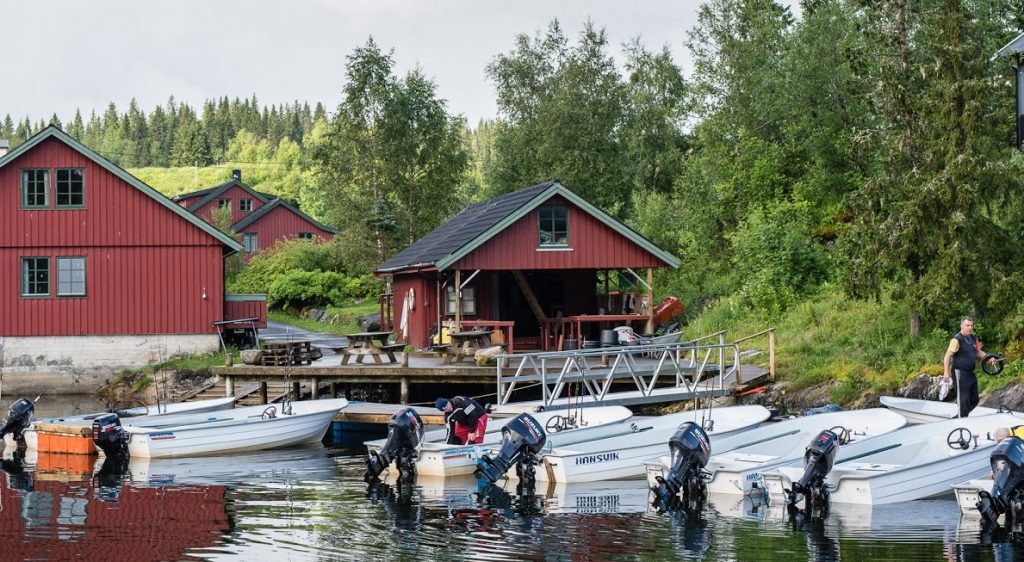 Velfjordferie
Holiday accommodation – and fishing and hiking in the national park
Velfjord offers a multitude of possibilities for outdoor activities and nature experiences. The varied scenery will tempt you with many types of excursions and adventures, in winter as well as summer.
Velfjord's great hiking terrain is just as ideal for families as for hikers looking for a serious challenge. Lomsdal-Visten National Park is just one of many options.
You can read more about Lomsdal-Visten National Park here.
For hikers, we especially recommend a visit in September–October, to enjoy the fiery autumn colours and crystal-clear air.
With water on two sides, the Velfjordferie complex has been continually improved since it was restored and given its current form in 1993. There is a private marina, and 20 boats are available for hire.
Accommodation
The resort offers holiday apartments in its main building and annex, with units accommodating between two and nine persons. The beds are very comfortable and each guest has a personal closet. Every apartment has a large, well-equipped kitchen and a spacious bathroom, satellite TV and WiFi.
In total, they have beds for 46 people in single beds and with a maximum of 2 people per room, divided into 12 apartments. Beds made – box spring mattresses 90 cm or more. Each guest has their own closet. All apartments have spacious bathrooms and kitchens, satellite TV and wireless internet. The kitchen is well equipped.
Velfjordferie is located in the "center" of Hommelstø in the Velfjord. It is 36.8 km from Brønnøysund city center.
Contribute to sustainable tourism
Thank you for respecting the local communities, and for helping us preserve the natural beauty of Helgeland!
Please:
Strive to leave no trace of your visit. Bring back all your rubbish, including used toilet paper, and discard it in the nearest rubbish bin.

Plan your toilet visits and use the opportunity when you pass a toilet. In the wilderness, make sure you are not a nuisance to others.

Respect the local wildlife. Keep a good distance from wildlife, livestock and birds. Keep your dog leashed.

Respect private property. Keep a respectful distance from houses and cabins.

Show good boating sense. Keep a good distance from shore and drive at a low speed, especially when you are close to anyone or anything on the water, including birds or animals. Avoid loud and disturbing engine noise.

Be aware that some islands and nature reserves are important nesting sites, and that going ashore is prohibited during the nesting season.

Follow the Norwegian Mountain Code (Fjellvettreglene). Plan your excursion according to the weather forecast, your skills and experience.

Join a guided excursion or consider hiring an experienced guide, especially when you don't have sufficient experience or knowledge to guarantee a safe trip.