An exciting family rafting trip with RiverNorth
Join the fun activities, on the river and on shore, with RiverNorth at Trofors!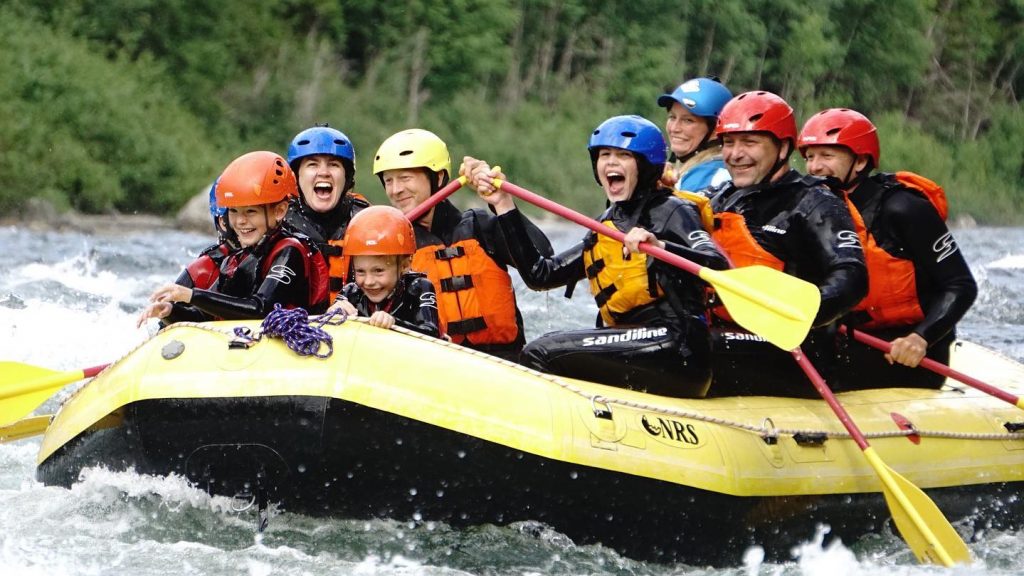 RiverNorth
RiverNorth's Family Rafting Trip, which is suitable for families with children from age six, is incredibly popular. Their guide will lead you through exciting rapids – and if you want, you can also swim and try to follow the river's flow. This trip is sure to please everyone in your family, young and old. It's an adventure you will remember for the rest of your life!
Depending on the water level and which location offers better conditions, the Family Rafting Trip take place on the river Svenningelva or on the eastern branch of the Vefsna river. All in all, the rafting adventure takes about 3.5 hours, from the time you put on your wetsuit until you're finished, towelled dry and changed clothes again.
RiverNorth Rafting always has two guides on each of its rafting trips, and they have an uncompromising focus on safety. While the age minimum for the Wilderness Expeditions is 16 years, and 14 years for the Half-Day and Full-Day Rafting Adventures, anyone who is at least six years of age is welcome to go on the Family Rafting Trips.
The family-friendly trips take place on a river rated as Easy to Moderately Difficult. While much of it flows gently, there will be waves and beautiful rapids that are sure to bring forth a satisfied smile on young and old. It's also worth noting that RiverNorth has a beautiful but simple camp on the river, where you can set up a tent or rent a spot for your camper or caravan.
Season and practical information
The half-day rafting adventure is offered from 15 May through 1 October.
Bring woollen or thermal underwear, and thin woollen socks to wear under your wetsuit. Also bring a towel to use after the trip.
They'll lend you a wetsuit, helmet and life jacket, but you must bring your own sneakers or other footwear that can withstand getting wet.
Minimum age is 6 years.
Max weight for this river rafting adventure: 120 kg (264 lbs)
Contribute to sustainable tourism
Thank you for respecting the local communities, and for helping us preserve the natural beauty of Helgeland!
Please:
Strive to leave no trace of your visit. Bring back all your rubbish, including used toilet paper, and discard it in the nearest rubbish bin.
Plan your toilet visits and use the opportunity when you pass a toilet. In the wilderness, make sure you are not a nuisance to others.
Respect the local wildlife. Keep a good distance from wildlife, livestock and birds. Keep your dog leashed.
Respect private property. Keep a respectful distance from houses and cabins.
Show good boating sense. Keep a good distance from shore and drive at a low speed, especially when you are close to anyone or anything on the water, including birds or animals. Avoid loud and disturbing engine noise. Be aware that some islands and nature reserves are important nesting sites, and that going ashore is prohibited during the nesting season.
Follow the Norwegian Mountain Code (Fjellvettreglene). Plan your excursion according to the weather forecast, your skills and experience.
Join a guided excursion or consider hiring an experienced guide, especially when you don't have sufficient experience or knowledge to guarantee a safe trip.