Forvik Old Trading Post
The old trading post at Forvik in Vevelstad, which dates back to 1792, is beautifully situated on the sea along route Fv17. Accommodation in charming surroundings is offered in the oldest building, Grålåna. There is a restaurant in Naustloftet, and a coffee roastery in the old general store. People often gather in Brygga, the wharf building, to enjoy the long bright summer evenings.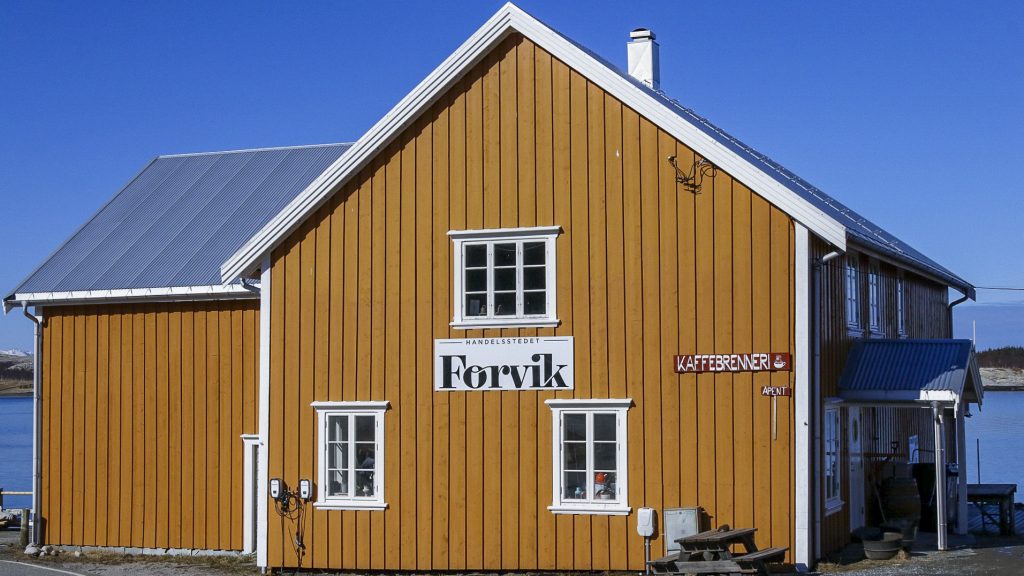 Handelsstedet Forvik
A historic place on the Helgeland coast
Forvik Old Trading Post has drawn people for more than 200 years. If you stay in Grålåna, its ambience will really give you a sense of this history. This close to the Arctic Circle, the summer evening stays bright almost until midnight. Naustloftet restaurant serves hearty dishes based on local traditions. A visit to the coffee roastery next door is recommended.
Accommodation in Grålåna
Grålåna, a historic house built around 1750, has been faithfully refurbished. Five rooms are available for guests. There is a shared bathroom, a cosy common lounge and a fully-equipped kitchen.
For guests who are travelling with a camper or caravan, or staying in their own tent, a small quiet campsite with simple facilities is available.
Matopplevelser i Naustloftet
Handelsstedet har sin egen restaurant Naustloftet, helt i sjøkanten.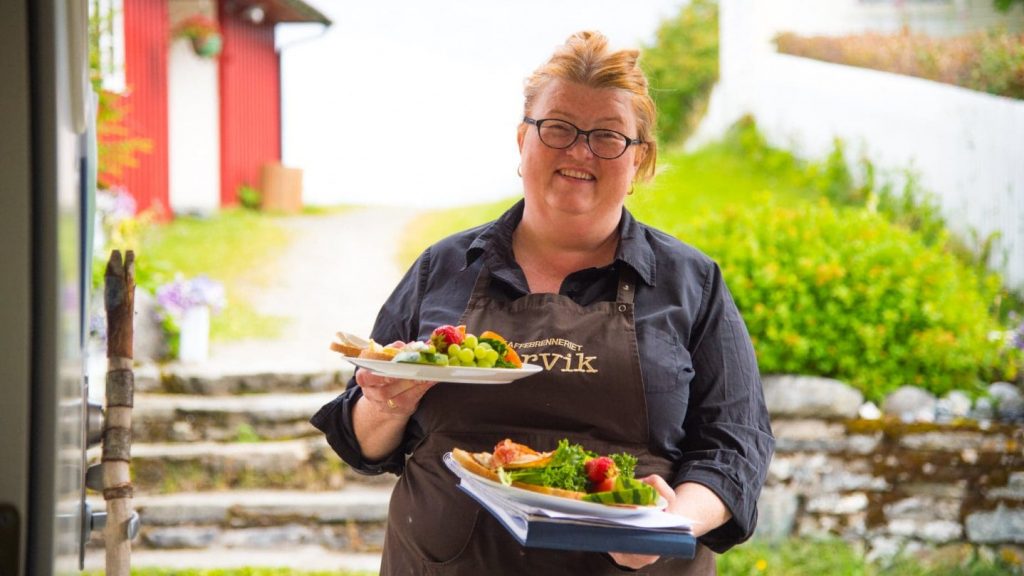 Den er åpen hver dag hele sommeren.
Restauranten byr på lokal tradisjonsmat i koselige omgivelser.
Spør Hanne om hun har boknafisk, anbefales!
Dining in Naustloftet
Forvik Old Trading Post has its own seaside restaurant, Naustloftet, which is open daily during the summer. Hearty traditional fare served in charming surroundings. Ask Hanne if she has boknafisk on the menu, a dish made from wind- and sun-dried cod, a Northern Norwegian delicacy!
Private parties – and dancing on the quay
Events and private parties may be held in Brygga, which is also where an annual dance is held. Here, well-preserved elements from a traditional wharf add to the ambience. Be sure to visit the coffee roastery next door.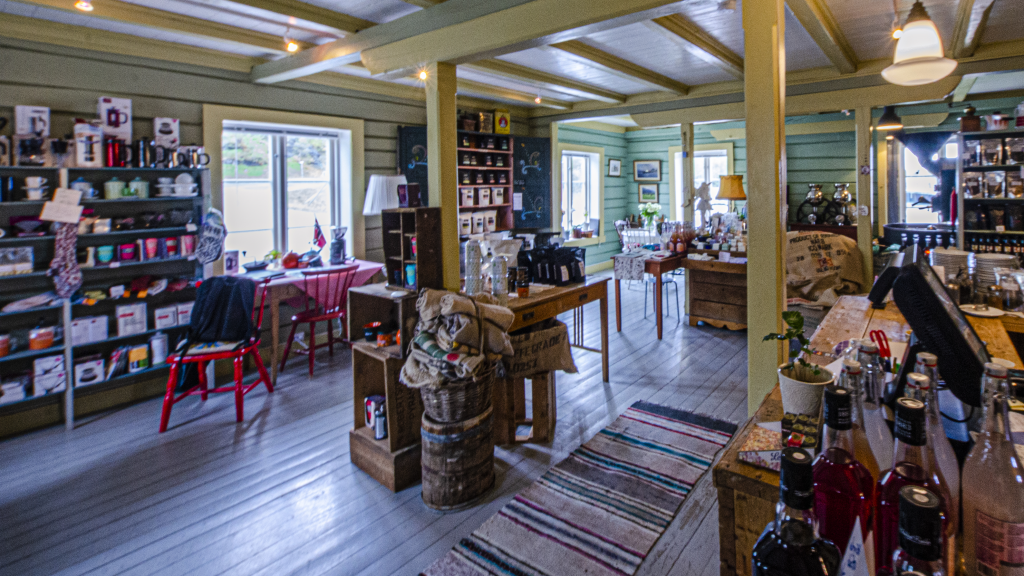 The coffee roastery
The old general store now houses a coffee roastery. Here you can enjoy a sublime cup of coffee – whether you prefer espresso, a blend or coffee brewed from single-estate beans. The venue still has the ambience of a country store. Here you can buy tea, chocolates, sweets, coffee and coffee-making equipment.
At Forvik Old Trading Post you can really sense the history in the walls. Enjoy the tranquillity, and a holiday with a slower pace.
At Vevelstad you will find several hiking trails, and you can try your luck fishing from the shore. Also consider a visit to Vevelstad Folk Museum, situated just 1 km from Forvik Old Trading Post.
How to get to Forvik Old Trading Post
The Forvik Old Trading Post near the Forvik ferry quay. From Brønnøysund, it is a 26-km drive along Fv17, plus a ferry crossing. From Sandnessjøen, you have 56-km drive on Fv17, and a ferry crossing.
The weather and what to wear in Helgeland
Summer:
The summer weather on the Helgeland coast can vary a lot, with temperatures typically ranging from 15 to 30˚C – and summer showers are not unknown. We recommend that you bring swimwear as well as an all-weather jacket, and both hiking boots and sandals. In other words, be ready for every kind of weather.
Winter:
In winter, temperatures vary from –15 to 5˚C. If you intend to enjoy outdoor adventures, we recommend packing woollen underwear and windproof outerwear. By layering the garments you wear, you can quickly adjust to any change in the weather. We also recommend thick gloves or mittens, a good scarf and a warm hat, especially if you expect to be spending a lot of time outside, for instance if you are trying to catch the Northern Lights.
A focus on sustainability
At Forvik Old Trading Post, the proprietor's focus on sustainability is expressed in many ways. In the coffee roastery are old chairs, decorative pillows, tables and lamps used by generations of past residents.
Burlap bags that once held coffee beans can be used to make many things. Perhaps you have ideas for your own design?
And naturally the trading post has charging stations for electric cars. In fact, the staff use an electric car when delivering Forvik's popular coffee to local offices and businesses.