Christmas weekend in Mosjøen 
In the second weekend of December, the town of Mosjøen invites you to a heart-warming Christmas experience! The friendly town decorates the charming wooden houses of its historic town centre with lights, and fills its streets with music and elves! Explore booths where craftsmen and merchants offer their wares, warm yourself before the fire in a lavvo, and dine on traditional Norwegian Christmas fare.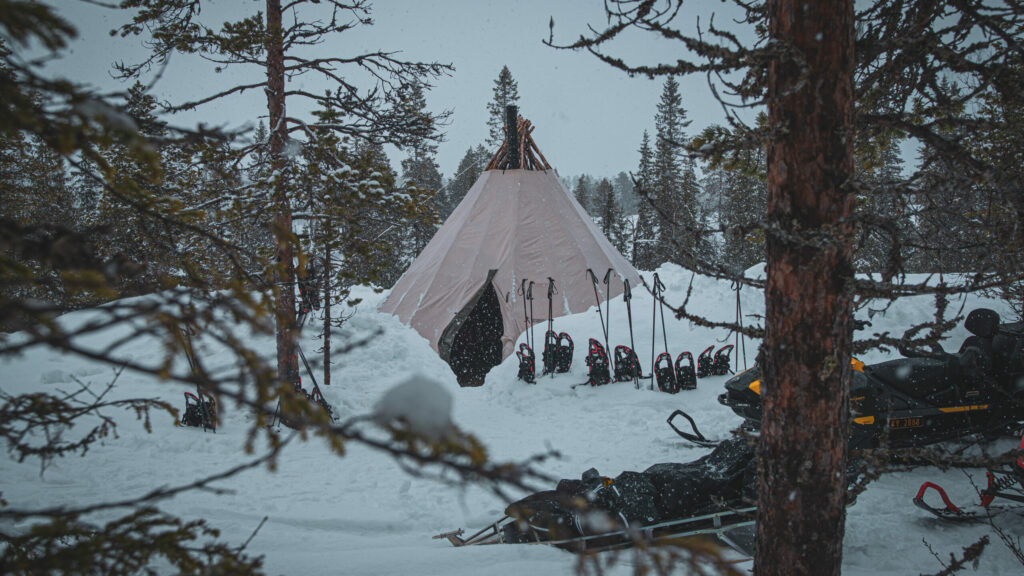 Broadstone
It all starts with a Wilderness Evening on Friday, where you are invited to savour a delicious wilderness stew in a lavvo, the tent of the Sámi reindeer herders. It's a hearty and deeply warming meal, and the evening is spiced by storytellers. Dessert is served with coffee brewed over the fire.
Saturday is celebrated with a Christmas market, where stalls are filled with goods from local craftsmen, artists, farmers and other food producers. It's a great opportunity to buy a unique gift for someone you love, or to treat yourself to something special. The real joy, however, is simply to stroll the historic Sjøgata street, which is lined by charming 19th-century wooden houses, feel the atmosphere, visit the exhibition of gingerbread houses, sip a mug or two of gløgg (a traditional mulled wine), or perhaps even catch a movie at the outdoor cinema.
After the Christmas Market on Saturday, it's time to return to Mosjøen Hotel for a traditional Norwegian Christmas dinner. Also on offer is a Christmas concert with Lars Bremnes and Maria Haukaas Mittet at the Mosjøen Cultural Centre. Be sure to buy your concert tickets early.
Most Norwegian shops are closed on Sundays. However, this Sunday is special – and the shops near the town square and along the waterfront will be open from 2 to 6 pm. Seize the opportunity to buy a few more Christmas presents while supporting local merchants.
Before you leave for home or depart Mosjøen to continue your travels, perhaps HiNorth can tempt you to join us for a cave adventure, to hunt for the Northern Lights, a snowshoeing trip, or a barbecue with storytelling at Marsøra.
Contact
Les mer og bestill
Miljøsertifisert
Mosjøen lies along highway E6. The town has a train station and an airport.
For driving directions, see Google Maps
To plan your journey here by train, bus or plane, please visit Entur.no
Bus connections:
Mo i Rana
Sandnessjøen
Brønnøysund
Distances and driving times by car:
From Mo i Rana: 87 km, 1 hour and 15 minutes
From Sandnessjøen: 64 km, 1 hour
From Brønnøysund: 154 km, 2 hours and 30 minutes
From Bodø, via highway E6: 315 km, 4 hours and 30 minutes
From Trondheim, via highway E6: 389 km, 5 hours and 30 minutes
Depending on the winter weather and altitude, the temperature may vary from zero to –20˚C (32˚ to –4˚F). For outdoor activities, we highly recommend woollen or thermal underwear, combined with windproof outer garments, and that you layer your clothing with an inner layer, a middle layer, and the windproof outer layer.
Thick warm headwear and gloves or mittens are strongly recommended, especially if your chosen adventure has a lower level of activity, such as when you're "hunting" for the Northern Lights.
Contribute to sustainable tourism
Thank you for respecting the local communities, and for helping us preserve the natural beauty of Helgeland!
Please:
Strive to leave no trace of your visit. Bring back all your rubbish, including used toilet paper, and discard it in the nearest rubbish bin.

Plan your toilet visits and use the opportunity when you pass a toilet. In the wilderness, make sure you are not a nuisance to others.

Respect the local wildlife. Keep a good distance from wildlife, livestock and birds. Keep your dog leashed.

Respect private property. Keep a respectful distance from houses and cabins.

Show good boating sense. Keep a good distance from shore and drive at a low speed, especially when you are close to anyone or anything on the water, including birds or animals. Avoid loud and disturbing engine noise.

Be aware that some islands and nature reserves are important nesting sites, and that going ashore is prohibited during the nesting season.

Follow the Norwegian Mountain Code (Fjellvettreglene). Plan your excursion according to the weather forecast, your skills and experience.

Join a guided excursion or consider hiring an experienced guide, especially when you don't have sufficient experience or knowledge to guarantee a safe trip.