A guided snowmobile adventure with Hi North 
Go on an exciting winter adventure in the magnificent snow-covered mountains of Helgeland. The guided excursion explores several of the most beautiful mountain areas as we speed along Helgeland's extensive snowmobile trails.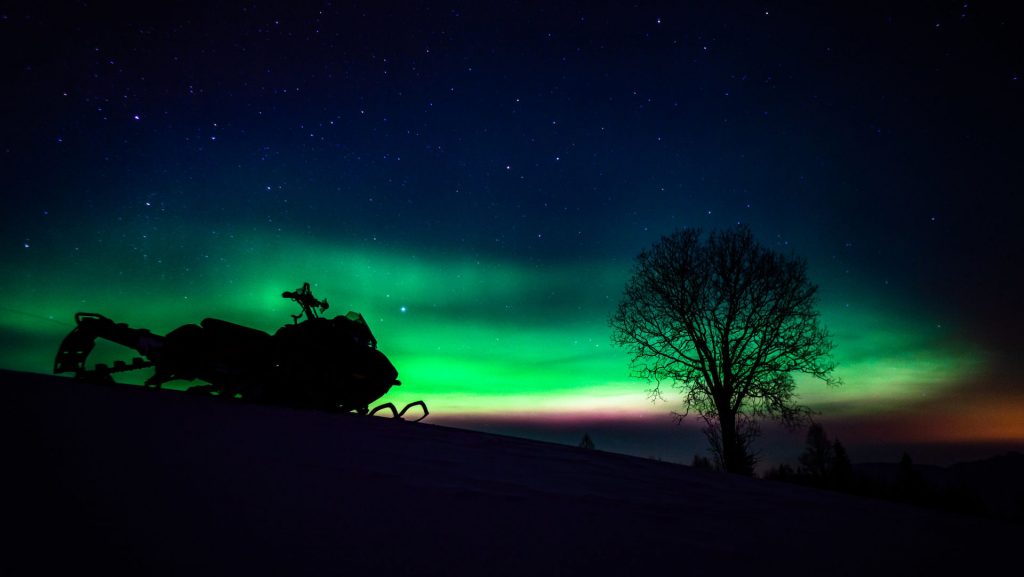 Petter Røsdal
Helgeland is on the Arctic circle, and the long winter with its snow-covered landscape opens up many opportunities for rewarding adventures, for the entire family or for a group of friends. The region has hundreds of miles of interconnected snowmobile trails.
HiNorth offers a range of adventures that explore Helgeland's varied terrain, from valleys and wooded hills to high mountains and expansive plains. You can choose Adventures ranging from three-hour excursion or overnight expeditions. On all our trips, we'll stop along the way to savour the view, enjoy a of steaming coffee or a tasty lunch prepared over the fire.
Snowmobiles allow us to explore a larger area in a shorter span of time. HiNorth's excursions start at Sjåmoen, just outside the town of Mosjøen. We'll follow marked trails, perhaps visiting Holmvatnet lake where HiNorth has a base.
Hi North has an uncompromising focus on safety. Before you start your excursion, the guides will provide thorough instruction and safety training. Each adventure takes into account the skills of the participants – and beginners are welcome! Our snowmobiles are all a touring model that is very comfortable and easy to ride, fuel efficient and relatively quiet.
A trip for the whole family
Snowmobiling is the perfect family adventure – and children under 14 years of age can ride for free! Bring them along for this unforgettable, safe winter adventure. HiNorth offers half-day excursions as well as full-day adventures. Our guides will adapt the route according to the wishes, experience and skill set of the participants.
Group excursions
We will gladly tailor an excursion especially for your group. Snowmobiling is fun and great to share with a group of friends, or for colleagues who are taking time off from the office! When you gather a group of six or more people (six snowmobiles), we can offer you a special price.
Contact
Go to booking
Eco-certified
The guided excursions are available from January 15th to April 23rd
Your price includes transport, snowmobile rental, an experienced guide, fuel, scooter suit, winter boots, gloves or mittens, a balaclava, and a helmet with sunglasses and visor.
Minimum two snowmobiles.
NB! All snowmobile drivers must have a valid ordinary driver's license.
Contribute to sustainable tourism
Thank you for respecting the local communities, and for helping us preserve the natural beauty of Helgeland!
Please:
Strive to leave no trace of your visit. Bring back all your rubbish, including used toilet paper, and discard it in the nearest rubbish bin.
Plan your toilet visits and use the opportunity when you pass a toilet. In the wilderness, make sure you are not a nuisance to others.
Respect the local wildlife. Keep a good distance from wildlife, livestock and birds. Keep your dog leashed.
Respect private property. Keep a respectful distance from houses and cabins.
Show good boating sense. Keep a good distance from shore and drive at a low speed, especially when you are close to anyone or anything on the water, including birds or animals. Avoid loud and disturbing engine noise. Be aware that some islands and nature reserves are important nesting sites, and that going ashore is prohibited during the nesting season.
Follow the Norwegian Mountain Code (Fjellvettreglene). Plan your excursion according to the weather forecast, your skills and experience.
Join a guided excursion or consider hiring an experienced guide, especially when you don't have sufficient experience or knowledge to guarantee a safe trip.