Experience all of Helgeland with Helgeland Travel Service
Helgeland Travel Service (HTS) will gladly take you on a tour to Helgeland's many attractions. Whether we explore the coast or inland tracts, on a clear summer day or a day with mist and rain, all of our excursions will show you the magnificent landscape of Helgeland.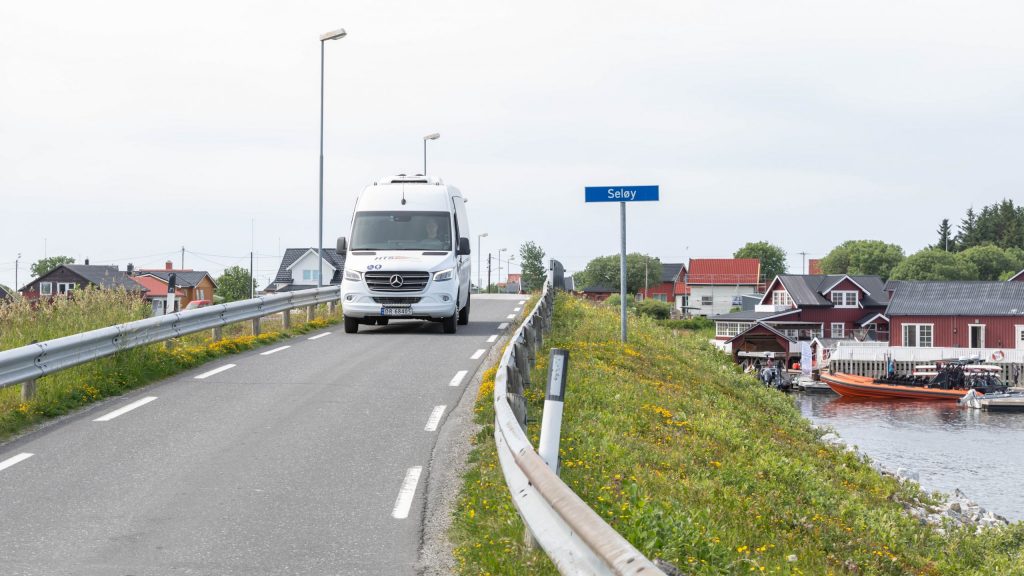 Kathrine Sørgård
Join us as we visit Torghatten, the famous mountain with a hole that passes all the way through, the Seven Sisters mountain range, the island of Lovund, Træna and its surrounding islands, and other great sights on the coast and inland.
We'll visit varied attractions, such as three impressive medieval churches, one of which contains Norway's largest and best-preserved burial chamber. Let us tell you fascinating stories about the powerful Viking chieftains of Northern Norway. We will take you up to the second-largest glacier on the Norwegian mainland – and how about a tour (with tasting) of the world's first Arctic whiskey distillery. Come visit the master chocolatier who runs perhaps the world's smallest chocolate factory, and another colourful shop that you really should experience. Join us as we visit the Arctic Circle, and marvel at the varied magical landscape all over Helgeland.
Tailored adventures
HTS takes pride in tailoring each aspect of your adventure, from arrival to departure. Together with their experienced partners, they'll provide transport and accommodation, and guide you to amazing attractions – taking into account the desires and wishes of your group.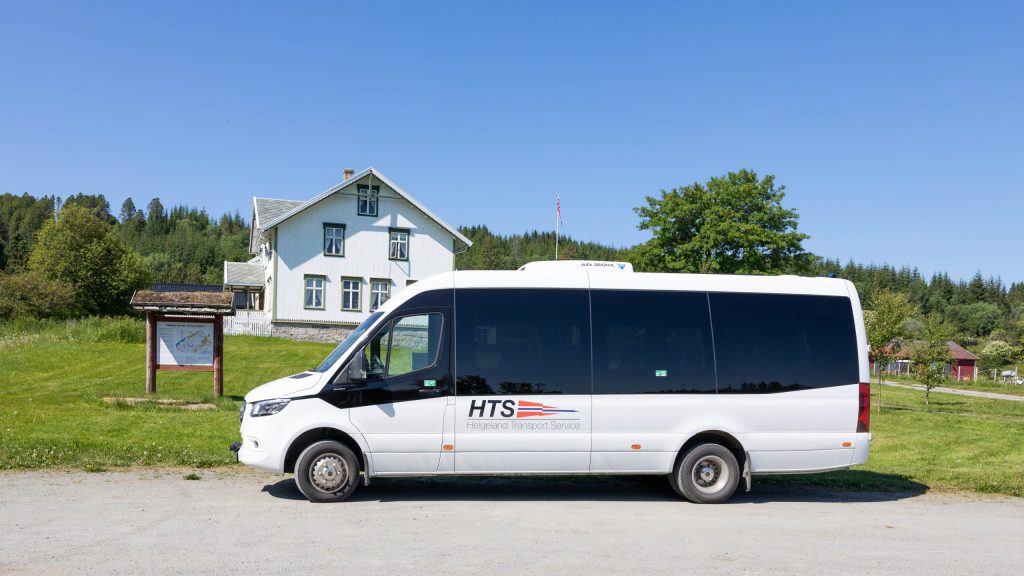 As a guest of HTS, you are always in the best hands, with experienced local guides and drivers. Thanks to their in-depth knowledge of Helgeland, you will encounter hidden gems, have the best photo stops, and hear stories that truly give you insight into the cultural and natural heritage of the people of Helgeland.
HTS also offers a menu of regular excursions to the most popular destinations in the region. Check their website or Facebook page for further information and dates.
If you are interested in a tailored travel adventure, please send an email to HTS at booking@helgelandtransportservice.no
Sightseeing bus or car rental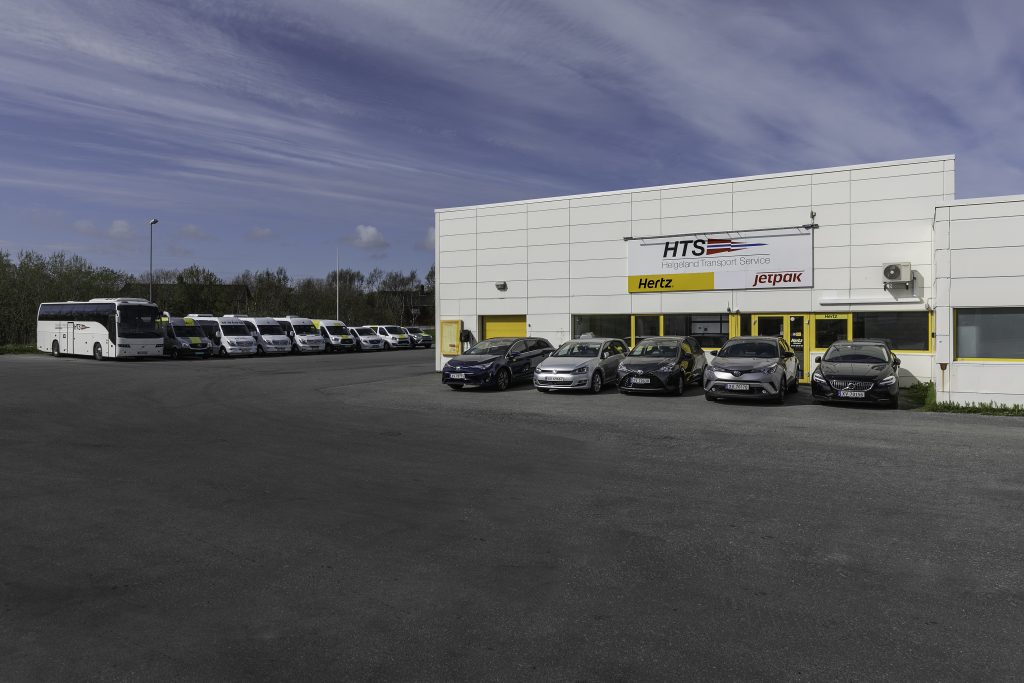 HTS offers car rental in collaboration with Hertz. You can also rent a minibus, if you have the necessary license. You can, of course, also hire a bus – large or small – along with a skilled driver. Did you know that HTS provides airport shuttle services to and from Sandnessjøen Airport, year round? HTS has offices in the towns of Sandnessjøen and Mo i Rana.
Meeting place and their departments
Helgeland Transportservice has two offices. One in Sandnessjøen and the other in Mo i Rana. Meeting place for trips is often arranged other places than at the offices. Car rental is also something you can arrange for delivery and pick-up at other addresses, but you can also show up at the offices to pick up a rental car.
The weather and what to wear in Helgeland
Summer:
The summer weather on Helgeland can vary a lot, with temperatures typically ranging from 15 to 30˚C – and summer showers are not unknown. We recommend that you bring swimwear as well as an all-weather jacket, and both hiking boots and sandals. In other words, be ready for every kind of weather.
Winter:
In winter, temperatures vary from –15 to 5˚C. If you intend to enjoy outdoor adventures, we recommend packing woollen underwear and windproof outerwear. By layering the garments you wear, you can quickly adjust to any change in the weather. We also recommend thick gloves or mittens, a good scarf and a warm hat, especially if you expect to be spending a lot of time outside, for instance if you are trying to catch the Northern Lights.
Contribute to sustainable tourism
Thank you for respecting the local communities, and for helping us preserve the natural beauty of Helgeland!
Please:
Strive to leave no trace of your visit. Bring back all your rubbish, including used toilet paper, and discard it in the nearest rubbish bin.
Plan your toilet visits and use the opportunity when you pass a toilet. In the wilderness, make sure you are not a nuisance to others.
Respect the local wildlife. Keep a good distance from wildlife, livestock and birds. Keep your dog leashed.
Respect private property. Keep a respectful distance from houses and cabins.
Show good boating sense. Keep a good distance from shore and drive at a low speed, especially when you are close to anyone or anything on the water, including birds or animals. Avoid loud and disturbing engine noise. Be aware that some islands and nature reserves are important nesting sites, and that going ashore is prohibited during the nesting season.
Follow the Norwegian Mountain Code (Fjellvettreglene). Plan your excursion according to the weather forecast, your skills and experience.
Join a guided excursion or consider hiring an experienced guide, especially when you don't have sufficient experience or knowledge to guarantee a safe trip.