Three hours exploring Mo i Rana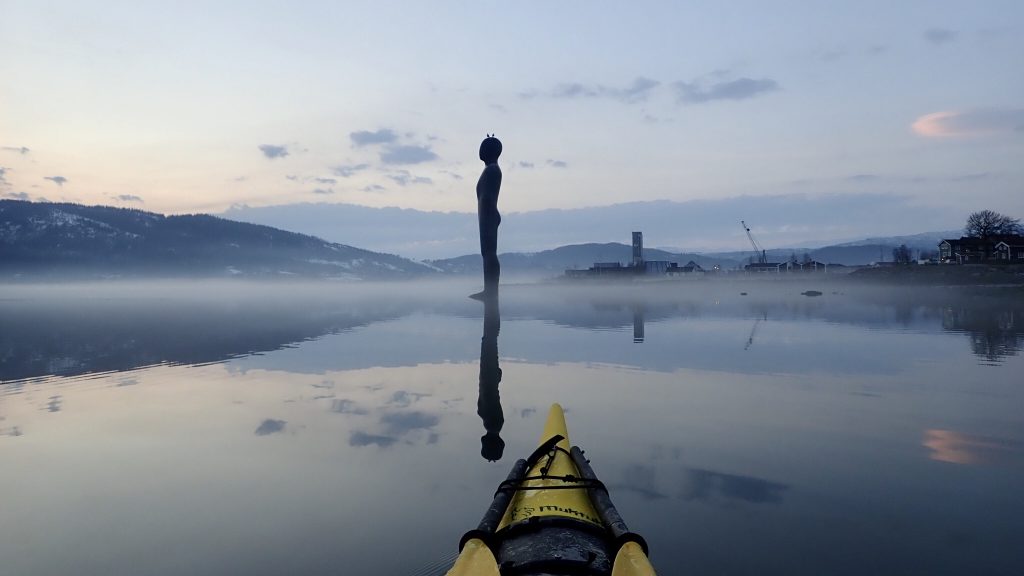 Do you have a few hours in the town of Mo i Rana but are unsure what to do? Here are ten excellent suggestions for a rewarding time. In the list below you will find everything from scenic and cultural highlights to entertainment and shopping. If you're spending more than a few hours in town, just select additional activities or attractions from our menu!
1. Vitensenter Nordland – an interactive science museum
This centrally situated science museum attracts visitors of all ages. Children can delight in exploring various natural phenomena; learn about science, our environment and climate, our human body and outer space. The interactive exhibits are designed to be explored with all your senses. Visitors can take part in a wide variety of activities and gain many new insights. Helgeland Museum and its fine exhibitions are situated in the same building.
2. Panoramic view from Appelsinhaugen
This is the place to go for a great view of our town and its surroundings! From the town centre, this walk along Finnsetveien road and up the hill called Appelsinhaugen is ideal for the whole family. The view really does make you feel you're on the "roof" of Mo i Rana. Starting from Fageråsen, the walk takes about 15 minutes each way. Directions are easy: just proceed in the direction of the ski-jump facility at Fageråsbakkene. Pack a lunch or snack, coffee and other beverage and enjoy a relaxed outing. By the way, you will find some surprising things in the lean-to shelter at the top of the hill.
3. A memorable cup of coffee
Munin, a coffee shop that roasts its own coffee, is situated in the heart of Mo i Rana. It's a sublime pleasure to be served a great cup of coffee by people who are passionate about their craft. The coffee beans are sourced from some of the best coffee plantations around the world, and then expertly roasted to extract the full range of aromas and flavours. Enjoy!
In Mo i Rana you will find numerous charming coffee shops, including Mormors Barista, Meyergården, Meyerkafeen, SteaMo, Fresh, The Lounge and Café Byporten. Some of these offer food as well as coffee.
4. The ski jump: Fageråsbakkene
As you drive into Mo i Rana, you will see Fageråsbakkene, a ski-jumping facility that perhaps surprisingly is in use year round. Norway's national team comes here for the training camp, and locals use the facility for some serious stair climbing. But rather than repeatedly running up and down, you may be content with ascending the stairs once to enjoy the lovely view from the top.
PS. We also challenge you to try ski jumping! Incredibly enough, you can do so safely from ground level, even from your living room couch. The largest jump at Fageråsen is available virtually through their computer game, Ski Jumping 4.
5. Klokkerhagen river park
Klokkerhagen, a park situated by the river near Mo Industrial Park, is a large recreation area that attracts local and visitors alike. You can come here to relax, play ball games with friends or walk the nearby trails. There is an extensive network of well-marked hiking trails, for instance to Revelfossen falls and up along Tverråga river. The park also features a large grass-covered football pitch, a sand-volley pitch, a play park, and a picnic area with barbecue pits. And if it gets too hot, just dive into the river!
On the last weekend of August, thousands gather here for the popular Verket Music Festival.
6. A city of culture
In the town of Mo i Rana you will find Nordland Theatre, Meyergården Spektrum, Byscena (the town's "main stage"), Kinoteatret (the cinema theatre), and various other stages large and small for the performing arts. While the town has had a strong focus on its ironworks and other industry, and its surrounding scenic delights, it has also found the energy to develop its considerable cultural attractions. When you visit Mo i Rana, it's well worth checking out its cultural calendar. And in fact, as you stroll through town you are bound to notice colourful street art and fine sculptures.
7. Stenneset open-air museum
At Stenneset you can wander amongst 20 historic buildings dating from 1750–1890, which have been brought to the open-air museum from all over Rana. Through the wavy glass of their old windows you can enjoy the view over the Ranfjord. The main house and centrepiece of the museum is a white vicarage from the 1780s that also originally stood here. It houses fascinating exhibitions. Stenneset is situated along route Fv12, just a few kilometres from the town centre of Mo i Rana. The museum's outdoor areas are accessible year round. If you're eager for hiking, there are trails to Båsmolia and Båsmomarka. Afterwards, you can relax with a good meal at Stenneset Mat & Vin.
8. The fjord promenade
In the town centre, you can stroll the fjord promenade and stop to gaze at the merman statue. This tall granite sculpture that stands vigil near the harbour is part of Artscape Nordland. The promenade is a great place to meet and chat with the locals, and it's a great place to enjoy the sunset. If you continue along the shore promenade, you will reach Moholmen, a neighbourhood of well-kept wooden houses that provides a window into the town's past. During an evening walk on the fjord promenade, you can enjoy the glowing view of the Ranfjord long after the sun sinks behind the mountains to the west.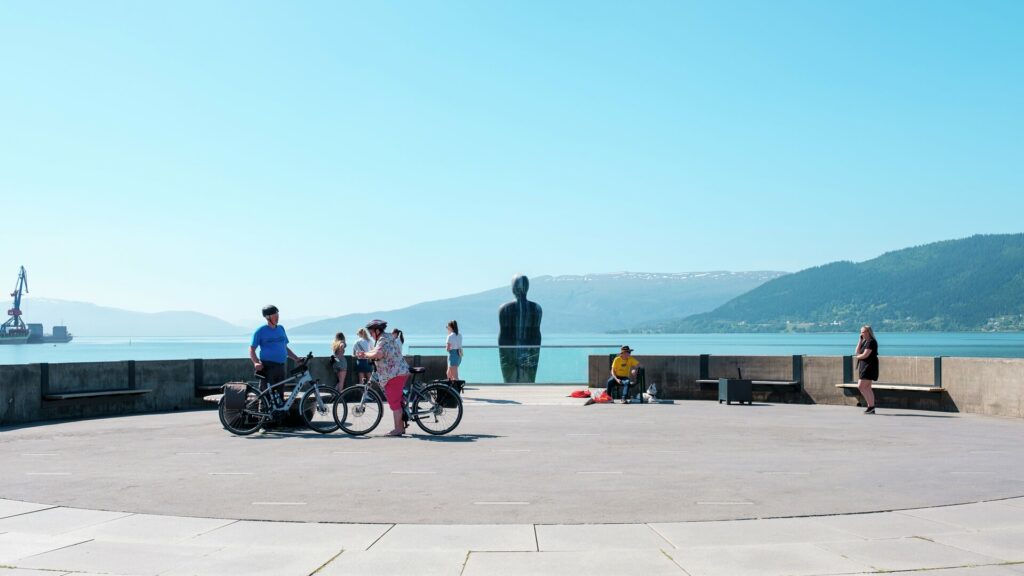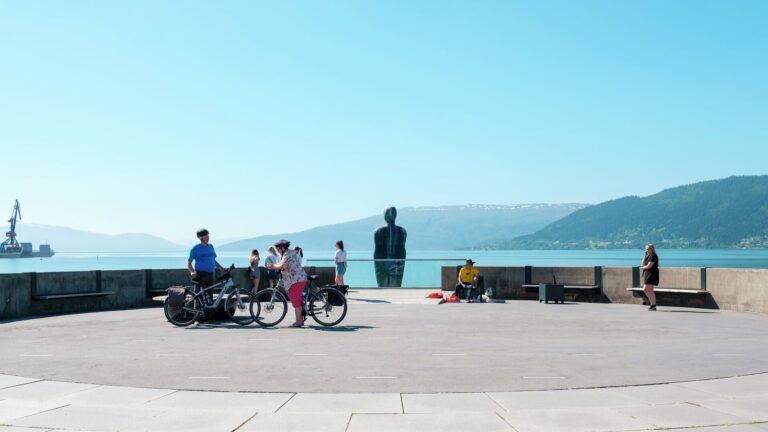 9. Shopping
In Mo i Rana, price-minded buyers often head for Askeladden, one of the largest second-hand stores in Norway. Who knows what vintage treasures you may find here? When you want a break – or a good place to "park" fellow travellers who are less eager for shopping – head for the friendly coffee shop, Kaffe & Kruse.
Shoppers also take delight in the independent clothing store Loe, which has been selling quality women's and men's apparel since 1950. Its proprietor still travels the continent to select stock, buying only a few of each garment to avoid their customers encountering others wearing the same outfit! Loe is situated in the town centre. In addition there are four shopping centres in town, with well-known chain stores as well as locally-owned independent shops.
10. Moheia Baths and local beaches
No one in your family will protest if you suggest a visit to Moheia, the popular water park in the centre of Mo i Rana. It comprises a 25-metre swimming pool with a diving tower, a much-shallower kids' pool, a hot pool and a channel with a strong current. The impressive water slide is a must!
Although Mediterranean temperatures can never be guaranteed, you will also find several nice beaches near Mo i Rana. These include Hauknes beach on the Ranfjord (situated along highway E6) and Alteren beach (by county road Fv12 as you drive towards Nesna). Klokkerhagen recreation area has several good swimming spots on the river.