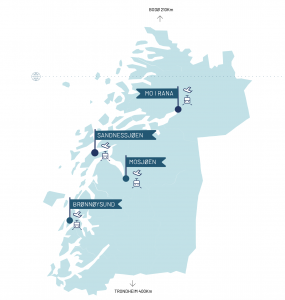 The town of Sandnessjøen is situated roughly at the geographic centre of the magnificent Helgeland coast. It sits midway between mighty mountains and beautiful islands. Here you are near the Seven Sisters mountain range, the kayaking paradise of Herøy, the recreated Viking chieftain seat Sandnes, the museum that celebrates the 17th-century poet-priest Petter Dass, and the island of Dønna which is wonderful to explore on two wheels.
Tourist Information Office
The Tourist Information Office in Sandnessjøen is located roughly in the middle of the pedestrian street in the city centre, a short walk from the express boat quay and the ferry quay.
Telephone: +47 75 01 80 00
How to get to Sandnessjøen
The town of Sandnessjøen lies along the Coastal Highway, Fv17, which is the Norwegian Scenic Route Helgeland. This coastal town has its own airport, and is a port of call for the Hurtigruten coastal steamers and numerous ferries and express boats.
For driving directions, see Google Maps
To plan your journey here by train (to Mosjøen, taking a bus from there), by bus or airplane, visit Entur.no.
Bus connections:
Levang (take the ferry to or from Nesna)
Mo i Rana
Mosjøen
Brønnøysund
Boat connections:
Brønnøysund
Vega
Herøy
Dønna
Nesna
Lovund
Træna
Rødøy
Støtt
Bodø
Distances and driving times:
From Mosjøen: 64 km, 1 hour
From Mo i Rana: 109 km, 1 hour and 35 minutes
From Brønnøysund: 92 km, 2 hours and 30 minutes
From Bodø (highway E6 / Fv17): 337 km, 4 hours and 35 minutes / 364 km, 7 hours and 15 minutes
/ 364 km, 7 timer og 15 minutter
From Trondheim (E6/Fv.17): 451 km, 6 hours og 15 minutes
/ 477 km, 9 hours
Accommodation and dining
Sandnessjøen, Dønna and Herøy offer a wide selection of comfortable accommodation, good restaurants and friendly cafés
Highlights and adventures
You can visit impressive medieval churches, gain insights into the life and work of a celebrated 17th-centure poet-priest at the Petter Dass Museum, take an exciting RIB sea-rafting safari, go on boat trip to old fishing villages, hike to the summit of legendary mountains, and explore Dønna and Herøy by kayak or bicycle.
Utforsk Sandnessjøen på kartet