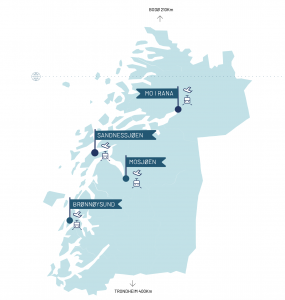 The beautiful coastal town Brønnøysund is situated in the southern part of Helgeland, more or less midway between the southern and northern tips of Norway. The town, which sits on a narrow peninsula surrounded by islets, has excellent restaurants, charming cafés and a thriving coastal culture. Nearby highlights and attractions include Torghatten, the mountain with a hole through it, the lush island of Sømna, and the Vega archipelago, which is an UNESCO World Heritage Area. Depending on your preference, you can explore the sheltered waters by kayak or explore the open landscape by bicycle.
Tourist Information Office
Brønnøysund's Tourist Information Office is just a five-minute walk from the guest harbour and the car lot of the AMFI shopping centre.
Telephone: +47 75 01 80 00
Brønnøysund lies along the Norwegian Scenic Route Helgeland, Fv17 (the Coastal Highway). The town has an airport and is a port of call for the Hurtigruten coastal steamers.
For driving directions see Google Maps 
To plan your journey here by train, bus or plane, please visit EnTur.no
Bus connections:
Namsos
Grong
Mosjøen
Sandnessjøen
Boat connections:
Distances and driving times:
From Mosjøen: 158 km, 2 hours and 30 minutes
From Sandnessjøen: 92 km, 2 hours and 40 minutes
From Mo i Rana: 243 km, 3 hours and 40 minutes
From Trondheim: 373 km, 6 hours
From Bodø: 470 km, 6 hours and 35 minutes
Accommodation and dining
Brønnøysund offer a wide selection of comfortable accommodation, good restaurants and friendly cafés
Highlights and adventures
Visiting Torghatten, the famous mountain with a hole in it, is a must. Enjoy a walk around Brønnøysund, and explore the nearby islands by cycling or by kayaking the surrounding waters.