Bike rental in Brønnøysund
Situated in the centre of Brønnøysund, the Tourist Information office offers bicycle rental, as well as all the equipment you need for short bike rides or long cycling adventures.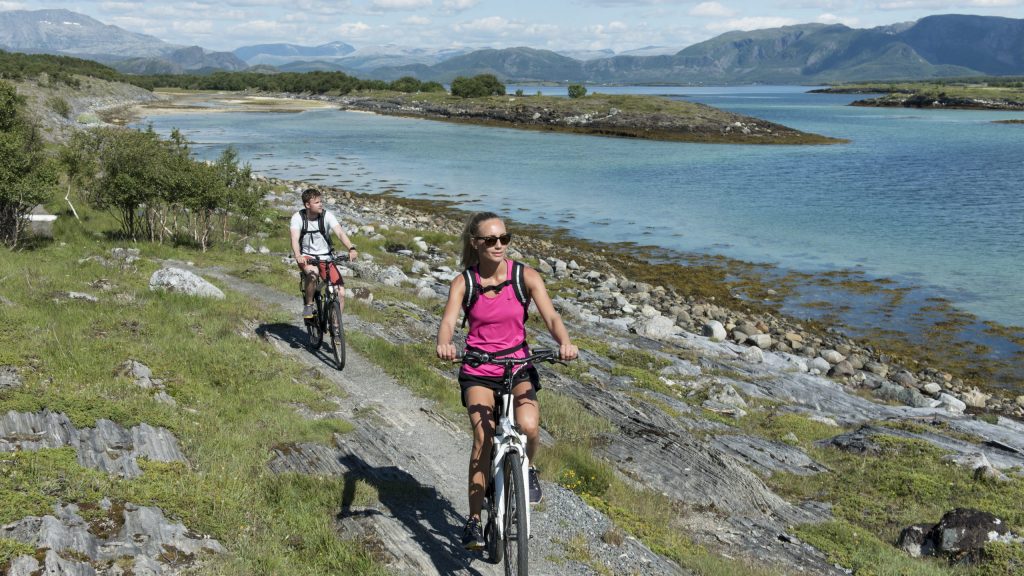 Terje Rakke / Visithelgeland
The equipment available includes well-maintained bicycles for men, women and children. Included in your rental are panniers, a tire pump, patch kit, bike lock – and of course a helmet.
Electric bikes and hybrid bikes
In addition to hybrid bikes that are ideal for cycling in town or along the country roads, the Tourist Information Office also offers electric bikes. These make it extra convenient and faster to explore the Helgeland coast on two wheels. The el-bikes are very easy to operate. At day's end you can remove the battery, bring it inside and plug into any ordinary outlet, recharging it as you rest and "recharge" your own batteries.
When renting or booking a bike, please tell the staff your height, so that they can reserve the bike most suitable for you. The main difference between women's and men's bicycles is their size. See the picture below. Please note that the friendly staff at the Tourist Information Office We will be happy to help you plan your cycling voyage.
How much does bike rental cost per day?

Children's bicycle: NOK 195
Bike luggage trailer: NOK 245
Hybrid bike: NOK 315
Electric bike: NOK 445
The convenience of two wheels
Express boats and ferries make it easy to reach many of the islands between Sandnessjøen and Brønnøysund. To check schedules and other information, please visit reisnordland.no. You can also consider a one-way cycling trip and ask for your rental bike to be returned.
Return shipping of rental bike, Brønnøysund–Sandnessjøen: NOK 950
"Fly and Bike"
If you are flying to Brønnøysund, the "Fly and Bike" offer is perfect for you. In short, this means your bike will be waiting for you on arrival and you can start your cycling adventure from the airport! When you finish your cycling trip, just return your bike at the Aiport, the Tourist information office or Sandnessjøen. If this is your preferred option, you can do so when orderering your bikes.
The cost of transporting the bike to or from the airport is NOK 195 per bicycle.