Torghatten - the mountain with a hole through it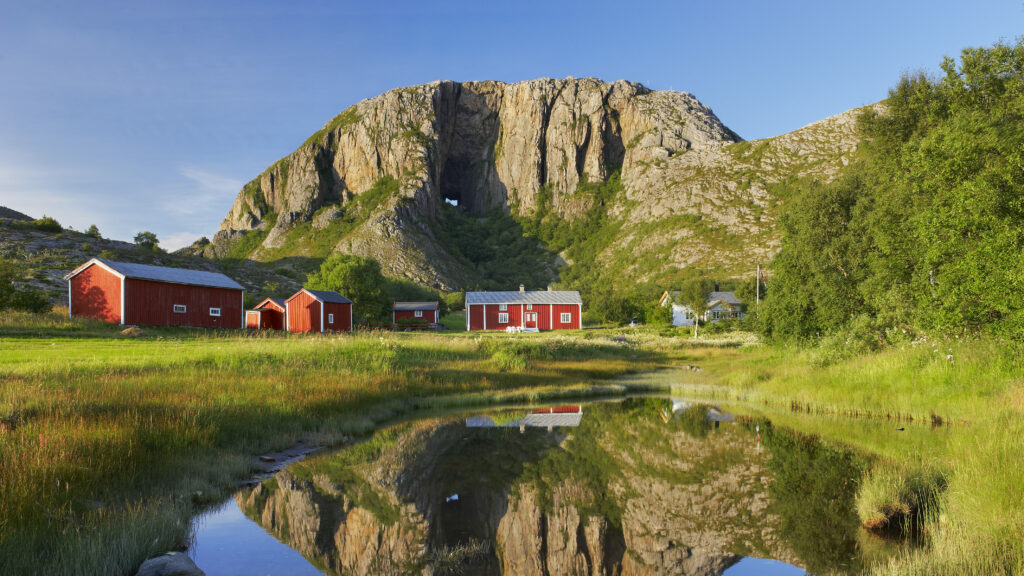 Torghatten is a legendary mountain with a hole through it. A well-marked path leads up to the hole, and the walk is suitable for the whole family. As you walk through the 160-metre-long and 35-metre-high tunnel, you have to marvel at the natural forces that shaped it. This hole was carved out by the sea, slowly, thousands of years ago. As you emerge on the other side, you have a magnificent view of the nearby islands.
Torghatten is a mountain on the island Torget, just south of Brønnøysund in the south of Helgeland. You can drive there by car or bus, bike or paddle a kayak from Brønnøysund
The mountain and the legend
According to legend, this hole was created when the Sulis Troll-King threw his hat into the air to deflect an arrow fired at the Maiden of Leka by the enraged Horseman who was chasing her. Just as the arrow pierced the hat, the sun rose and all were turned to stone.
Go through, over and around the mountain!
The walk through Torghatten is an exciting opportunity to see the mountain from the inside, and it's dramatic to see how the view opens up on the other side. The well-marked path up is excellent and manageable for young and old, from pre-school kids to active grandparents. However, on the side, the terrain is very rough, so we recommend that you go back the same way.
A 30-minute walk along a well-marked path takes you up to this natural tunnel, which is 160 m long, up to 12–15 metres across and as much as 35 metres high. It feels like you have entered a cathedral with a rough-hewn interior! When you emerge on the other side, you are rewarded to a stunning view over the archipelago.
If you are in great shape, you can hike to the top of Torghatten for an even more impressive view. Alternatively, you can take a long but much easier circuit trail around Torghatten.
Cycling to Torghatten
In good weather, it's pleasant to take bicycle ride from Brønnøysund to Torghatten. Bike rental is available from the Brønnøysund Tourist Information Office.
Food and accommodation near Torghatten
If you have built up an appetite visiting Torghatten, you can grab a meal at either Torgarhaugen or Torghatten Camping & Strand Restaurant. Both offer accommodation, which is ideal if you want to explore the area. There is no reason to hurry. Take the time to enjoy the midnight sun from a mountain top, or go kayaking amongst the coastal islands.