Lovund Hotel
Lovund is one of Norway's most vibrant island communities, beautifully located on the outskirts of the Helgeland coast. Take your time to experience one of Helgeland's best cuisine, hotel rooms and cabins with a great view sea ​​and sunset, varied scenery with many hiking options and a strong business community – all colored and developed by the people who live here.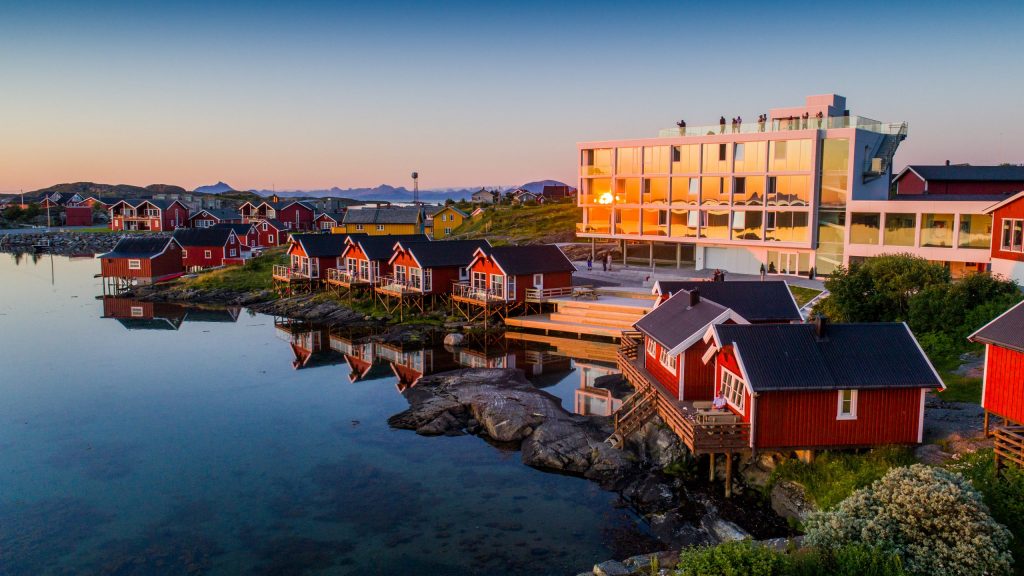 Hans Petter Sørensen/FarOutFocus.no
Salmon farming is of great importance for the beautiful island far out on the Helgeland coast. Lovund is a vibrant island community for the around 500 inhabitants. In the middle of the island rises the 625 meter high Lovundfjellet where thousands of Lundefugler occupy the nesting place in Lundura every year.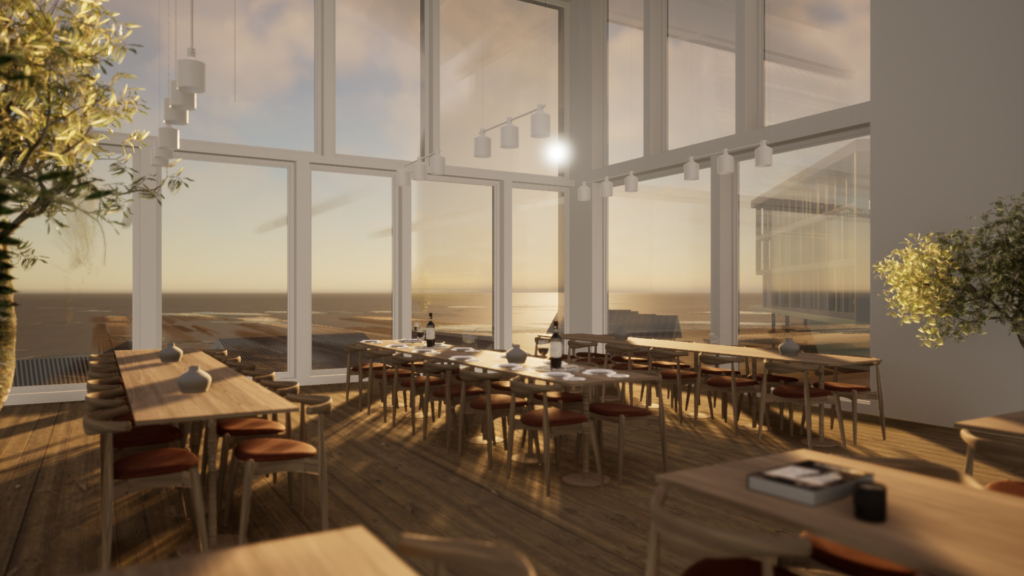 In the winter of 2021/22, Lovund Hotell underwent a major renovation, and the employees are now looking forward to welcoming you to the new and beautiful premises.
A taste of Lovund
The restaurant is our little pride. When we think of Lovund's taste, we think of our raw ingredients harvested right from the sea outside Lovund.
We are thinking of local producers who work daily to maintain the Northern Norwegian food culture. Inspiration is taken from the Nordic kitchen, and the chef's expertise and commitment are reflected in our menu.
The result will be like Lovund – a menu based in local, northern Norwegian and traditional raw materials, colored and developed by the people who live here.
Sleep well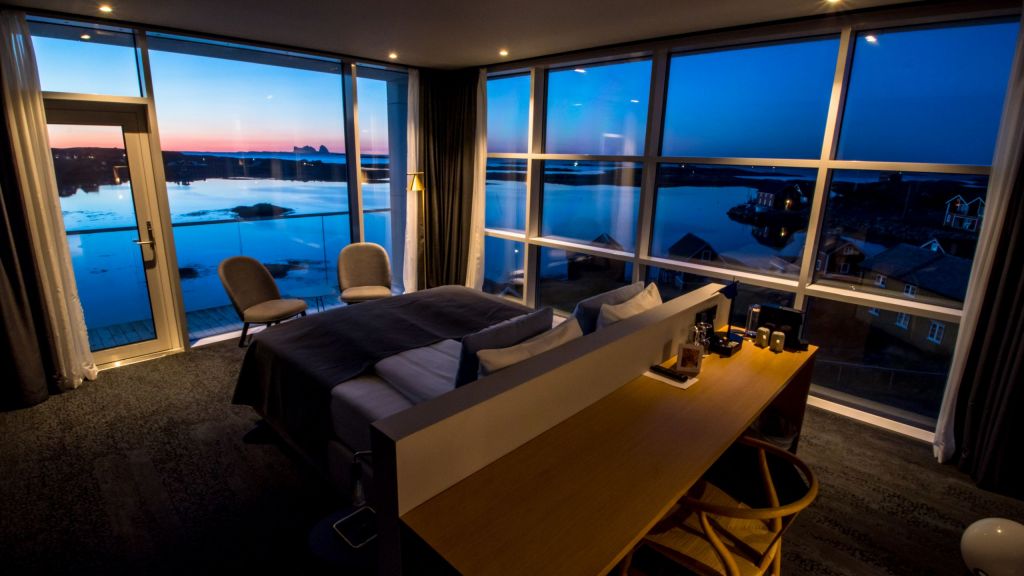 Lovund Hotell is not quite like other hotels – here you have something for everyone.
SYN is our signal building and has good hotel rooms with the best view we can offer.
The "Rorburooms" are small hotel rooms in fishermen's cabins and are located by the seaside.
The cabins are also located on the seafront, and equipped with a small kitchen and living room.
Our cabins are adapted for 2 couples with children or families over 4 persons, sleeping up to 4 people and bed on the loft for up to 4 children. Breakfast, made beds and cleaning on departure are of course included in all options.
Explore Lovund
Lovund is the perfect place to find peace and get close to the locals. Around the island there are well-organized hiking trails and barbecue areas. If you want to go up in height and are in good shape, you can follow a marked route to the top of Lovundfjellet. Feel free to bring binoculars to "get a little closer" to the bird life.
You travel to Lovund by speedboat or ferry.
You take the ferry from Stokkvågen. By speedboat you can start from Bodø, Sandnessjøen or Stokkvågen, or the calls on the stretch.
The summer route for the Nordland Express goes to Lovund in the period June – August.
Vær og klær for Helgeland
Været på Helgeland kan variere mye, og på sommeren kan temperaturen være alt fra 10 til 25 grader, og regnet kan gjerne komme og gå i «ærlinger», eller «byger» som det heter sørpå. Vi anbefaler at du pakker både allværsjakke og badeklær, fjellsko og sandaler, så du er klar for det meste.
Om vinteren varierer temperaturen gjerne fra pluss 5 til minus 15. Hvis du skal være mye ute, er ullundertøy og vindtette klær dine beste venner. Kle deg etter trelagsprinsippet med et innerlag, mellomlag og ytterlag. Tykk lue og tykke hansker eller votter er spesielt anbefalt hvis du skal på være ute med lavt aktivitetsnivå, for eksempel hvis du skal se på nordlyset.
Sporløs ferdsel og bærekraftig turisme
Takk for at du hjelper oss med å ta vare på naturen og lokalsamfunnene på Helgeland.
Takk for at du:
Praktiserer sporløs ferdsel, og tar med avfall og toalettpapir tilbake til nærmeste søppeldunk.

Planlegger toalettbesøk, slik at du får gjort det du må der det ikke er til sjenanse for andre.

Respekterer det lokale dyrelivet, holder hunden i bånd og holder god avstand til både ville og tamme dyr og fugler.

Respekterer privat eiendom, og holder avstand til private hus og hytter.

Viser godt båt-vett, holder god avstand til land, lav fart nært andre på vannet, inkludert dyr og fugler, og unngår unødig kjøring som skaper forstyrrende motorstøy.

Respekterer ferdsels- og ilandstigningsforbudet i sjøfuglereservatene i hekketiden.

Følger fjellvettreglene, og planlegger turer etter evne og erfaring.

Leier en erfaren guide på turene der du selv ikke har kunnskapen eller erfaringen som trengs for en trygg tur.