Lovund Hotel
Lovund Hotel is the perfect base for exploring the enchanting island of Lovund. With comfortable accommodation, delicious cuisine, and stunning views of the sea and mountains, you can relax and unwind after a day of hiking or bird-watching. Enjoy the urban island life and breathtaking views from the comfort of your room or the hotel's terrace.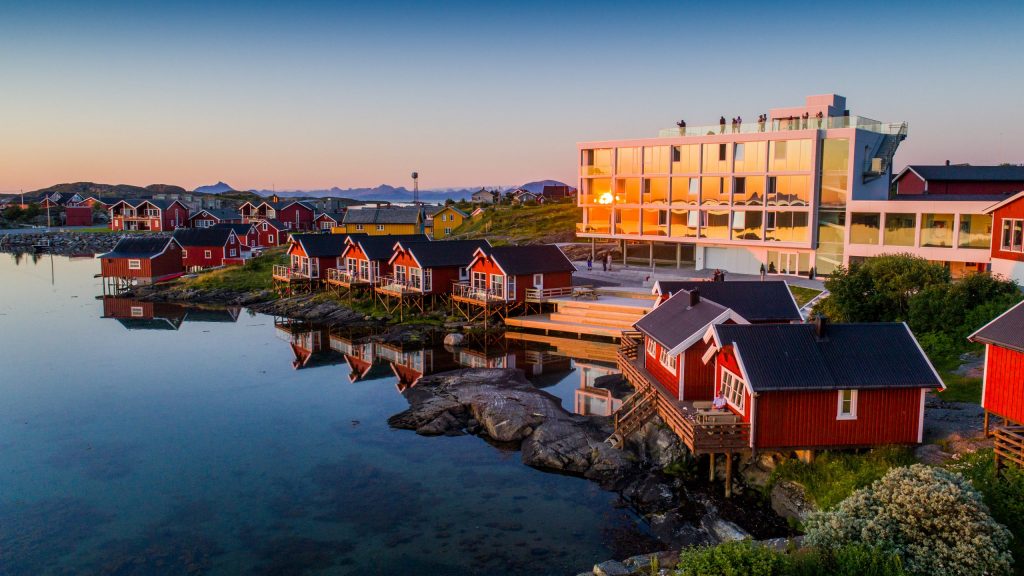 Hans Petter Sørensen/FarOutFocus.no
Located at the far end of the Helgeland coast, Lovund Island is a hidden gem that's not to be missed. Despite its small size, this thriving community of under 500 inhabitants offers a wealth of opportunities for adventure and relaxation.
From Lovund Hotel, you can easily explore the island's varied hiking trails, including the challenging Lovundfjellet hike (625 m.a.s.l.) and a leisurely evening hike to see the iconic puffin birds in their natural habitat. You'll also find hiking trails with barbecue huts, bathing beaches, and sheltered coves, all within walking distance of the hotel.
Hotel Rooms and Fisherman's Cabins
Whether you're visiting Lovund to conquer Lovundfjellet or to enjoy the good food, alone or with someone you love, Lovund Hotel has hotel rooms and fisherman's cabins to suit all tastes.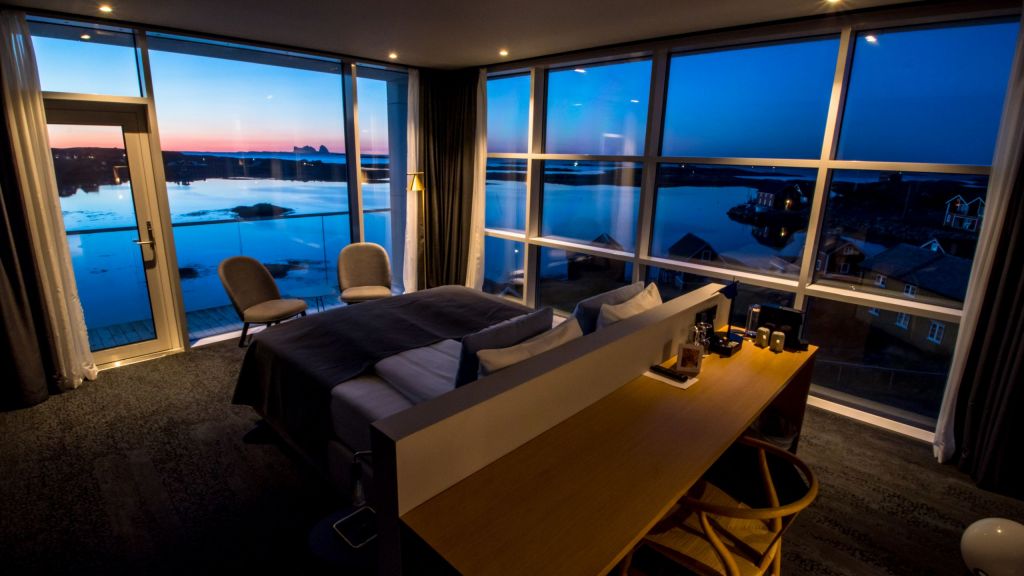 A hotel breakfast is of course included regardless of whether you stay in a room or fisherman's cabin.
"SYN" is the section of the hotel where you can find beautiful hotel rooms with stunning views.
The fisherman's cabin rooms are small hotel rooms in cabins located right at the waterfront.
The fisherman's cabins are also located at the waterfront, and are additionally equipped with a small kitchen.
For larger groups or families, please contact the hotel directly at post@lovund.no to explore alternative options.
The Restaurant and Bar
Lovund Hotel is not just a hotel, but also a destination for high-quality food experiences. Here you can enjoy the most delicious seafood made with ingredients from local fishermen, growers, and enthusiasts.
Relax and let the hotel's skilled staff take care of you. They do their utmost to give you the best Lovund experience, with small or large meals focusing on fish, seafood, and good wines.
The menu and concepts vary with the seasons, but what they all have in common is a love for the sea and good flavors. You can read more about the food and concepts here.
Blikksalen
Blikksalen is the Hotels beautiful new event hall that is perfect for both grand events and intimate gatherings. Planning a wedding or anniversary? Then Blikksalen is the perfect choice with its magnificent view and lovely atmosphere.
Urban Lovund
In Lovund, it is not only the nature and the hotel that can entice you with great experiences. During the summer season, the impressive Coastal Culture Center is worth a visit, preferably in combination with a delicious coffee break at The Coast coffee roastery, perhaps followed by a meal and some good drinks at Emaus Pub & Spiseri.
You travel to Lovund by speedboat or ferry.
You take the ferry from Stokkvågen. By speedboat you can start from Bodø, Sandnessjøen or Stokkvågen, or the calls on the stretch.
The summer route for the Nordland Express goes to Lovund in the period June – August.
The weather in Helgeland can vary greatly, and in the summer the temperature can range from 10 to 25 degrees Celsius, and rain can come and go in "bursts" or "showers". We recommend that you pack both a rain jacket and shorts, hiking boots and sandals, so you are prepared for anything.
In the winter, the temperature typically ranges from plus 5 to minus 15 degrees Celsius. If you plan to be outside a lot, woolen underwear and windproof clothes are your best friends. Dress in layers with an inner layer, middle layer, and outer layer. A thick hat and gloves or mittens are especially recommended if you will be outside with low activity levels, such as when viewing the northern lights.
Contribute to sustainable tourism
Thank you for respecting the local communities, and for helping us preserve the natural beauty of Helgeland!
Please:
Strive to leave no trace of your visit. Bring back all your rubbish, including used toilet paper, and discard it in the nearest rubbish bin.

Plan your toilet visits and use the opportunity when you pass a toilet. In the wilderness, make sure you are not a nuisance to others.

Respect the local wildlife. Keep a good distance from wildlife, livestock and birds. Keep your dog leashed.

Respect private property. Keep a respectful distance from houses and cabins.

Show good boating sense. Keep a good distance from shore and drive at a low speed, especially when you are close to anyone or anything on the water, including birds or animals. Avoid loud and disturbing engine noise.

Be aware that some islands and nature reserves are important nesting sites, and that going ashore is prohibited during the nesting season.

Follow the Norwegian Mountain Code (Fjellvettreglene). Plan your excursion according to the weather forecast, your skills and experience.

Join a guided excursion or consider hiring an experienced guide, especially when you don't have sufficient experience or knowledge to guarantee a safe trip.