Helgeland Havhus - exclusive sea house
Many places can offer you seaside accommodation – Helgeland Havhus actually offers you a holiday home right on the sea! Treat yourself to a very special holiday, where the salty fragrance of the sea, and the sound of waves and seabirds are natural ingredients.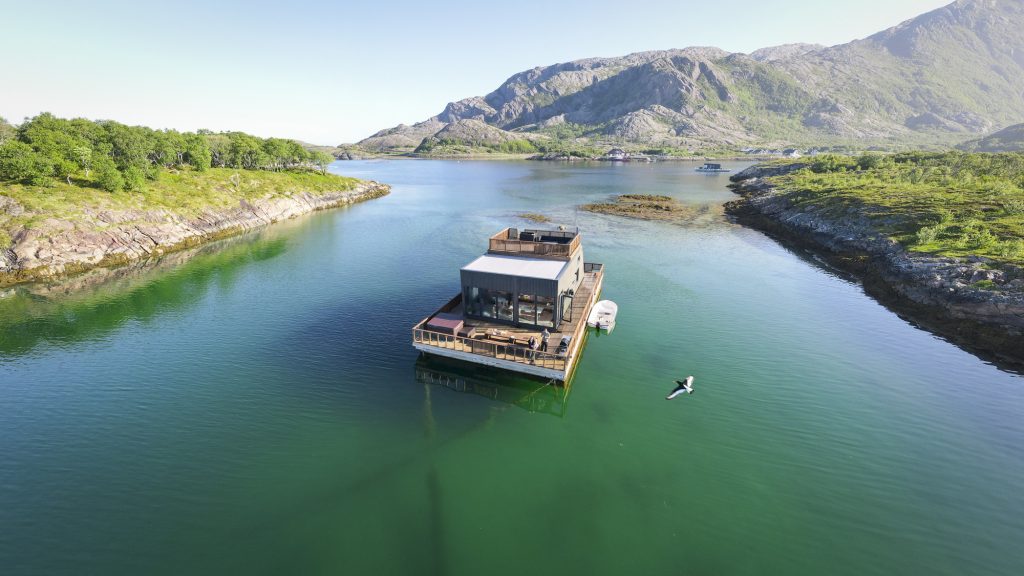 Kristoffer Møllevik / Visit Helgeland
These stylish sea-houses are built on rafts that are anchored amidst the beautiful skerries by the island of Tomma, near Nesna. Tomma is a scenic gem with chalk-white beaches and impressive mountains. Visitors are tempted to hike to the summit of Tomskjevelen (922 m) and go kayaking in the sheltered waters around the island.
The sea houses
Helgeland Havhus offers two different types of sea houses. Both feature a well-equipped kitchen, electricity and running water.
Havhus No. 1 is an elegant little house that measures 25 m2 (269 square feet). It has one bedroom, a living room with a sofa bed, a small kitchen and a bathroom. This sea house is perfect for you and your partner or a small family. The house stands on a 90 m2 raft.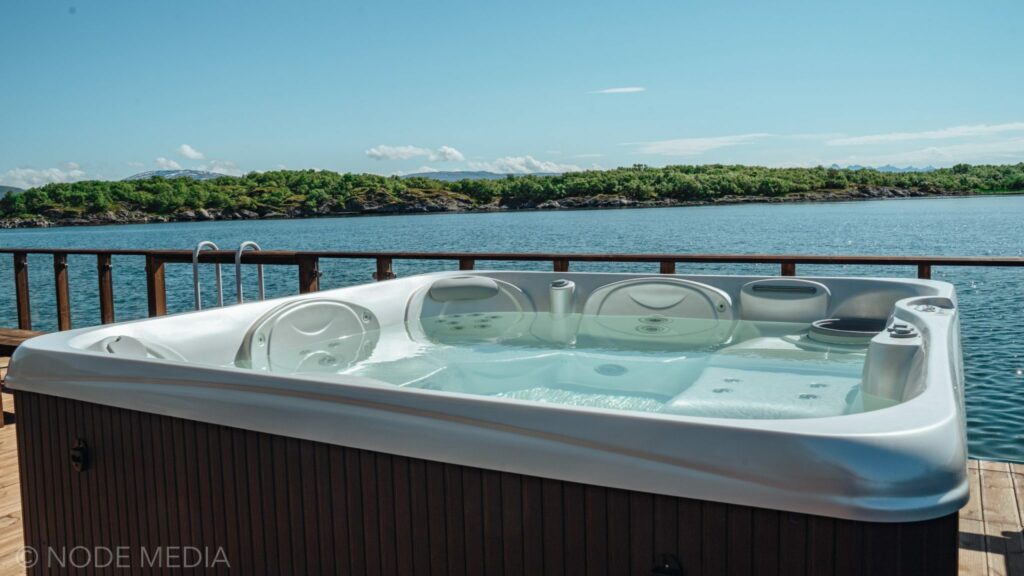 Havhus No. 2 is a spectacular holiday home with a roof terrace and a Jacuzzi. The house, which measures 75 m2 (807 square feet) has three bedrooms, an alcove with additional beds, a large living room and kitchen, and a bathroom. The house stands on a 204 m2 raft. Here, a sizeable group has plenty of space, inside as well as outside.
When you rent one of the sea-houses, you have free access to a 14-foot boat equipped with a 10-horsepower outboard motor. It's perfect for going from your sea-house to the shore, and for shorter trips. Some experience with boats is an advantage. If you have certification and yearn to go on longer trips, you can rent a larger boat.
Satisfying meals
You can pre-order meals to be delivered to your sea-house. For true holiday luxury, you can even request your own private chef, who will prepare great meals right in your sea-house. Given your spectacular surroundings, this should make for an extra memorable evening!
Activities
You can rent bicycles and stand-up paddle boards (SUP) from Helgeland Havhus. It's well worth your while to explore the scenic island of Tomma, which has chalk-white beaches and mountain peaks that offer majestic views. Before taking the ferry to Tomma, you might also considering exploring the attractions of Nesna, such as the local crafts brewery, Raus. An excellent alternative to taking the ferry to Tomma, is combining your crossing to the island with a sea-rafting trip and sea-eagle safari.
See hikes and hiking destinations on Ut.no
In the summer it is bright all night, so a good sleeping mask can be nice to bring if you are not used to it
The Helgeland coast has a rich bird life, so it can be nice to bring good binoculars to "get a little closer"