Korgfjellet Fjellstue Lodge
At the top of Korgfjellet pass, midway between the towns of Mo i Rana and Mosjøen, is Korgfjellet Fjellstue, a lodge that offers hearty meals. Tired travellers will be pleased to find good options for an overnight stay.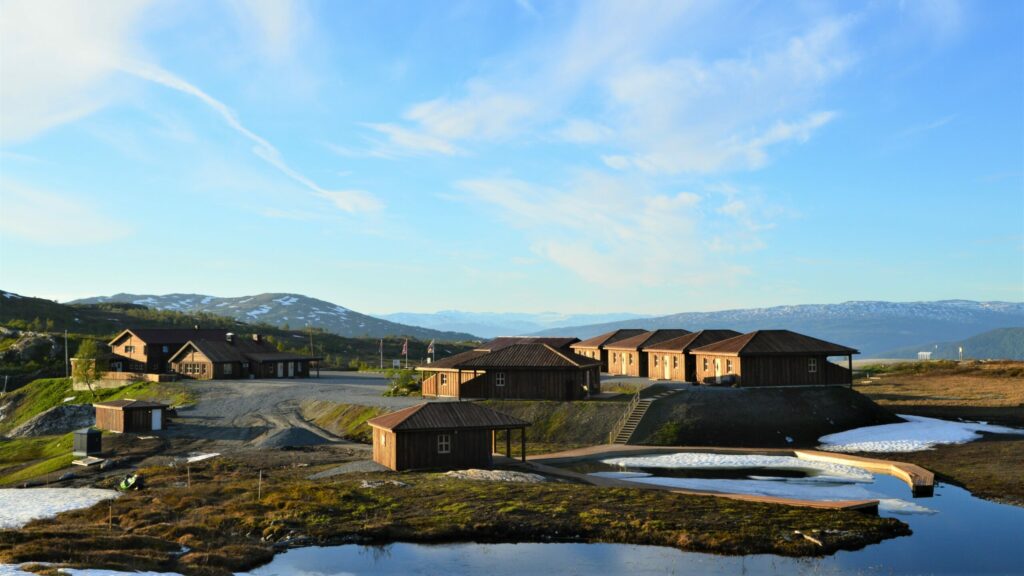 Korgfjellet Fjellstue
The lodge is a perfect base for exploring the beautiful mountains. The whole family can enjoy hiking on well-marked trails during the summer, and go cross-country skiing on prepared family-friendly trails in the winter months of March and April. In can pick a bounty of blueberries and wild mushrooms in autumn and late summer.
When you stay at Korgfjellet Fjellstue, the Okstindan mountains are just a short drive away. One of the most popular hikes is up to the famous Rabothytta cabin, which was voted to be the finest cabin of the Norwegian Trekking Association (DNT). Rabothytta is perched at 1200 metres, near the edge of a glacier. The Okstindan range and nearby mountains offer excellent opportunities for summit hikes, summer as well as winter.
Eager anglers may want to head for the Røssåga river, which winds its way through large parts of Hemnes municipality. If you acquire fishing cards and permits, you can fish for salmon as well as trout in July and August.
Om Korgfjellet Fjellstue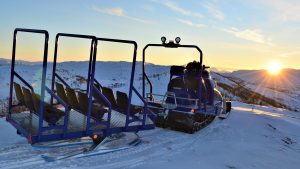 More about the lodge, Korgfjellet Fjellstue
Instead of speeding through the Korgfjell Tunnel on highway E6, take the scenic mountain route, when the road is open during the summer. At the top of the pass (555 m), Korgfjellet Fjellstue offers an amazing view of the Okstindan mountain range, a view that you can combine with a satisfying meal. Overnight guests can choose between a room in the lodge or one of the modern new cabins. There are also spots where you can park your camper or caravan for the night, with a power hookup and access to the service building.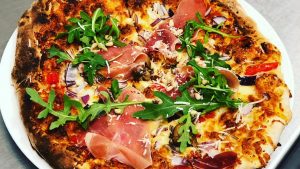 During its winter season, the lodge offers transport up in its "Alpine Bus" – a powerful snow scooter that pulls a sled with lots of seats.
After a long day of hiking the mountains, you can soothe your stiff muscles in the sauna and hot tub. By the way, the lodge menu features hearty dishes made from old family recipes. Pizza and fresh-baked bread come piping hot from the wood-fired stone oven.
Treat yourself to a visit to Korgfjellet Fjellstue!
Korgfjellet is located between the towns of Mosjøen and Mo i Rana. The E6 goes in a tunnel through the mountains, but in the summer a detour to the top of the mountain is a great trip. Since the road is not fully plowed in winter, you and your luggage will be picked up by Alpebuss during the winter. How to arrange a ride in advance. Contact information for the lodge can be found above.
There are many beautiful marked hiking trails in Hemnes. Check ut.no for tour suggestions 
In the summer it is bright around the clock, and if you are not used to it, a sleeping mask can be nice to bring.
Picking mushrooms is like going on a treasure hunt. You have to look for the goodies, and when you stand there by a golden yellow forest floor full of chanterelles, you have forgotten the effort. Bring a basket, knife and a mushroom book if you come in the autumn.
Takk for at du hjelper oss med å ta vare på naturen og lokalsamfunnene på Helgeland. Takk for at du:
Praktiserer sporløs ferdsel, og tar med avfall og toalettpapir tilbake til nærmeste søppeldunk.
Planlegger toalettbesøk, slik at du får gjort det du må der det ikke er til sjenanse for andre.
Respekterer det lokale dyrelivet, holder hunden i bånd og holder god avstand til både ville og tamme dyr og fugler.
Respekterer privat eiendom, og holder avstand til private hus og hytter.
Viser godt båt-vett, holder god avstand til land, lav fart nært andre på vannet, inkludert dyr og fugler, og unngår unødig kjøring som skaper forstyrrende motorstøy.
Respekterer ferdsels- og ilandstigningsforbudet i sjøfuglereservatene i hekketiden.
Følger fjellvettreglene, og planlegger turer etter evne og erfaring.
Leier en erfaren guide på turene der du selv ikke har kunnskapen eller erfaringen som trengs for en trygg tur.