Øyfjellgrotta - A cave adventure near Mosjøen
Øyfjellgrotta is a 500 meter long limestone cave in a mountain that towers over the scenic town of Mosjøen. The experienced guides of Hi North invite you to book an unforgettable tour of the cave.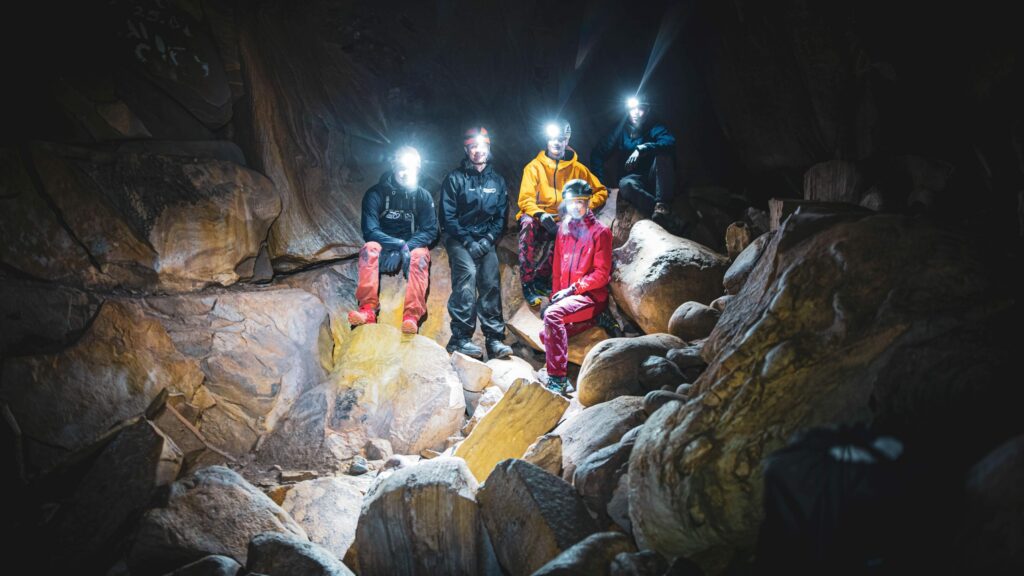 Hi North
For most tourists, cave exploration, sometimes called spelunking, is a new adventure. Fortunately, Øyfjellgrotta is easily accessible and only slightly demanding. With a little bit of crawling – and after squeezing through some narrow spots – you can see an underground river (dry in the summer) and many other underground wonders.
Description
The cave is a quite short walk from the nearby parking lot, with a steep climb to the cave entrance. The guides will equip you with coveralls, gloves, helmet and headlamp. Your tour takes about three hours. Øyfjellgrotta is an exotic opportunity to understand how natural forces have carved caves through the eons. It's an unforgettable adventure!
Where and when to meet up
Meet up at Hi North's office at Ytterøra 23, just outside the center of Mosjøen. From there you drive behind the guide to Øydalen, where the tour starts.
Contact
Go to booking
Miljøsertifisert
Contribute to sustainable tourism
Thank you for respecting the local communities, and for helping us preserve the natural beauty of Helgeland!
Please:
Strive to leave no trace of your visit. Bring back all your rubbish, including used toilet paper, and discard it in the nearest rubbish bin.

Plan your toilet visits and use the opportunity when you pass a toilet. In the wilderness, make sure you are not a nuisance to others.

Respect the local wildlife. Keep a good distance from wildlife, livestock and birds. Keep your dog leashed.

Respect private property. Keep a respectful distance from houses and cabins.

Show good boating sense. Keep a good distance from shore and drive at a low speed, especially when you are close to anyone or anything on the water, including birds or animals. Avoid loud and disturbing engine noise.

Be aware that some islands and nature reserves are important nesting sites, and that going ashore is prohibited during the nesting season.

Follow the Norwegian Mountain Code (Fjellvettreglene). Plan your excursion according to the weather forecast, your skills and experience.

Join a guided excursion or consider hiring an experienced guide, especially when you don't have sufficient experience or knowledge to guarantee a safe trip.