The adventure fleet in Selvær
Experience an intimate connection with nature and birdlife in a unique and intriguing way while staying amid the secluded and stunning surroundings of Selvær in Træna, located on the outermost point of the Helgeland coast.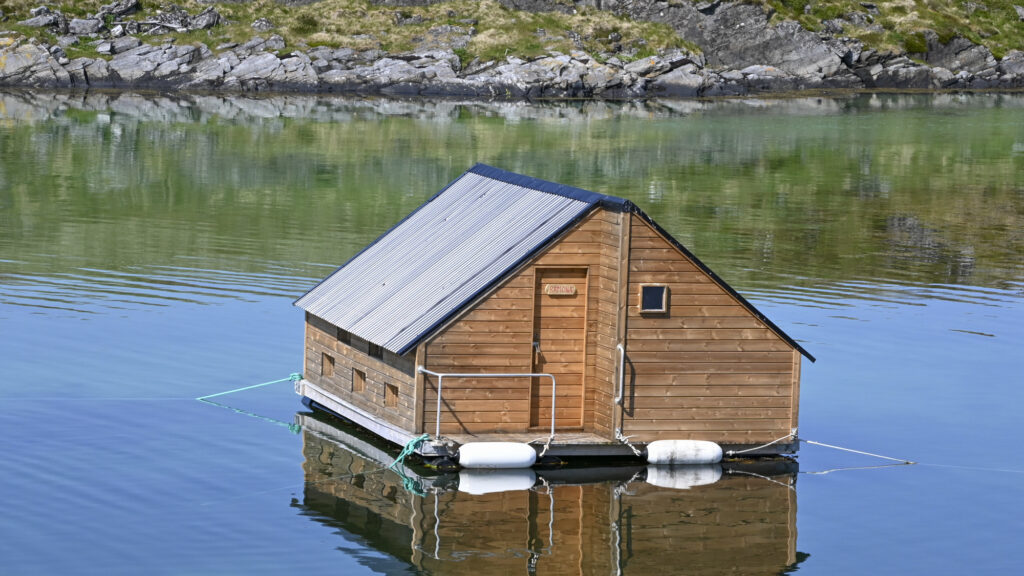 Astrid de Swart
From the anchored raft and the islets of Selvær, you can lean back and immerse yourself in the joys of the sea. Engage in fishing straight from the dock's edge, take a swim or snorkel, and observe the impressive birdlife in Selvær. The raft is perfectly designed for bird watching or bird photography. Here in Selvær, you can spot eagles, various gull species, eiders, black guillemots, and other seabirds.
Guests have the option of renting a small boat for transportation to and from the raft, allowing you to explore Selvær from the water. You can also rent a kayak or paddleboard to discover the beautiful shallow areas between the many small islands and islets of the fishing village.
The raft comes with modest facilities. Onboard, you'll find hammocks and basic foam mattresses. Bed linens are available for hire, or you can bring your own. Additionally, the raft features a bathroom with a toilet and hand basin. While furnished with tables and chairs, it doesn't come equipped with kitchenware or a stove. Luckely it's very nice to bring along a small portable grill or camping stove to a neighboring islet and cook your meal out in nature.
Here, you'll embrace a rare and memorable experience up-close with nature in one of the most captivating archipelagos along the Helgeland coast.
The raft is available from May 1 to October 31.
Contribute to sustainable tourism
Thank you for respecting the local communities, and for helping us preserve the natural beauty of Helgeland!
Please:
Strive to leave no trace of your visit. Bring back all your rubbish, including used toilet paper, and discard it in the nearest rubbish bin.
Plan your toilet visits and use the opportunity when you pass a toilet. In the wilderness, make sure you are not a nuisance to others.
Respect the local wildlife. Keep a good distance from wildlife, livestock and birds. Keep your dog leashed.
Respect private property. Keep a respectful distance from houses and cabins.
Show good boating sense. Keep a good distance from shore and drive at a low speed, especially when you are close to anyone or anything on the water, including birds or animals. Avoid loud and disturbing engine noise. Be aware that some islands and nature reserves are important nesting sites, and that going ashore is prohibited during the nesting season.
Follow the Norwegian Mountain Code (Fjellvettreglene). Plan your excursion according to the weather forecast, your skills and experience.
Join a guided excursion or consider hiring an experienced guide, especially when you don't have sufficient experience or knowledge to guarantee a safe trip.