Vevelstad Bygdetun - A folk museum
Vevelstad Bygdetun is a beautiful folk museum situated by the handsome Vevelstad church. There are exhibitions on 19th-century textiles and porcelain, an old well-equipped carpentry workshop, and several elegant traditional Nordland boats with a fascinating history.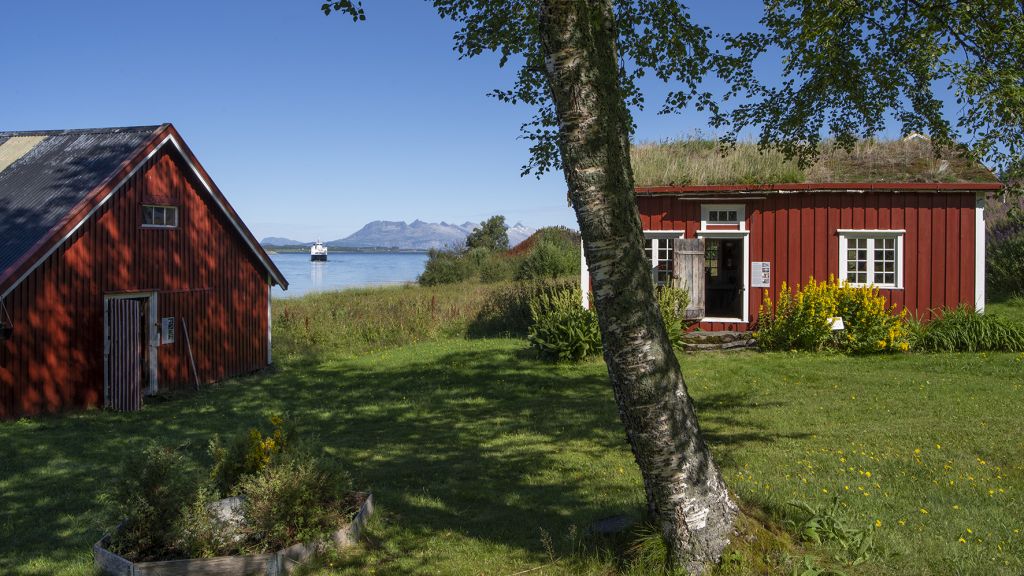 A museum garden has information boards that explain its plants and their history. There is also a miniature barn where children can try their hand at taking care of the animals – and even though these animals are made of wood, the barn is quite popular. This year there is also an exhibition on the indigenous Sámi people of the Vevelstad district.
In June 2021, an exhibition about the Sami history opened in Vevelstad and this will take place in 2022.
Petroglyphs
The Vistnes Trail, which starts near the museum, leads to the Vistnesdalen valley, an area that had had prehistoric settlements and where you can still see 5000-year-old petroglyphs. The amazing Stone Age art depicts stylised reindeer, moose, halibut, human figures and foot soles, boats and geometric figures.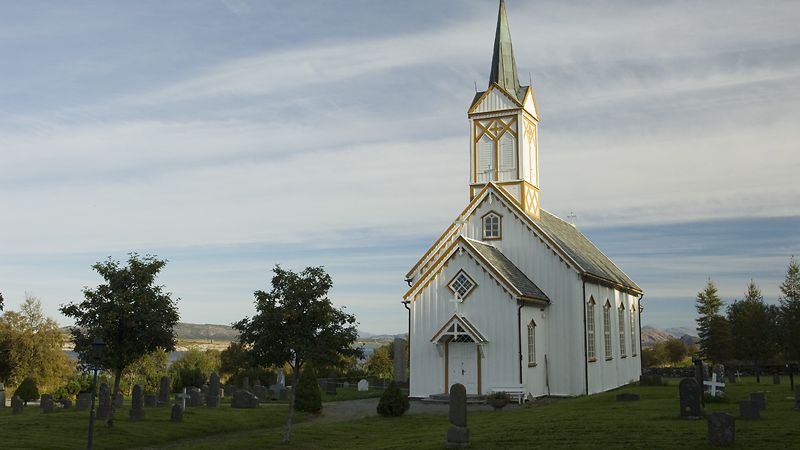 Vevelstad church
This church, built and consecrated in 1796, was expanded in 1871. While much of the original furnishings were then removed, it still has the original altarpiece and pulpit and a mural in the choir. These beautiful works were painted by the Italian artist Joseph Pisani (1760–1833) in the year the church was built.
Open at events, on request and during the summer season.
From the south: Take the ferry from Horn outside Brønnøysund to Anddalsvågen, about 20 minutes. Follow FV17 (coastal highway) about 16 km to the signage Vevelstad museum.
From the north: Ferry from Tjøtta in Alstahaug to Forvik in Vevelstad, about 1 hour. Follow FV17 about 700 meters to the sign marked Vevelstad museum.
Contribute to sustainable tourism
Thank you for respecting the local communities, and for helping us preserve the natural beauty of Helgeland!
Please:
Strive to leave no trace of your visit. Bring back all your rubbish, including used toilet paper, and discard it in the nearest rubbish bin.
Plan your toilet visits and use the opportunity when you pass a toilet. In the wilderness, make sure you are not a nuisance to others.
Respect the local wildlife. Keep a good distance from wildlife, livestock and birds. Keep your dog leashed.
Respect private property. Keep a respectful distance from houses and cabins.
Show good boating sense. Keep a good distance from shore and drive at a low speed, especially when you are close to anyone or anything on the water, including birds or animals. Avoid loud and disturbing engine noise. Be aware that some islands and nature reserves are important nesting sites, and that going ashore is prohibited during the nesting season.
Follow the Norwegian Mountain Code (Fjellvettreglene). Plan your excursion according to the weather forecast, your skills and experience.
Join a guided excursion or consider hiring an experienced guide, especially when you don't have sufficient experience or knowledge to guarantee a safe trip.