Vevelstad Bygdetun - A folk museum
Vevelstad Bygdetun is a beautiful folk museum situated by the handsome Vevelstad church. There are exhibitions on 19th-century textiles and porcelain, an old well-equipped carpentry workshop, and several elegant traditional Nordland boats with a fascinating history.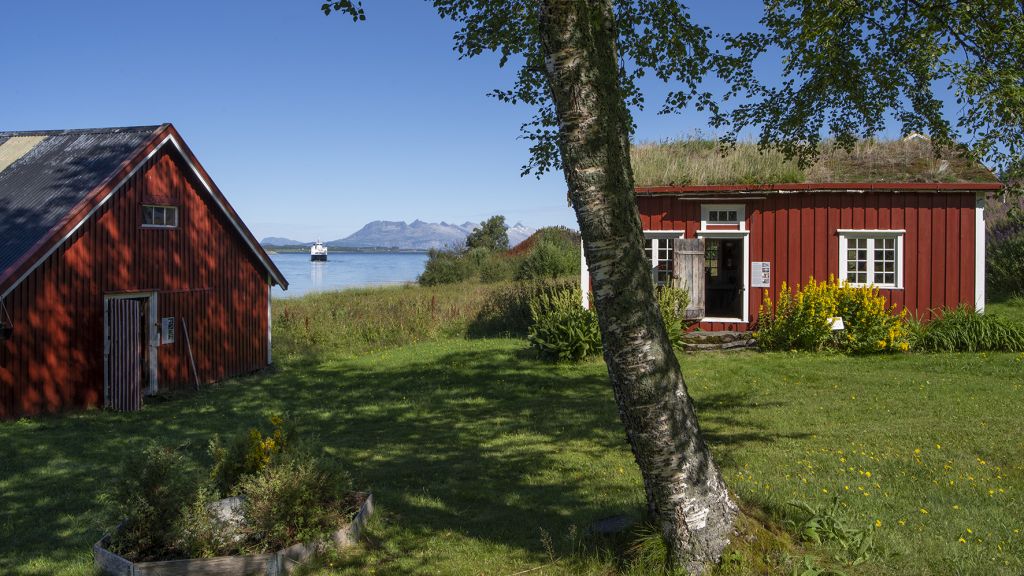 A museum garden has information boards that explain its plants and their history. There is also a miniature barn where children can try their hand at taking care of the animals – and even though these animals are made of wood, the barn is quite popular. This year there is also an exhibition on the indigenous Sámi people of the Vevelstad district.
In June 2021, an exhibition about the Sami history opened in Vevelstad and this will take place in 2022.
Petroglyphs
The Vistnes Trail, which starts near the museum, leads to the Vistnesdalen valley, an area that had had prehistoric settlements and where you can still see 5000-year-old petroglyphs. The amazing Stone Age art depicts stylised reindeer, moose, halibut, human figures and foot soles, boats and geometric figures.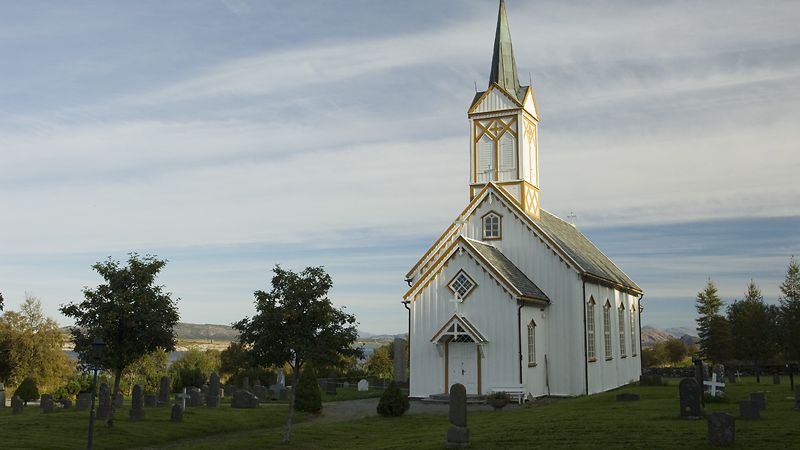 Vevelstad church
This church, built and consecrated in 1796, was expanded in 1871. While much of the original furnishings were then removed, it still has the original altarpiece and pulpit and a mural in the choir. These beautiful works were painted by the Italian artist Joseph Pisani (1760–1833) in the year the church was built.
Open at events, on request and during the summer season.
From the south: Take the ferry from Horn outside Brønnøysund to Anddalsvågen, about 20 minutes. Follow FV17 (coastal highway) about 16 km to the signage Vevelstad museum.
From the north: Ferry from Tjøtta in Alstahaug to Forvik in Vevelstad, about 1 hour. Follow FV17 about 700 meters to the sign marked Vevelstad museum.
Takk for at du hjelper oss med å ta vare på naturen og lokalsamfunnene på Helgeland.
Takk for at du:
Praktiserer sporløs ferdsel, og tar med avfall og toalettpapir tilbake til nærmeste søppeldunk.
Planlegger toalettbesøk, slik at du får gjort det du må der det ikke er til sjenanse for andre.
Respekterer det lokale dyrelivet, holder hunden i bånd og holder god avstand til både ville og tamme dyr og fugler.
Respekterer privat eiendom, og holder avstand til private hus og hytter.
Viser godt båt-vett, holder god avstand til land, lav fart nært andre på vannet, inkludert dyr og fugler, og unngår unødig kjøring som skaper forstyrrende motorstøy.
Respekterer ferdsels- og ilandstigningsforbudet i sjøfuglereservatene i hekketiden.
Følger fjellvettreglene, og planlegger turer etter evne og erfaring.
Leier en erfaren guide på turene der du selv ikke har kunnskapen eller erfaringen som trengs for en trygg tur.