Myken Seng & Suppe (Myken Bed & Soup)
Myken is a small fishing community far from the mainland. The islands of this archipelago have no car traffic – in fact the main island has less than one kilometre of road. Myken invites you to experience its island scenery, the ever-changing sea, and the midnight sun.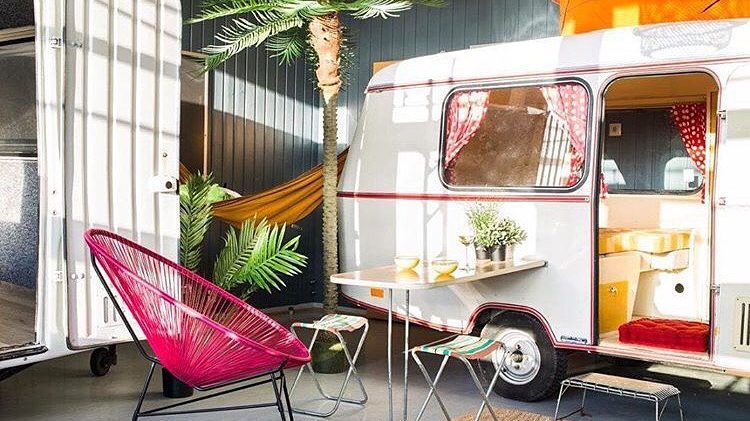 Kathrine Sørgård / Myken Seng og Suppe
Unusual accommodation
Myken Seng & Suppe (meaning Myken Bed & Soup) is located in a former schoolbuilding, but don't be misled by that! We really are talking about very unique and exciting accommodation. As a guest, you're invited to stay in one of the vintage caravans that are parked inside the old school library – these are perfect for a couple. Each caravan has an individual design, and its patio is equipped with deck chairs, palm trees and coloured lights.
Or maybe you prefer more glamorous camping? You can also stay in a spacious tent that has excellent beds, carpets and even chandeliers. (Available 25 June – 15 August)
Myken Bed & Soup offers other options as well. The Teachers' Lounge, Chemistry Lab and School Kitchen, have all been converted into comfortable double rooms. There are shared bathrooms.
Dining
In the café, situated in the former gym, your friendly hosts serve generous portions of hearty food. Their homemade food is delicious and unpretentious, and the menu varies according to which local ingredients are available and in their prime. After enjoying your breakfast, lunch or dinner, or coffee and cake, you can relax on the sofas and savour what the islanders of Myken claim is the world's most beautiful view.
Myken Bed & Soup is fully licensed, and the hosts would be delighted to pour you a shot of Myken Arctic Single Malt Whisky, produced at the island's very own distillery. During the summer, guests can enjoy art exhibitions as well as concerts.
About Myken
Myken is living proof that remote island communities can still thrive. This archipelago is so far out at sea that from Myken you can't even catch a glimpse of the Hurtigruten coastal steamers as they sail between their ports of call on the mainland. Myken's nearest neighbour is 40 minutes away by express boat. However, its excellent whisky distillery, two excellent restaurants and its unique accommodations have gained popularity with travellers who seek a special experience far from the well-beaten path.
Myken is home to only 12 year-round residents, in addition to still being pasture for a number of cows and sheep. Nonetheless, its remote location means that Myken never gets crowded.
Tip: At Myken, you should definitely consider a visit to the world's first Arctic whisky distillery. Enjoy a guided tour with tasting. You can also visit Myken Lighthouse, and even enjoy an overnight stay there – but be sure to book well in advance.
Myken Seng & Suppe is open in the summer season.
The easiest way to Myken is with the summer route to Nordlandsekspressen, which operates on the Helgeland coast from about 20 June until the end of August.
Otherwise this year you can take the Nordland Express from Bodø or Sandnessjøen to Tonnes. There you change to the boat that serves Rødøyruta to Myken. There is also free parking at Tonnes.
Været på Helgelandskysten kan variere mye, og på sommeren kan temperaturen være alt fra 10 til 25 grader, og regnet kan gjerne komme og gå i «ælinger», eller «byger» som det heter sørpå. Vi anbefaler at du pakker både allværsjakke og badeklær, fjellsko og sandaler, så du er klar for det meste.