A dog-sledding adventure with Hi North 
We invite you on an exotic winter adventure: to have a team of Alaskan huskies pull your sled, speeding through the snow-covered mountains. Their enthusiasm is contagious!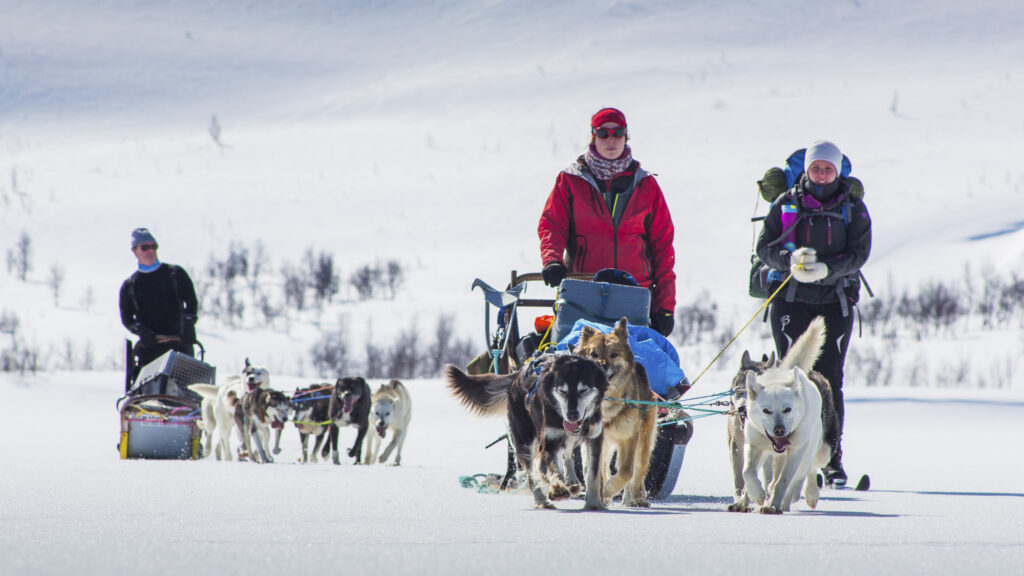 Hans Petter Sørensen / www.FarOutFocus.no
Dog-sledding is a real wilderness adventure, far from the city's hustle and bustle. There is just you and new-found friends sharing the adventure, the dogs, and the silence of the mountains. Hear the runners gliding over the snow, feel the wind in your face, and breathe the clean cool mountain air!
The huskies are just as eager as you are to head into the wilderness. The freedom and feeling of being at one with nature are indescribable!
You can, of course enjoy dog-sledding on a winter day, or during the twilight. An evening sled-ride with the starry sky above is an even more exotic experience – especially if the Northern Lights are dancing in the heavens!
You can choose whether you want a three-hour or a five-hour dog-sledding adventure. HiNorth can organise a lunch prepared over a campfire. If you wish, you can combine your dog-sledding adventure with snowmobiling, a snowshoeing or ski trip, a hunt for the Northern Lights, or a wilderness evening. Please contact us and express your wishes, and HiNorth will compose an adventure programme that is perfect for you and your group.
Contact
Go to booking
Miljøsertifisert
The meeting point for the dog sledding is at Sjåmoen, approximately 12 minutes' drive from Mosjøen
When you are standing on the sled guiding your team of huskies, you have to wear more clothes  to stay warm than you would for skiing for example. The secret is carefully chosen layers. Choose woollen or thermal underwear and thick wool socks as your undergarments, a good woollen sweater for your middle layer, and a windproof winter jacket and lined winter trousers as your outer garments. Supplement this with warm mittens, a good scarf, or even better a neck gaiter or balaclava around your neck, a warm cap and good winter boots.
Hi North can bring food and drink – but be sure to request this in advance.
For us, your safety is paramount. All excursions are therefore subject to acceptable weather conditions.
Please note that at least three participants are required for our shorter dog-sledding excursions, while our longer adventures require ten participants.
All participants must be at least four years old. Children age 4–12 receive a discount, whereas teenagers 13 years and older are charged adult rates.
Contribute to sustainable tourism
Thank you for respecting the local communities, and for helping us preserve the natural beauty of Helgeland!
Please:
Strive to leave no trace of your visit. Bring back all your rubbish, including used toilet paper, and discard it in the nearest rubbish bin.

Plan your toilet visits and use the opportunity when you pass a toilet. In the wilderness, make sure you are not a nuisance to others.

Respect the local wildlife. Keep a good distance from wildlife, livestock and birds. Keep your dog leashed.

Respect private property. Keep a respectful distance from houses and cabins.

Show good boating sense. Keep a good distance from shore and drive at a low speed, especially when you are close to anyone or anything on the water, including birds or animals. Avoid loud and disturbing engine noise.

Be aware that some islands and nature reserves are important nesting sites, and that going ashore is prohibited during the nesting season.

Follow the Norwegian Mountain Code (Fjellvettreglene). Plan your excursion according to the weather forecast, your skills and experience.

Join a guided excursion or consider hiring an experienced guide, especially when you don't have sufficient experience or knowledge to guarantee a safe trip.