Heidis Sjokoladedrøm - Divine handmade chocolate
Heidi always dreamed of becoming a chocolatier – and when you come to Dønna, you can taste the delectable results! Her handmade chocolate is imbued with the raw natural power of Helgeland and the exciting story of her dream come true. Heidi's shop, situated right on the queue, may be one of the smallest chocolate shops in the world.
Kathrine Sørgård
In addition to chocolate, Heidi also sells locally produced rhubarb juice, sea salt, fresh-roasted coffee, woollen caps and yarn.
Whether you are making a short visit to Dønna or staying several days, be sure to visit her shop, Heidis Sjokoladedrøm. You'll find the opening hours posted on her Facebook page, or call to agree on a time to visit. Booking a visit is requested especially for groups that want to visit the sought-after chocolatier. In a group visit, lunch or dinner may be included, as well as a lecture on the history and craft of fine chocolate making. Heidi is delighted to take a break from her production to be your host.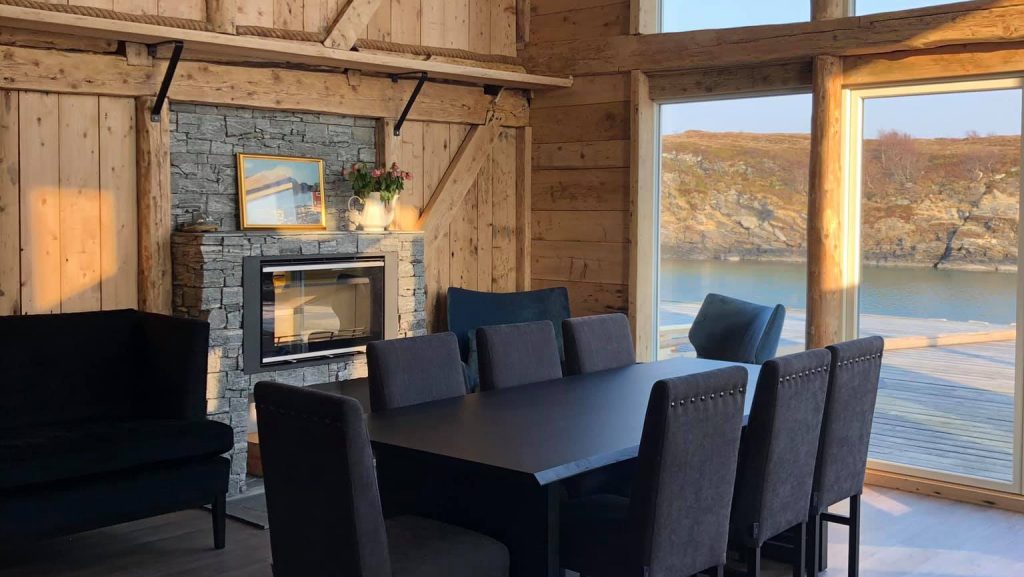 If you are sailing the coast, there is a guest harbour near the chocolate shop. If you are travelling by car or cycling, you will pass several cultural attractions on the way to the quay called Stavsengkaien.
The island of Dønna has many highlights, and some unusual attractions, such as the largest stone phallus in Northern Europe.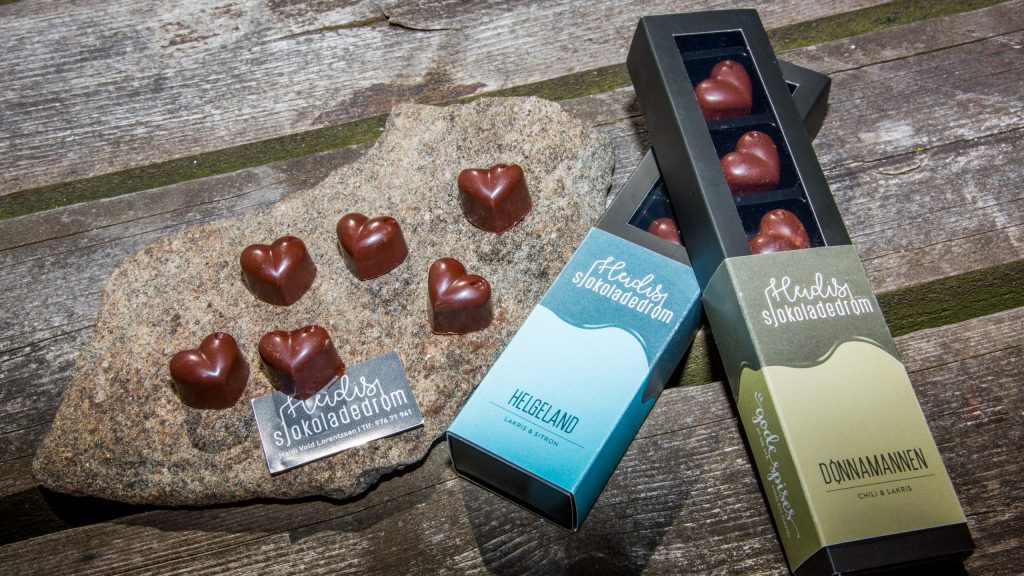 On the quay across the bay is Dønna Rorbuer Bøteriet, which has charming holiday apartments and a distinctive restaurant. A few kilometres away, at the foot of Dønnesfjellet, you'll find a beautiful medieval church, as well as Norway's largest and best-preserved burial chamber. Also worth a visit is the adjoining Dønnes Gård, a former vicarage. Do consider taking the 2–3 km walk on the cultural trail to the top of Dønnesfjellet (127 m), which has a magnificent view of the Helgeland coast. If you want something more challenging, take the mountain hike up Dønnamannen (858 m), one of the most famous mountains on the Helgeland coast.
Heidi posts on her Facebook page when the chocolate pier is reserved for private events, when she produces chocolate in the small factory, and when she has the opportunity to receive guests at the chocolate pier. Feel free to contact her to make an appointment or hear more about the possibilities when you want to drop by.
More about Heidi`s organic, vegan and sugar-free chocolate
Chocolate contains the best ingredients and is a fair trade product. Cocoa beans "Criollo" from Peru – the cocoa's "Rolls Royce" itself tops the quality. Cocoa is an extremely nutritious natural product, and with healthier alternatives to sugar and exciting and healthy ingredients, you get a healthy and nutritious chocolate. Heidi can safely inform about a chocolate that can be eaten with a clear conscience. If the words of praise are not enough, you can take a tour of Sjokoladebryggo on Stavsengkaia or a chocolate course.
Takk for at du hjelper oss med å ta vare på naturen og lokalsamfunnene på Helgeland.
Takk for at du:
Praktiserer sporløs ferdsel, og tar med avfall og toalettpapir tilbake til nærmeste søppeldunk.
Planlegger toalettbesøk, slik at du får gjort det du må der det ikke er til sjenanse for andre.
Respekterer det lokale dyrelivet, holder hunden i bånd og holder god avstand til både ville og tamme dyr og fugler.
Respekterer privat eiendom, og holder avstand til private hus og hytter.
Viser godt båt-vett, holder god avstand til land, lav fart nært andre på vannet, inkludert dyr og fugler, og unngår unødig kjøring som skaper forstyrrende motorstøy.
Respekterer ferdsels- og ilandstigningsforbudet i sjøfuglereservatene i hekketiden.
Følger fjellvettreglene, og planlegger turer etter evne og erfaring.
Leier en erfaren guide på turene der du selv ikke har kunnskapen eller erfaringen som trengs for en trygg tur.