Dønna is the largest island in Helgeland. Here you will find lofty peaks, fjords teeming with fish, food straight from the cultural landscape, and a rich cultural history.
Dønna is located just outside Sandnessjøen, and north of Herøy. When looking at the island from there, it's Dønnamannen that dominates the landscape on the large island. The airy mountain with its high, sharp peaks from that side is a magnificent sight even from a distance. But behind the mountain, the island opens up into a beautiful cultural landscape, divided by long, gentle country roads, fjords and bays, and lovely hiking mountains and outdoor areas.
The varied landscape and long country roads make Dønna one of the best destinations on the Helgeland coast for those who have brought their bikes along on the trip. And with bridge connections to many of the major neighboring islands in Herøy, you have a wide range of possible bike tours to choose from.
Whether you cycle, paddle, or drive around Dønna and Herøy, we recommend taking the time to listen to the whispers of the past. You'll find two of Helgeland's three medieval churches here, Dønnes Church and Herøy Church. These two stone churches trace their origins back to the 11th and 12th centuries, and Dønnes Church houses one of Norway's largest and best-preserved mausoleums.
Several of the eateries and accommodations also carry the cultural heritage with them, and those with open eyes and ears can learn a lot about the life of a fisherman and island dweller, past and present.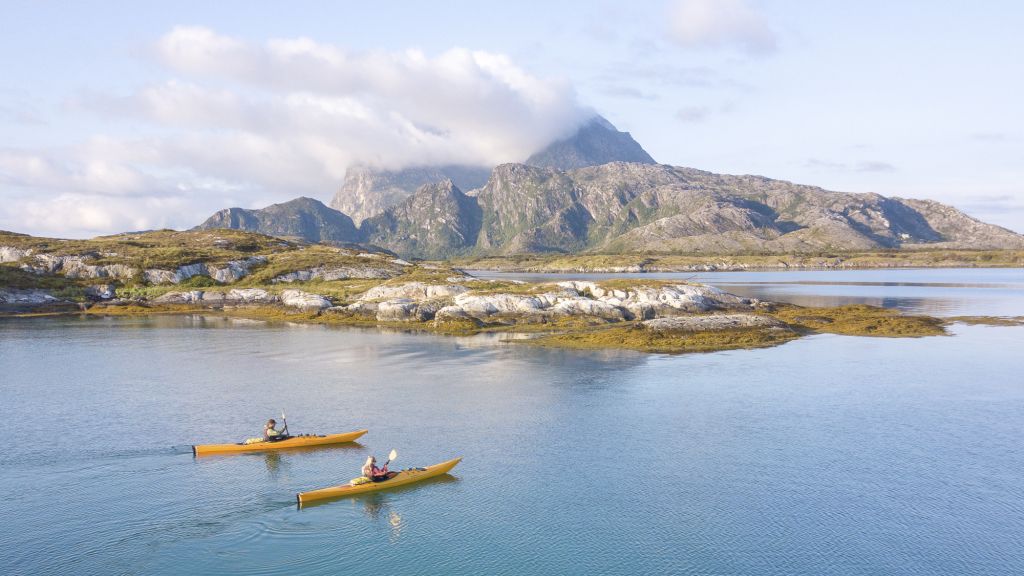 Jonas Berglund / Visit Helgeland
Activities and attractions – things to do on Dønna
Restaurants and dining establishments
Combined with the neighboring islands in Herøy, you have a good selection of restaurants offering traditional farm food and seafood, as well as a pizzeria with a local twist.
Great hikes and trips on and around Dønna
Contribute to sustainable tourism
Thank you for respecting the local communities, and for helping us preserve the natural beauty of Helgeland!
Please:
Strive to leave no trace of your visit. Bring back all your rubbish, including used toilet paper, and discard it in the nearest rubbish bin.

Plan your toilet visits and use the opportunity when you pass a toilet. In the wilderness, make sure you are not a nuisance to others.

Respect the local wildlife. Keep a good distance from wildlife, livestock and birds. Keep your dog leashed.

Respect private property. Keep a respectful distance from houses and cabins.

Show good boating sense. Keep a good distance from shore and drive at a low speed, especially when you are close to anyone or anything on the water, including birds or animals. Avoid loud and disturbing engine noise.

Be aware that some islands and nature reserves are important nesting sites, and that going ashore is prohibited during the nesting season.

Follow the Norwegian Mountain Code (Fjellvettreglene). Plan your excursion according to the weather forecast, your skills and experience.

Join a guided excursion or consider hiring an experienced guide, especially when you don't have sufficient experience or knowledge to guarantee a safe trip.