A hiking adventure: Rabothytta – Norway's most impressive DNT cabin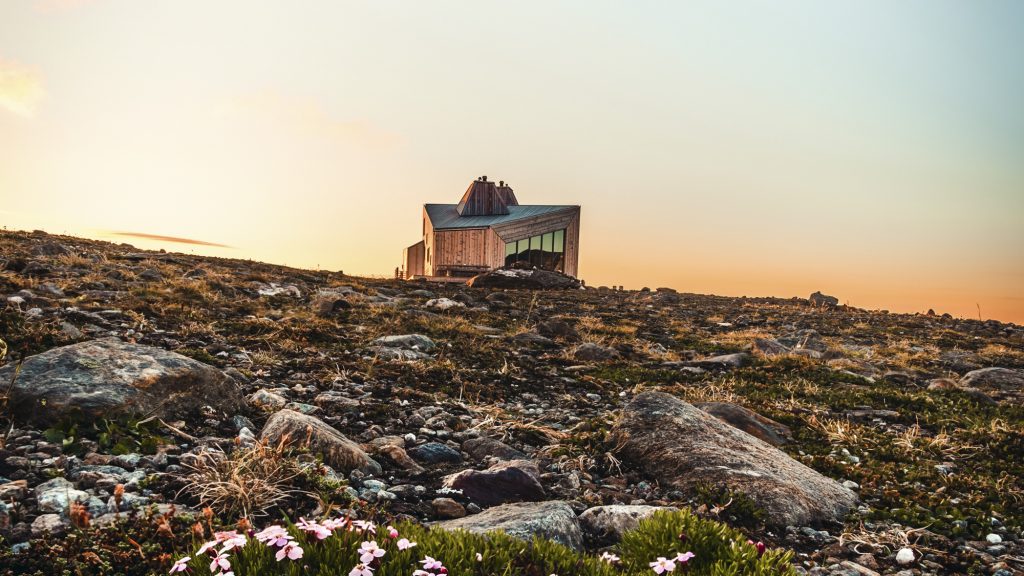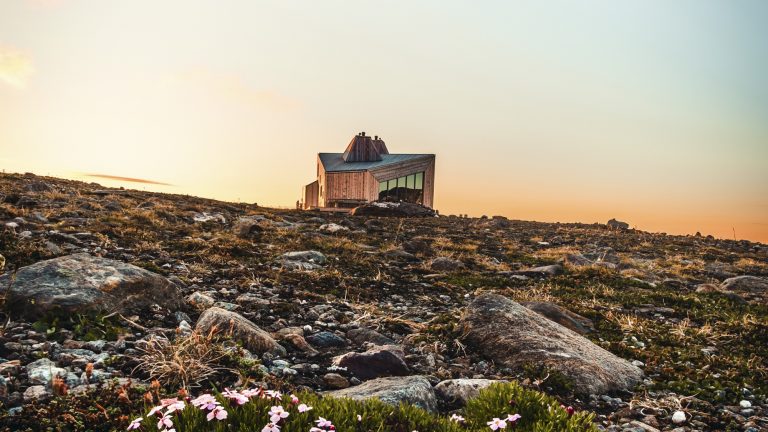 The DNT cabin Rabothytta is impressively situated at 1200 metres altitude, by the very edge of Okstindbreen glacier. The cabin enjoys a stunning view of the glacier, as well as the Okstindan mountain range and its highest peak Oksskolten (1916), the tallest mountain in Northern Norway.
Key info
Degree of difficulty: Moderate. The well-marked trail is mostly fairly easy, except a 400–500 m stretch along Mørkbekken creek that passes through a somewhat demanding scree or boulder field.
Distance one way: 5 km in summer. 11 km in winter.
Ascent one way: 500 m in summer, 1000 m in winter
Duration one way: 2–3 hours in summer
Wheelchair and pram friendly: No.
Trailhead: From the village of Korgen, drive up Leirskarddalen valley. The last few kilometres of the road are gravel, to a parking area situated at almost 700 m altitude. A marked trail leads up to Rabothytta cabin.
Description of your hike
Rabothytta in Hemnes Municipality draws visitors to its elegant and striking architecture as well as to the beauty of its surrounding wilderness. Rabothytta is part of a trail network where hikers have access to three additional cabins: Gressvasshytta, Kjensvasshytta and Gråfjellhytta.
The completion of Rabothytta in August 2014 enabled the Norwegian Trekking Association (DNT) to offer more comprehensive accommodation as well as a great trail network to hikers exploring the majestic Okstindan mountains. The cabin accommodates 30 overnight guests. Rabothytta is perfectly situated for visitors in winter as well as summer.
From the closest road, a summer hike takes approximately 1.5 hours, through beautiful mountain terrain. In the winter, cross-country skiers should allow about three hours for the trip up to the cabin.
Booking for Rabothytta cabin
To reserve a bed in Rabothytta cabin, please check the cabin calendar on the website of the local DNT chapter. Here you can also book beds in Gressvasshytta, Gråfjellhytta or Kjensvasshytta cabins. Please note that at least one person in your group has to be a DNT member and that you must have a DNT key.
Rabothytta is especially popular during summer, so if you are hoping to spend the night, make sure you check availability well in advance. It may well be fully booked.
For day visitors
You are welcome to visit Rabothytta and have a look inside without spending the night. But if you are using the cabin, including the toilets, you have to pay a modest fee for day use. That entitles you to prepare your food in the kitchen and relax here for as long as you want. During the summer, you can often buy coffee and waffles at Rabothytta cabin. The hosts are volunteers, and so they would be grateful if you would lend a helping hand, for instance by fetching water or bringing in firewood.
Okstindan – the "roof" of Northern Norway
The Okstindan mountain massif has eleven distinct peaks, of which the highest is Oksskolten (1916 m). From the edge of Okstindbreen, the view of these peaks rising from the glacier is breathtaking. Whether you stay in Rabothytta, Kjensvasshytta or Gråfjellhytta, you can delight in having a great base from which to explore these magnificent mountains.