The roof of Northern Norway - the Okstindan mountains and Okstindbreen glacier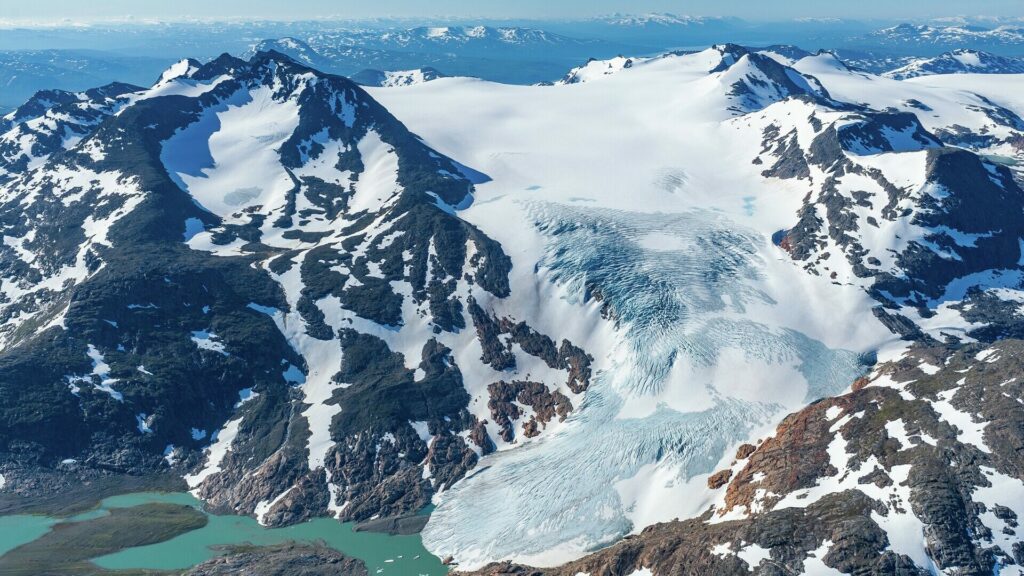 The Okstindan massif, which includes a glacier and highest peak in Northern Norway, towers above the surrounding mountains. You may call it the giant of Helgeland – others refer to it as the "roof" of Northern Norway.
Okstindan is a mountain massif in Hemnes municipality in inner Helgeland. The villages Korgen and Hemnesberget are natural starting points for those who are going to visit the mountains known as "the roof of Northern Norway".
Okstindan – the roof of Northern Norway
The nine peaks that rise from the mountain massif and the glacier might make you think of the points on reindeer antlers. The highest of these peaks is Oksskolten (1916 m). You have to go much farther south, all the way down to the Dovrefjell mountains, to find higher Norwegian peaks.
The first known ascent was in 1883 by the French mountaineer Charles Rabot. The stunningly beautiful Rabothytta cabin, perched at the edge of Okstindbreen glacier, is named after him. If you want to follow in Rabot's footsteps, we strongly suggest that you only do so accompanied by an expert guide, especially for the trek across the glacier. It is possible to go around the glacier, but that is a long detour on an already strenuous mountain hike.
Okstindbreen glacier
Like an icy blanket, the Okstindbreen covers a large part of the mountain massif. Several glacier tongues extend down into the surrounding valleys. This is the eighth-largest glacier on the Norwegian mainland, and its eastern portion, Austre Okstindbre, is probably our oldest glacier. It is believed to have survived since the last ice age, nine or ten thousand years ago.
The highest point of the glacier is over 1500 metres above sea level; here the ice is covered with snow year round. At lower altitudes and down in the valleys, the snow melts away in the summer, revealing deep crevasses and rock-hard "blue ice". Any walk on the glacier requires considerable local knowledge and specialised equipment. In other words, it is not for a first-time amateur! Fortunately you can sign up for a guided glacier trek, or hire a guide for your expedition.
Please be mindful and keep a safe distance from the edge while admiring the glacier. The large blocks of ice at the glacier's edge are especially unstable, and can suddenly come loose and shift without warning.
Never walk out onto the glacier without proper safety equipment. We strongly recommend that you do so only in the company of an expert glacier guide.