With its thousands of islands, islets, and skerries, the island municipality of Herøy is perfect for those who want an active seaside vacation.
Herøy is an group of islands off Sandnessjøen, with several larger inhabited islands and thousands of smaller islands and islets in a beautiful archipelago. In the low coastal landscape, there is little to obstruct the midnight sun in the summer or the northern lights in the winter, or the view of the magnificent mountains such as Dønnamannen and De Syv Søstre to the north and east.
The island group is considered one of Norway's best areas for kayaking. The extensive archipelago offers a myriad of shallow water areas, narrow straits, sheltered bays, and coves with beaches just waiting to be explored by paddlers. The low landscape and sheltered sea also make the area highly suitable for kiting and windsurfing, as you can enjoy good sailing winds without the sea becoming too rough.
With bridge connections between most of the major islands and the neighboring island of Dønna, Herøy is ideal for those who want to bring their bicycles on vacation. The beautiful coastal landscape is easy to cycle through, and with the option to choose long distances, the area is well-suited for both leisurely and challenging bike rides.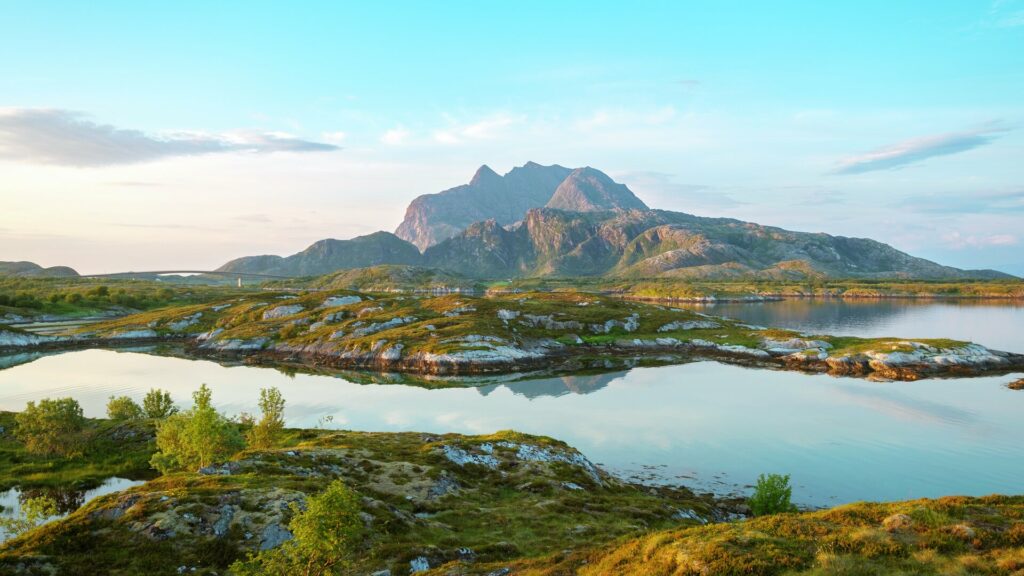 Kristoffer Møllevik / Visit Helgeland
Activities and Attractions – Things to do in Herøy
Restaurants and cafés
Herøy and the neighboring island of Dønna offer a great selection of dining options, featuring traditional farm-to-table cuisine, seafood specialties, as well as a local twist on pizzerias.
Great hikes and trips on and around Herøy
Contribute to sustainable tourism
Thank you for respecting the local communities, and for helping us preserve the natural beauty of Helgeland!
Please:
Strive to leave no trace of your visit. Bring back all your rubbish, including used toilet paper, and discard it in the nearest rubbish bin.

Plan your toilet visits and use the opportunity when you pass a toilet. In the wilderness, make sure you are not a nuisance to others.

Respect the local wildlife. Keep a good distance from wildlife, livestock and birds. Keep your dog leashed.

Respect private property. Keep a respectful distance from houses and cabins.

Show good boating sense. Keep a good distance from shore and drive at a low speed, especially when you are close to anyone or anything on the water, including birds or animals. Avoid loud and disturbing engine noise.

Be aware that some islands and nature reserves are important nesting sites, and that going ashore is prohibited during the nesting season.

Follow the Norwegian Mountain Code (Fjellvettreglene). Plan your excursion according to the weather forecast, your skills and experience.

Join a guided excursion or consider hiring an experienced guide, especially when you don't have sufficient experience or knowledge to guarantee a safe trip.