Helgeland offers great fun for children!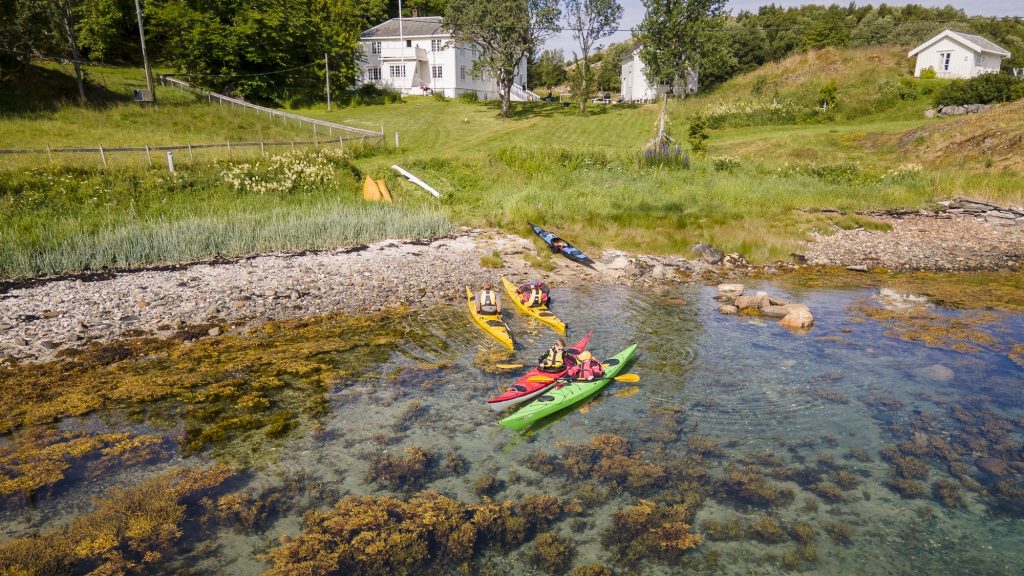 A family holiday should not be all relaxation – your kids need fun and excitement! Throughout Helgeland you will find plenty of activities and adventures that will challenge young and old, and which reward with newfound knowledge or skills or are just pure fun!
The Seven Sisters – a mountain hike and a swim
Between Breitinden and Kvasstinden, two of the peaks of the Seven Sisters (De syv søstre), there are several small mountain lakes at roughly 500 metres altitude. On a hot summer day, they're perfect for a swim, a welcome pause from your mountain hike. The hike up is easy enough that Norwegian pre-school children have no difficulty, especially with a little bit of encouragement. Here are directions to the parking lot; from there you just follow the signposted trail towards Kvasstinden. At the fork situated at roughly 460 metres altitude, instead of taking the trail that climbs steeply up to Kvasstinden, make sure you continue straight towards the small lakes, which you will see before reaching the larger Helknavatnet lake.
Botn sea baths
A short distance outside the town centre of Sandnessjøen is Botn Havsbad (Botn sea baths), a cove that has been partially separated from the sea. The water temperature here tends to be much warmer than the surrounding sea, and it's good to know that this saltwater pool is no more than one metre deep. At Botn you can relax on the sandy beach, swim, sunbathe or sit in the shade under the lean-to, play volleyball and barbecue. You can also walk the nice trails nearby.
The excitement of deep-sea fishing
Rent a boat and go fishing. It's exciting to feel your line jerk, perhaps to see the fish jump clear of the water, and finally to haul it in over a gunwale. This gives children a feeling of mastery, and is the stuff of which good, early fishing memories are made. And if the fish is grilled on a fire right by the shore, then the satisfaction is complete!
Seløy Kystferie at Herøy offers deep-sea fishing trips on their handsome boat. At Offersøy Camping you can rent a boat and head out on your own, or hire a fishing guide if you want.
Soar like a bird on the Mosjøen Zip-line!
From 70 metres up Øyfjellet, the mountain that overlooks the town of Mosjøen, you can gather your courage and jump out into the void! Then you will soar like a bird for 700 metres and land in the gardens of Fru Haugans Hotel, in the town centre across the Vefsna river. We might also mention that the airborne are doubly secured with a climbing harness attached both to the sturdy steel wire and to the "zipper". To soar through the air in the best James Bond style is exhilarating!
There is a ten-year age minimum and you must weigh at least 30 kg. You ride the Zip-line in pairs, which means you can reassure and encourage each other as you are standing at the edge of the abyss ready to jump. For many, this is an earth-shattering adventure and one of their best holiday memories from Helgeland!
Trollvar Nature Park
At Trollvar, a nature and activities park in Tverådalen situated about 7 km from the Mosjøen town centre, you can enjoy a wide array of exciting activities. These include canoeing, archery, paintball and laser shooting, trampoline, pedal go-karts and much more. In short, the park offers lots of fun for children and adults of all ages.
Note: Trollvar is open on request.
Rafting i Auster-Vefsna
At Trofors, a short drive from Mosjøen, the whole family can go on an exciting adventure down one of Helgeland's wild rivers. Family rafting is a quieter rafting trip for children from 6 years and up, and the experienced guides will take you down rapids that offers just the right amount of excitement.
Torghatten – an enchanted walk through a mountain
Torghatten is the famous mountain with a hole through it! And this is no tiny hole. The tunnel is 160 metres long, 15–20 metres wide and as much as 35 metres high. According to legend, this hole was created when the Sulis Troll-King threw his hat into the air to deflect an arrow fired at the Maiden of Leka by the enraged Horseman who was chasing her. Just as the arrow pierced the hat, the sun rose and all were turned to stone. (Actually the impressive hole was probably carved by ice and water during the last ice age, but you decide whether to reveal that to your kids.)
The walk up the mountain and through the famous hole is surprisingly easy, making this a perfect excursion for the whole family. Good footwear is important. The walk on the well-marked path hike takes 30–40 minutes. If you want to spend the night near Torghatten, accommodation is offered by Torghatten Camping and at Torgarhaugen.
A snorkelling safari on Vega
The sheltered, crystal-clear waters of the World Heritage archipelago Vega offer excellent conditions for underwater exploration. At Levika, on the southern shore of the main island Vega, there is even a Snorkelling Trail! It is a fairly easy challenge for swimmers young and old. A series of large buoys guide you as you swim through shallow waters, peering down on fascinating underwater plants and animals.
At Vega World Heritage Centre you can rent snorkelling equipment and wetsuits as small as 10 years in size. This adventure must be booked in advance, and on the Snorkelling Trail children must be accompanied by an adult who is an able swimmer. Click here for more information. To book a wetsuit and equipment, please call the World Heritage Centre at tel. +47 941 35 162.
Wilderness expedition in Lomsdal-Visten National Park
How about letting your kids be explorers, and maybe even expedition leaders for a few days? In the Vistenfjord, you can rent a fishing boat, kayak or canoe and explore the beautiful fjord on your own. Naturally, the whole family can also put on their hiking boots; you can teach the kids to use a map and compass and challenge them to find you a good tenting site in the Lomsdal-Visten National Park.
Exploring the caves of Helgeland
Grønligrotta, a cave situated about half an hour's drive from the town of Mo i Rana, is the only cave in Scandinavia with artificial lighting. During the summer, daily guided tours are offered of the first 400 metres of this cave. The tour takes about 50 minutes. The cave has wooden walkways and stairs, making it easy to walk for older people, as well as children down to three or four years age.
Setergrotta, also near Mo i Rana, has impressive marble passages, large rock chambers and even an underground river! This cave is especially interesting for adventurous children who are at least six years old. Wear casual clothes and comfortable shoes. Even on a hot day, you should bring a sweater or jacket, and not just a t-shirt, as the underground caves are always cold.
A trek on the Svartisen glacier!
A glacier trek with an experienced guide might well be the highlight of your Helgeland holiday, especially for slightly older children! Svartisen is the second-largest glacier on the Norwegian mainland, stretching from Rana and Saltfjellet in the east to Meløy and the Helgeland coast to the west.
To reach the eastern part of the glacier, you take the shuttle boat across Svartisvatnet lake, after the 40-minute drive northward from Mo i Rana. Your guide will equip you with crampons, ice axes and safety harnesses that are securely connected to ropes. This glacier expedition takes around five hours and is suitable for children over 10 yeas of age, provided they are accustomed to hiking. It doesn't take much imagination for them to feel that this exotic adventure is tantamount to taking part in a Mount Everest expedition!
Swimming at Havblikk Helgeland
TopCamp Havblikk is a friendly campsite situated right on the water near the village of Nesna. Here you will find "Lille Syden", the longest water slide in Northern Norway, which ends in a nice, safe "landing pool" where the warm 29˚-degree Celsius water is only one metre deep. There is a lifeguard on duty and plenty of ice cream in the kiosk! What more could you ask for?
If you yearn for an authentic outdoor adventure, you can rent one of the spacious fishing boats from Havblikk. If you prefer a kayak, Hav & Fritid rents them out. Yet another great option is to go on a sea-eagle safari, a RIB sea-rafting excursion that is offered by Visit Nesna.