It is a fascinating experience to step inside the mountain interior. Some might think it otherworldly – but this is our subterranean world!
Here you leave daylight behind, and the sounds of our outer world fade quickly. Even in the heat of summer there is a chill below ground.
Feel the excitement! You really do feel like an explorer on your way deep into the unknown. Equipped with a helmet and the light from your headlamp, you follow your guide. It's easy to imagine yourself stepping into a bygone era.
Should you be hesitant to push so deeply into sometimes-narrow passages, you might instead consider visiting one of the large, open grottos of Helgeland.
Be safe – and leave no trace!
With the exception of the large open grottos (the hole through mount Torghatten near Brønnøysund, Kirkhelleren on the island of Træna, and the Tonnes grotto in Lurøy), we strongly recommend that you take a guided tour when visiting the cave of your choice. Some caves have many passages and caverns, and the guides know which of them are most exciting, the safest routes to take and, importantly, how to get out again. With the exception of Grønligrotta, headlamps and spare lights are a strict necessity, and in some of the caves you must also wear a helmet. The necessary equipment is provided as part of the guided tour, but you should bring good hiking boots are definitely advised.
For thousands of years, natural processes have been shaping these caves. Some are protected and many are vulnerable. While Helgeland is riddled with caves known and unknown, we recommend that you visit only those caves that are advertised and well known. Do not enter closed caves, don't move any rock, do not break off stalactites or stalagmites to take with you, and never scratch or paint marks in the rock. In short, leave no trace of your visit!
Rules of the cave
1. Never damage anything in the cave.
2. Take nothing other than photos.
3. Leave no trace other than footprints – and scarcely that
Book your experience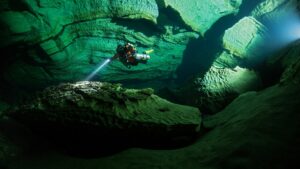 Visit Plura in Rana – A diver´s paradise!
Many experienced divers consider Visit Plura to offer world-class diving. Their facility offers everything you need for a perfect diving holiday. Moreover, they are situated right by the entrance of the underwater cave, Pluragrotta.
Grønligrotta Cave near Mo i Rana
Grønligrotta, with its network of passages and beautiful limestone formations, has long been one of the most visited caves in Scandinavia. Electric lighting allows you to more fully appreciate it this natural wonder, which ice and water took 700,000 years to sculpt.