Svartisen glacier – Engabreen and Austerdalsisen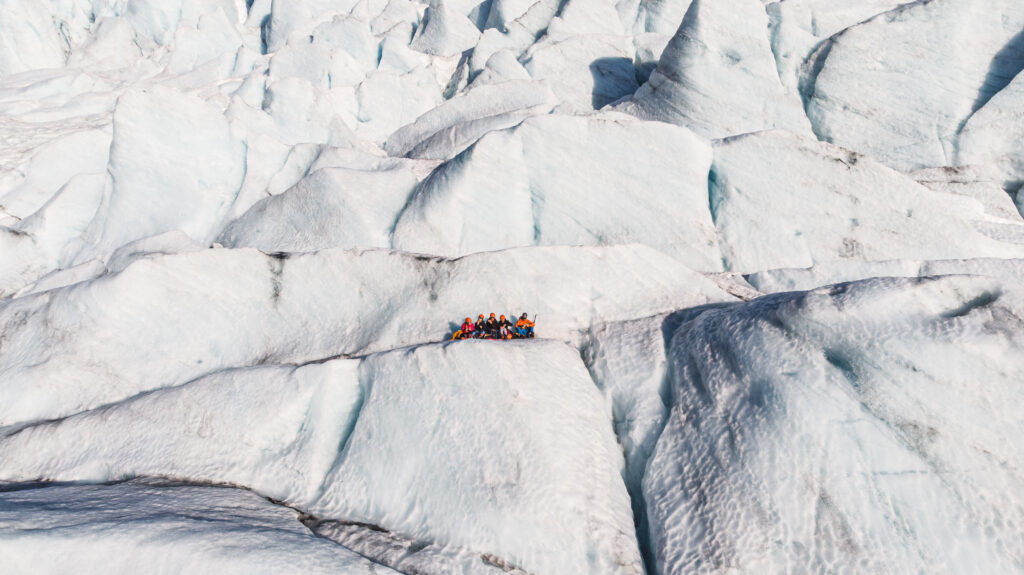 Are you looking for an exotic outdoor adventure? Go for a glacier trek on Svartisen! Svartisen is the second-largest glacier in mainland Norway, covering a larger area than the cities of Oslo and Bergen combined. Join a glacier guide and nurture your urge to explore!
The Svartisen glacier extends from Saltfjellet in the east to the Holandsfjord on the coast. If you want to see Svartisen, it is easiest to reach by crossing Svartisvatnet lake near Mo i Rana, or the Holandsfjord in Meløy municipality. Your best option is to sign up for a guided excursion.
The Engabreen glacier arm
For visitors approaching from the west, the glacier arm called Engabreen is the easiest to get to. Take the ten-minute shuttle boat from Holandsvik across the Holandsfjord. From the quay, follow the gravel road for 3 km, then start the climb up to the glacier. Good footwear is a must; when it rains or snows, the rocks can be very slippery.
If you are arriving in your own boat, the guest harbour has room for about 30 boats.
Meløy Adventure offers glacier treks with experienced guides. You will be equipped with crampons, ice axes and safety harnesses connected to ropes. It's amazing to see the crevasses, the blue ice and the natural ice formations up close. During the summer, you can experience a glacier walk on Svartisen in the glow of the midnight sun.
The Austerdalsisen glacier arm
From the east, the most accessible is the Austerdalsisen glacier arm. Head for Svartisvatnet lake, a little north of the town of Mo i Rana. If you follow the marked trail around the shore of the lake for 3 km, you will reach a great viewpoint. If you've brought food, you can enjoy a snack in the lean-to shelter while savouring the view of the glacier. Please note that this excursion is recommended only for experienced glacier enthusiasts, that it requires planning, and that the weather needs to be taken into account. For most people, we recommend visiting Engabreen or Okstindbreen instead.
How Svartisen got its name
Svartisen means "black ice". At the tip of the glacier arms, you can see the exposed blue, super-compressed ice so dark that it gave this glacier its name. It's quite a contrast to the fresh ice on top of the glacier.
Svartisen, covering 370 km2, is the second-largest glacier on the Norwegian mainland. It used to be a single large glacier, but is now divided in two.
Please be mindful and keep a safe distance from the edge while admiring the glacier. The large blocks of ice at the glacier's edge are especially unstable, and can suddenly come loose and shift without warning.
Never walk out onto the glacier without proper safety equipment. We strongly recommend that you do so only in the company of an expert glacier guide.