A road trip for the active family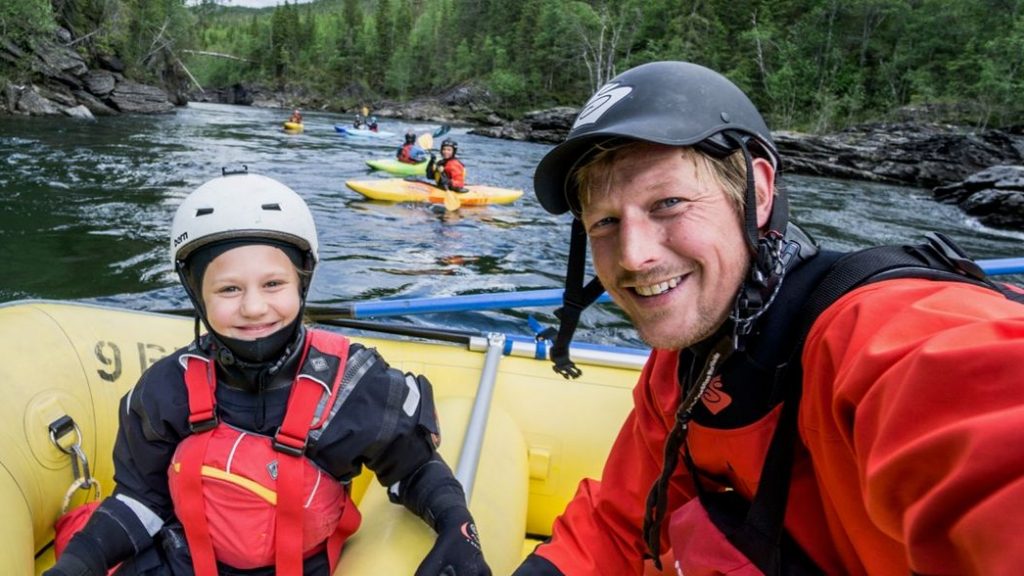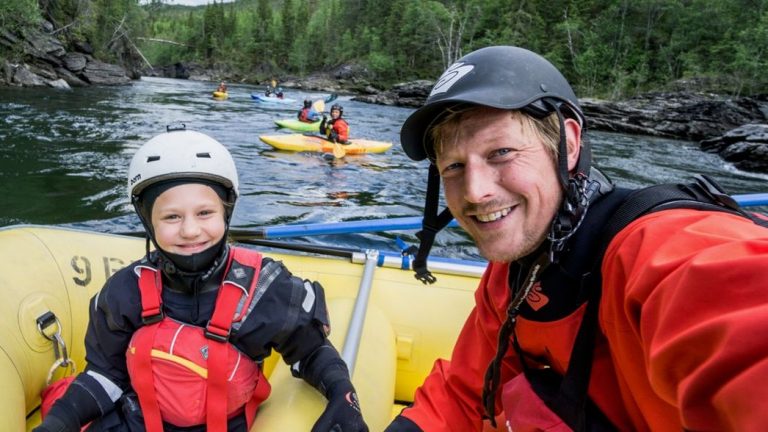 Travelling by road can be rewarding and fun, but sometimes also tiring, especially with children. Here is our suggestion for a road trip through Helgeland that has just the right daily distances, with lots of activities that are satisfying for young and old.
Our suggested seven-day itinerary starts in Mosjøen and ends in Mo i Rana. En route you will find many great adventures. If you feel seven days is too long, just choose the portion that you find most tempting.
Day 1: Zip-line and Via Ferrata
This afternoon, we suggest taking the Mosjøen Zip-line from Øyfjellet, an adrenaline-filled adventure that sends you soaring 700 metres, landing you safely on the other side of the Vefsna river. The zip-line can be enjoyed by anyone over ten years old, provided they weigh at least 30 kg (66 lbs).
A fine challenge at Øyfjellet is to climb the Via Ferrata. Here the age limit is twelve years old, and the minimum weight is 40 kg (88 lbs). You can book both of these adventures at Naturlige Helgeland.
On a clear summer day, we suggest that families with younger children consider an outing to Mosjøen's town beach. But even little kids have been known to ascend most of the Helgeland Stairs on their own two feet. The beautiful stone stairs of 3000 steps that climb up Øyfjellet were built by Sherpa craftsmen from Nepal.
Day 2: A cave adventure – or a visit to Trollvar Nature Park
We offer two options for the day. One of them is a guided cave excursion into Øyfjellgrotta. While the age limit is 5 years, all visitors should be in reasonably good shape, as the final stretch of the trail up to the cave is rather steep. Some of the narrowest sections of the cave require crawling, which may not suit those who suffer from claustrophobia. The guided hike and cave exploration takes about three hours. All necessary equipment is provided. This excursion may be booked at Naturlige Helgeland.
Your visit to Trollvar Nature Park, situated 7 km outside the town centre, should also be booked in advance. This park offers activities for young kids as well as teenagers. For the younger visitors there is a trampoline, a Hi-Striker clown, pedal go-carts, a jungle safari, a nature trail, and a sandbox. Kids over the age of 10 can try walking on stilts or plank skis, try the "artist bike" or mini bike, throw a game of horseshoes, soar high on the zip-line, and much more.
Guests are also welcome to spend the night in the nature park: in hammocks, in a tent or in a lavvo. Book your visit at Trollvar nature park.
Day 3: Grane and Hattfjelldal – family rafting and farm visit
After breakfast, take the 45-minute drive to Grane. First head south on highway E6, and then turn off towards Hattfjelldal. After just 2 km, you have reached Grane Bygdetun, which will be on your right. Here you can take an exciting three-hour family rafting trip on the eastern branch of the Vefsna river. The price includes wetsuits and the other equipment you will need. The rafting adventure has a 6-year age limit. Booking the rafting trip at RiverNorth.
After this family adventure, take the relaxing drive to Hattfjelldal, about 35–40 minutes away. In the village centre, consider stopping for a meal or to buy groceries.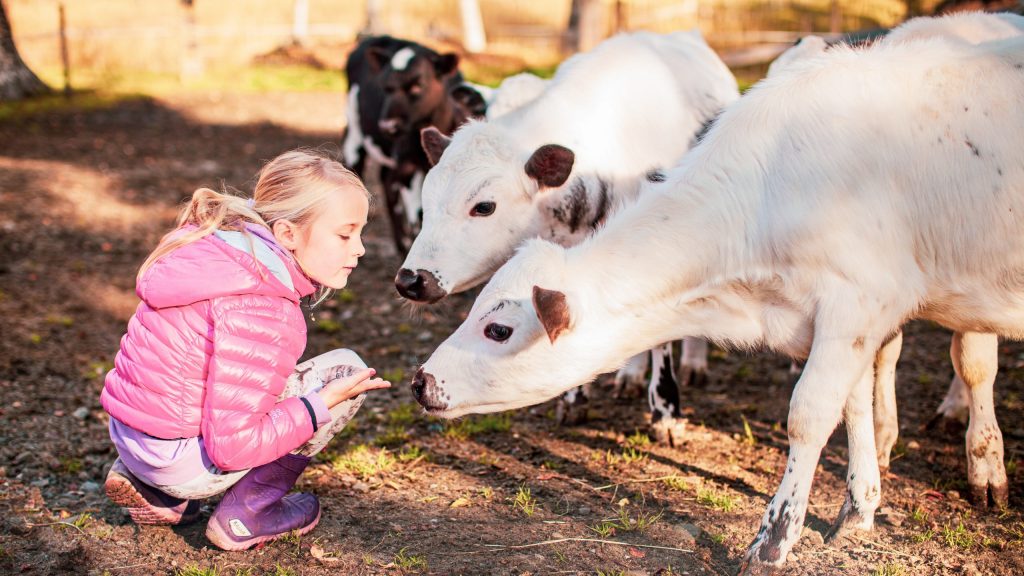 Sæterstad Farm is situated at Varntresk, about 40 km from Hattfjelldal village. As a guest here, you stay in your own holiday house, which is fully equipped for preparing your own food. If you prefer, you can book some or all of your meals.
Many of the residents of Sæterstad Farm are goats – they are curious and eager to greet you. Guests are welcome to borrow a boat and try their luck fishing in Bessvatnet, the lake near the farm. You can also rent a canoe and explore the Stillelva river, which is tranquil and a scenic gem. If you head 3–4 km upstream, Varnvatnet lake has a beautiful sandy beach where the summer water temperature is usually warm enough for swimming. There are also great hiking trails nearby. Yet another alternative is to rent a bicycle and explore the scenic surroundings on two wheels.
Day 4: A day of relaxation at Korgfjellet
You should enjoy the morning at Sæterstad Farm, and feel free to have lunch before setting out on the two-hour drive to Korgen. First, drive back to Hattfjelldal and continue briefly along route Rv73 before turning north onto Villmarksveien (the Wilderness Road) and towards Bleikvassli. This scenic road hugs the shore of Røssvatnet, Norway's next largest lake. On a clear day you can glimpse the Okstindan mountains in the distance. This mountain range has the highest mountain peak in Northern Norway, Oksskolten (1916 m). Perched in these mountains is Europe's oldest glacier.
Then check in at Korgfjellet Fjellstue, which is nicely located by the old main road over the mountain Korgfjellet. Here you will find family-friendly, marked trails in easy-going mountain terrain. You have the whole afternoon to savour the surrounding scenery – or just relax by your cabin, because tomorrow's mountain hike will be more strenuous.
Day 5: A hike to Rabothytta cabin
We suggest rising early. From Korgen, drive through the valley of Leirskarddalen. The last few miles are a gravel road, up to the parking lot. From the trailhead here, which is at 700 metres altitude, follow the marked 5-km path up to Rabothytta cabin. Be sure to have good boots or sturdy footwear. If your children are used to mountain hikes, they should be able to join you. Adults use 1.5–2 hours one way on the hike. Allow a little longer if you have kids.
The magnificent Rabothytta cabin is situated at 1200, perched at the edge of the Okstindbreen glacier. Unless you want to hike back down the same day, consider booking an overnight stay in advance. Be sure to pack a lunch, and find a nice spot from which to enjoy the view. Day guests too have access to water and toilets.
Even in on a hot summer day, hikers would be well-advised to bring warm and windproof clothing, as the weather in the mountains can change abruptly. A map and compass are also recommended, and perhaps also a GPS.
Rabothytta is owned and operated by the Norwegian Trekking Association (DNT). Whether you are an overnight or day guest, please read the rules and regulations for this cabin carefully. If you are going to spend the night or enter the cabin, at least one of you must be a member of the DNT.
Day 6: Cave tours near Mo i Rana
Whether you spend the night at Rabothytta or back at Korgen Camping, the drive to Mo i Rana is about 40 km. This is the largest town in the Helgeland region. You have numerous options for accommodation. You can, of course, stay in a hotel or holiday apartment in town. Alternatively, you can continue another 10 km towards the airport to Røssvoll Camping, which welcomes you with nice cabins. Each is equipped with a kitchenette, hot plates, a fridge and a microwave, and of course a bathroom with a shower. A grocery store is nearby. Røssvoll Camping has a playground. This is a great base for excursions to the caves in the region, and to the Svartisen glacier.
After yesterday's arduous mountain hike, we suggest relaxing until the afternoon. Then take a guided tour of Grønligrotta, the most famous marble cave in Scandinavia. Stairs, wooden walkways and electric lighting facilitate easy access. The tour takes 45–60 and is suitable for everyone.
If you yearn for a more authentic cave adventure, head to Setergrotta. Here you will be climbing between large boulders, pushing your way through narrow passages into dramatic caverns. Setergrotta even has an underground river. This is definitely the cave for spelunkers of all ages!
Day 7: A glacier trek on Svartisen
Today is the day for your glacier trek! That takes place on Austerdalsisen, a glacier tongue of Svartisen, the second-largest glacier on the Norwegian mainland. This is also the lowest-altitude glacier on the European mainland, reaching down to just 20 metres above sea level. That makes it easily accessible for a glacier walk.
Afterwards, you can head back to your accommodation at Røssvoll, or go to Mo i Rana and see what the «Arcic circle city» has to offer.