Nice beaches and bathing spots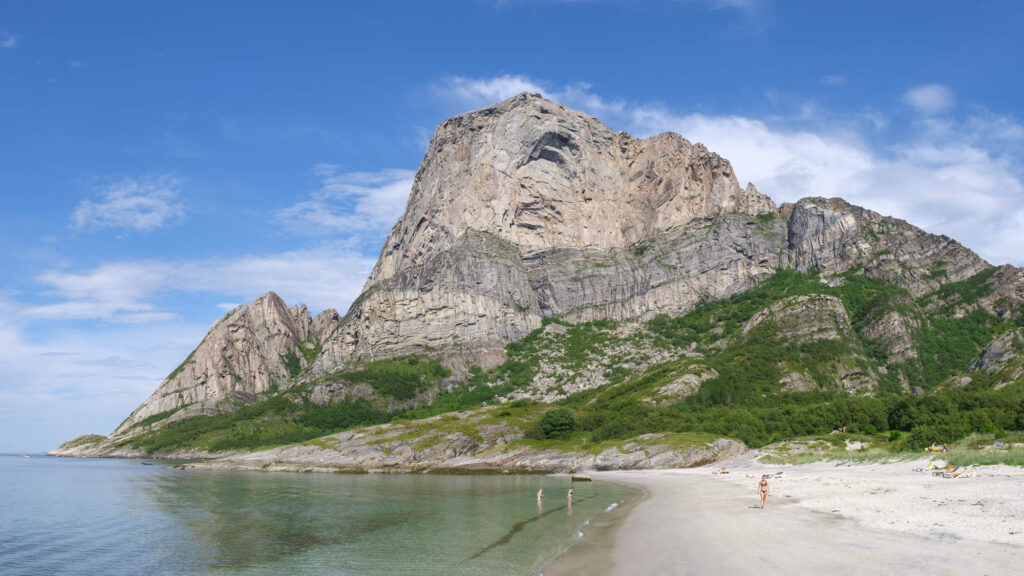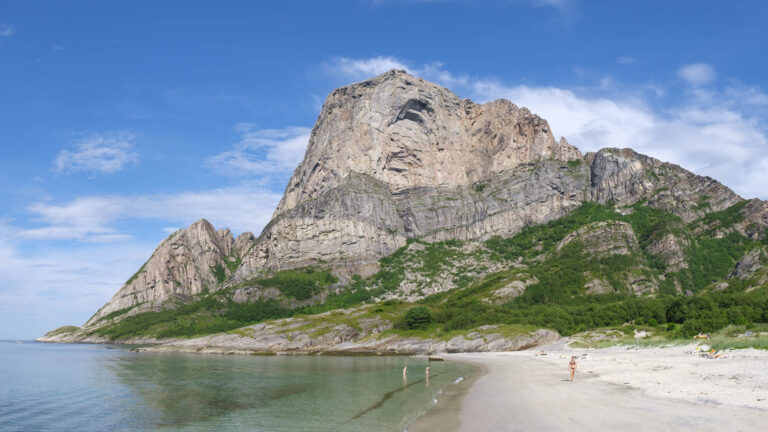 An outing to the beach can be a delight, whether for a relaxed walk along the shore, a chance to let your children frolic and play, or to cool yourself down after a long day of cycling. Here are some of the beaches and bathing spots available to you.
Be considerate when using our beaches
The beaches and bathing spots listed are some of the nicest and most popular in Helgeland. In order for everyone, tourists and locals, to continue to enjoy them we ask that you follow a few simple rules:
Leave no trace of your visit. Bring back all of your rubbish and discard it in the nearest available rubbish bin
Most of the beaches do not have toilets, so please attend to your needs beforehand. Don't be a nuisance to others.
Do not make a campfire or use a disposable grill. You may, however, bring a portable grill or use one of the specially-built grills that are available at some beaches
Do not camp or pitch a tent right hear the beach. The beach and shore area should be available for everyone.
If you are boating, please be considerate and exercise common sense. Keep a safe distance from the shore. Keep a low speed especially when you are near anyone on the water, including animals and birds, and avoid unnecessarily creating loud and disturbing engine noise.
Storsanden on Rødøy
At the foot of Rødøyløva mountain are several sandy beaches. The largest of these chalk-white beaches is Storsanden, at the head of Bøkestadvatnet lake. It is a great place to go swimming, kayaking or canoeing, fishing, or just to relax at the water's edge. Storsanden is a 20–30 minute walk from Klokkergården, the old sexton's residence, on a nice forest path. The walk from the ferry quay will take you about an hour.
The beach enjoys a marvellous view of the Bindalsfjord and the sea. There are sun loungers and an outdoor shower available. Nearby is a reconstructed Stone Age settlement, which is a nice place to enjoy your snack or lunch.
Eidemstranda on Vega
Eidemstranda is a popular destination on the island of Vega. Shallow waters make this beach perfect for a family outing, and young and old can play volleyball or football on the pitches. There are two lean-tos, several grill pits, a building where you can change into your bathing suit or wetsuit. Eidemstranda is renowned for its underwater Snorkelling Trail! There are trails to the Vefsn-Anna cave, Ervika cove and Sundsvoll. You can also explore the Eidemsliene Nature Reserve, which adjoins the beach.
Mosjøen's town beach
Mosjøen has a little piece of paradise just outside its town centre: a public beach with chalk-white sand, and palm trees that might make you think you're in the tropics! The beach is popular with locals and visitors of all ages. It's a great place to swim, there is a playground for the kids, and there is plenty of parking. This beach, Bystranda, is situated just 2 km outside Mosjøen's town centre.
Botn Havsbad
Just 5 km outside the town centre of Sandnessjøen is Botn Havsbad, a cove that has been partially separated from the sea. This means the water temperature tends to be much warmer; in 2014 it reached 28 degrees Celsius (82˚F)! In other words, it's ideal if you love swimming but hate cold water. And a 200-meter-long embankment across the lagoon and ensures that there is plenty of water in which to romp. If you've brought children, it's good to know that this saltwater pool is no more than one metre deep.
Botn Havsbad, situated at the foot of the Seven Sisters mountains, is a popular destination for local families who come here to swim, sunbathe, barbecue and play volleyball. You can also walk the trails that lead you to hidden scenic spots along the river.
Breivika beach, Dønna
Breivika, a beautiful beach favoured by the locals of Dønna, offers child-friendly swimming. There are conveniently placed toilets and rubbish bins. This is also an excellent starting point for a walk to Hagen, and from there the summit hike up Dønnamannen, the iconic mountain to the east of Breivika.
To reach the beach from the ferry quay at Bjørn, Dønna, drive towards Solfjellsjøen; shortly before reaching it, turn left towards Breivika. After 7 km on a narrow road through beautiful scenery, you reach the beach.
Please note that pitching a tenting and grilling food are allowed only in the designated areas, and not on the beach itself.
Finnvikdalen recreation area, Tomma
On the western shore of the island of Tomma, below the valley of Finnvikdalen, you will find a number of white sand beaches. Here, with the iconic mountains of the Træna and Lovund islands on the horizon, you can watch the sun set into the sea.
One of these beaches is Røvika. Sheltered by an islet just to the north. Here you can swim or wade out into the tide. Nearby are excellent places to fish from the shore. Røvika is an especially tempting destination if you have your own boat or are renting one, for example in the village of Nesna.
Explore more