The Norwegian Scenic Route along the Helgeland coast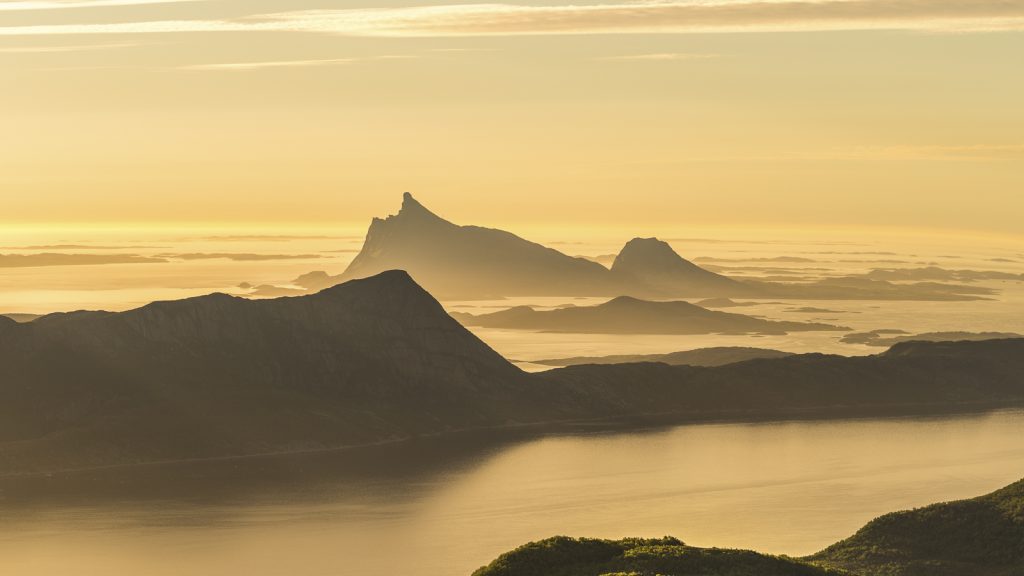 Simon Fossheim / Visit Helgeland
The road that hugs the coast of Helgeland is considered one of the world's premier scenic routes. That's not just our claim; National Geographic Magazine listed it as one world's 101 most beautiful drives. And Lonely Planet listed it as one of the Top 10 highlights in all of Norway – in fact, they called this scenic adventure a must-do recommendation for anyone travelling in Northern Norway. Naturally, we couldn't agree more!
Your road map of Norway marks the Norwegian Scenic Route Helgelandskysten only as Fv17, meaning County Road No. 17, although it's better known as the Coastal Highway (Kystriksveien). On the map, it winds like a red thread from Steinkjer to Bodø, but the most beautiful stretch is along the Helgeland coast, from Holm in Bindal municipality to Ureddplassen far north in Meløy municipality. That's the part of it that has status as a Norwegian Scenic Route, which means more than just scenery. The Norwegian Road Authority has facilitated the scenic experience of travellers by establishing great viewpoints, attractive picnic areas and public toilets.
The Coastal Highway Fv17 is the longest of the Norwegian Scenic Routes. In addition to magnificent scenery along the route, there are many great detours to tempt you. You should set aside at least two or three days for this adventure, although considering how much the Helgeland coast has to offer, you can easily spend a week or more. Below is a suggested itinerary, which you can expand or compress according to your desires and holiday schedule. But be warned: many visitors have become so enchanted that they never left!
Stage 1 – From Bindal to Brønnøysund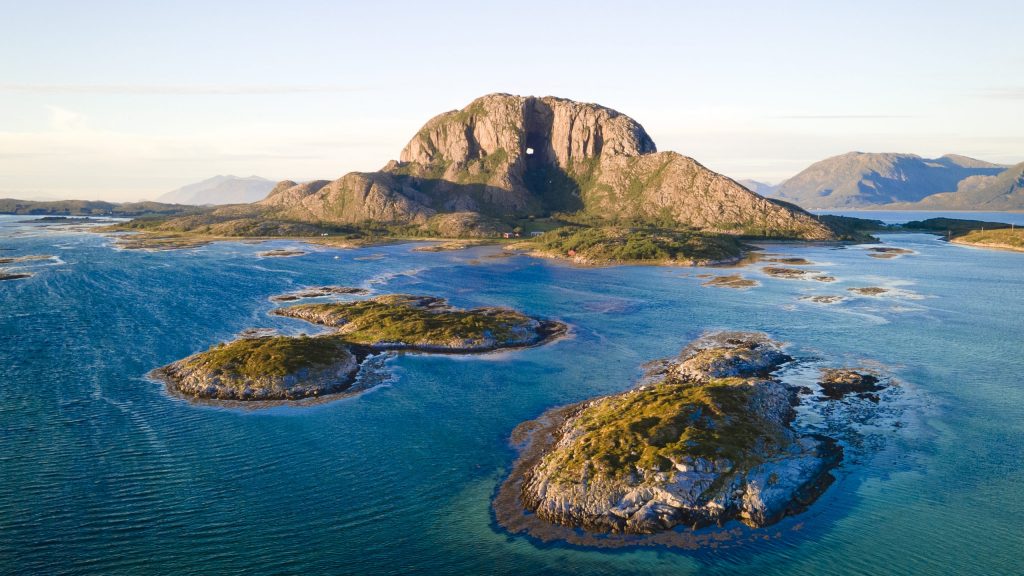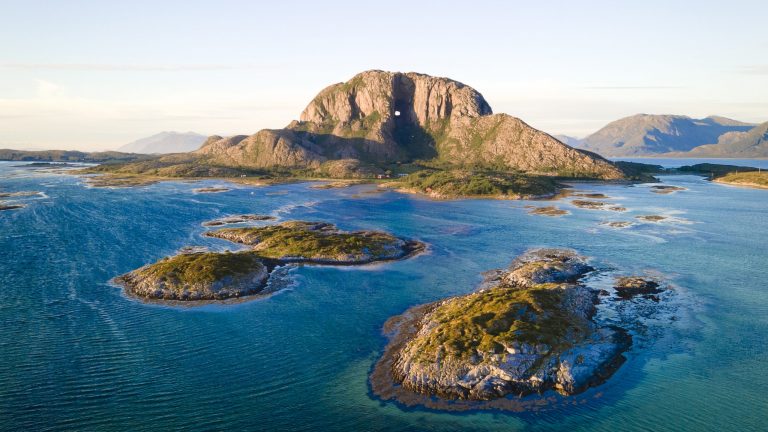 Your voyage starts in the south near the foot of Heilhornet in Bindal. If you are in good shape and feeling energetic, why not first do a summit hike? From the top of Heilhornet you have a wonderful view over the region to the north through which you will be travelling. If you brought a bike, you might enjoy a nice little detour into Bindalseidet. On the other hand, if you are planning to reach the town of Brønnøysund, you need to plan according to the departure times of the Holm–Vennesund ferry.
The journey continues through Sømna, a lush agricultural district with a wide-open coastal and cultural landscape. Here, too, are many side roads to explore, by car or by bicycle. Several mountaintops reward you with a great view without taxing all your strength; these include Kjørsvikfjellet, Sømnesfjellet and Lysingen. For a more relaxing break, head into the idyllic Sømna Bygdetun, an open-air museum that has twelve restored farm buildings – and a café that offers freshly baked goods.
In Brønnøysund, we recommend parking your car and taking a bike ride to Torghatten, the famous mountain with a hole through it. If you didn't bring a bicycle, you can rent one at the Tourist Information Office in town. Visitors can walk all the way through the hole in Torghatten and emerge to a fantastic view on the other side. At its highest, this 160-metre-long tunnel is 35 metres high.
According to legend, that hole was created when the Sulis King threw his hat in the air to deflect an arrow the Horseman shot in rage when he realized he couldn't catch the Maiden of Leka, which he had been chasing down the coast. In reality, the tunnel was probably carved by ice and water during the last ice age. Regardless, Torghatten and its legendary hole is an adventure not to be missed! And the walk is easy enough for young kids as well as healthy grandparents. If you have excess energy and the time, you can climb to the summit and enjoy a magnificent view!
Stage 2 – Vega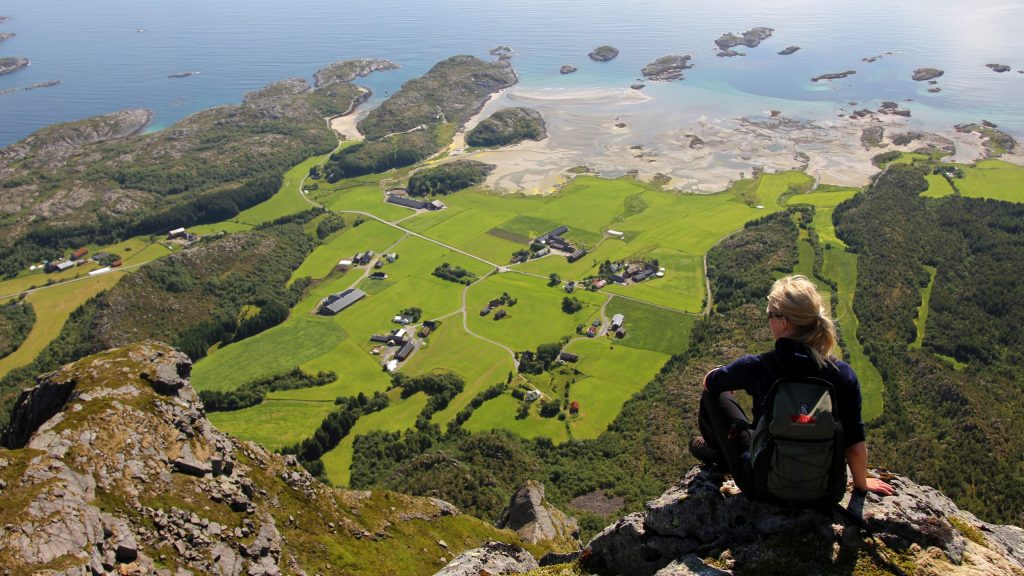 From Brønnøysund you can immediately continue northwards on the Coastal Highway, to Tjøtta and Sandnessjøen. That said, to miss out on a visit to the Vega archipelago would be almost a sin. These islanders' unique and still-thriving culture inspired UNESCO to declare the main island Vega and the archipelago's 6500 islands, islets and skerries as a World Heritage Site. It is one of just eight Norwegian sites honoured with a place on UNESCO's list.
Vega, the largest island, also has high mountains, lakes that offer great fishing, and a fascinating cultural landscape. Several outlets rent out kayaks so that you can explore the sheltered and shallow waters between the nearby islets and skerries.
The Vega archipelago is teeming with life! It is one of the most important nesting areas in Europe, counting about 110 bird species during the nesting season. The most striking annual visitor is the Eider Duck. These are almost tame, having received great care by countless generations of islander bird guardians. In return, after the breeding season the bird guardians harvest the valuable down with which the eider ducks line their nest. This amazing and ancient symbiosis, which truly is unique, is the primary reason for the Vega archipelago being awarded its World Heritage status. You can learn more about the eider ducks and the islanders' tradition as caretakers at the Vega World Heritage Centre, and by making a visit to Lånan, the largest nesting site.
When you travel to Vega, you can leave your car behind on the mainland. Most destinations on the island are only a 30- to 60-minute bike ride away. Moreover, the roads are lightly trafficked and the mostly-flat landscape is ideal to explore by bicycle. On Vega you will find beautiful sheltered coves, lush woodlands and lots of lakes. Many islets surround this main island. On its southwestern shore, the island is dominated by high mountains, which offer great summit hikes and amazing views. If you want an extra challenge, you can join a guided climb of Ravnfloget Via Ferrata, where you ascend a prepared 225-metre climbing route. It is an incredible adventure for adults as well as older children, and no prior rock-climbing experience is needed.
Stage 3 – From Vega or Brønnøysund to Sandnessjøen
If you did bring your car to Vega, you can take the ferry straight to Tjøtta; but if you are continuing your car voyage from Brønnøysund you need to take two ferries: Horn–Andalsvågen and Forvik–Tjøtta. In between these you pass Vevelstad and the Forvik Old Trading Post, where it's well worth spending a day after "missing" the ferry, intentionally or unintentionally. Be sure to visit Vevelstad Rural Museum to see the traditional Nordland houses and the elegant Nordland boats. From Forvik you can also consider a detour: take the express boat into the beautiful Vistenfjord and explore the magnificent wilderness of the nearby Lomsdal-Visten National Park.
Rather than rushing to Sandnessjøen, it's worth your while to slow your pace on Tjøtta. The islands of Tjøtta and Offersøya embrace sheltered waters that are ideal for a kayak excursion. Alternatively, just enjoy the view while eating a picnic lunch by the shore. You might also stop at the Petter Dass Museum. Idyllically situated at Alstahaug, the museum was designed by the internationally renowned architects of Snøhetta and honours Northern Norway's 17th-century poet-priest. Here you can eat at the café and just enjoy the surroundings.
The island of Alsta and the town of Sandnessjøen are wonderful to explore on two wheels. If you didn't bring a bike, you can rent one at the Tourist Information Office. Another adventure that comes highly recommended is a summit hike up one of The Seven Sisters (De syv søstre). From the mountain peak of your choice, it's an incredible experience to see the Helgeland coast glowing in the light of the midnight sun. While hiking up one or two peaks is fine for ordinary mortals, the hardiest local hikers insist on ascending all of the seven peaks in a single day!
Stage 4 – Dønna and Herøy
Stage 4 – Dønna and Herøy From the coastal town of Sandnessjøen, a tempting detour is to explore Dønna and Herøy with their surrounding islands. For kayakers, the islets and skerries and sheltered waters around Herøy are a dream come true! The crystal-clear waters between the countless islands, islets and reefs are wonderful to explore late into the bright summer nights. The low mountains of Herøy don't shade much of the evening sun.
For a bird's eye view, head for the island of Dønna, where Dønnamannen (856 m) rises high above the coast and surrounding islands. Be warned that this is a steep and demanding mountain and it has several peaks. But if you are an intrepid hiker who is in good shape, your ascent is rewarded with one of the most spectacular panoramas on the entire Helgeland coast. Just remember to practice the common-sense safety rules of the Norwegian Mountain Code. Also be mindful to leave no trace of your visit.
A much simpler and far less vulnerable climb is Dønnesfjellet (128 m), on the less mountainous north side of Dønna. In fact, you can ride your bike or drive to the top! And this happens to be one of the few Norwegian peaks where you can buy a cup of coffee, an ice cream or a full-fledged meal. Both Dønna and Herøy are lovely to explore on two wheels. Their relatively flat landscape is amazingly varied, and the many cafés and restaurants along the road make it easy to plan a good multi-day bike trip.
Stage 5 – From Sandnessjøen to Rødøya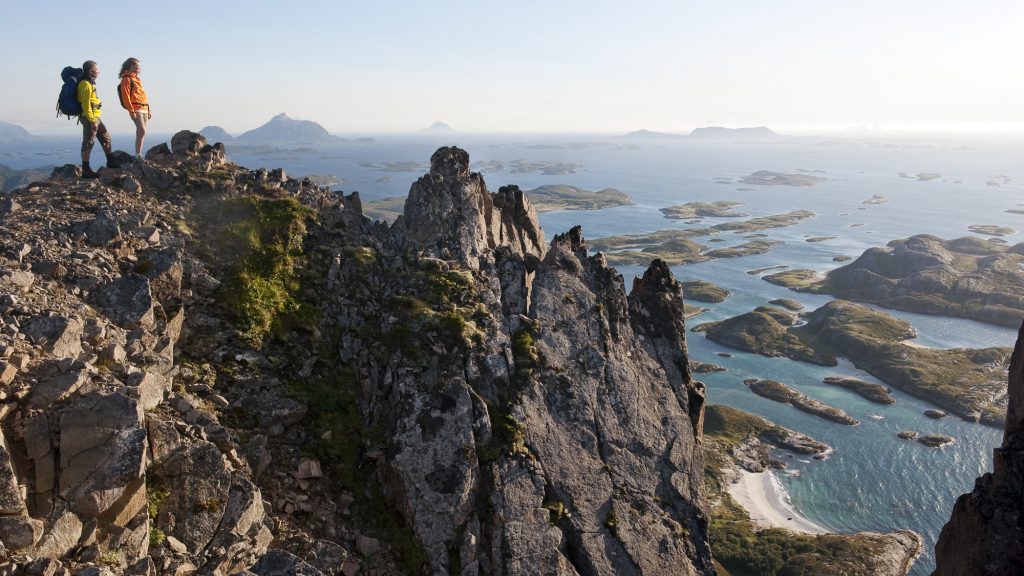 The long drive from Sandnessjøen to Rødøya can be split up by taking rewarding breaks at several nice stops along the way.
If you are travelling with your family, your children will really enjoy Topcamp Havblikk at Nesna. At the waterworld called "Lille Syden" are two large water slides and an outdoor swimming pool. In the village of Nesna you can rent bicycles or a boat to explore the nearby fjords and surrounding islands. You can also join one of the guided excursions offered here – for instance a sea-eagle safari on a sturdy RIB sea raft, or a day excursion to Lovund, one of the outer islands.
A little further north is Grønsvik coastal fortress, built during Nazi Germany's World War II occupation of Norway. Today the fortress is a museum. Visitors can explore the gun positions, the foxholes and the command bunker. Another rewarding detour is the large grotto at Tonnes, which will fascinate young and old.
To reach Rødøy, you can take the ferry from Kilboghamn via Jektvik – or better yet, park your car and take the express boat from Tonnes. The roads on Rødøy are few and narrow and perfect to explore on foot or by bike, and there are lots of sandy beaches. Your children will also enjoy a visit to the Fairytale Forest (Eventyrskogen). Brave kids can knock on the huge door to see if the troll is home!
A summit hike on Rødøyløva is a fine adventure, and recommended unless you suffer from vertigo. This mountain is not very high, only 440 metres, and the hike to the top is relatively easy, but one side of the mountaintop has a sheer cliff. Tread carefully and you will enjoy a fabulous view of a magnificent part of the Helgeland coast!
Stage 6 – From Rødøy to Meløy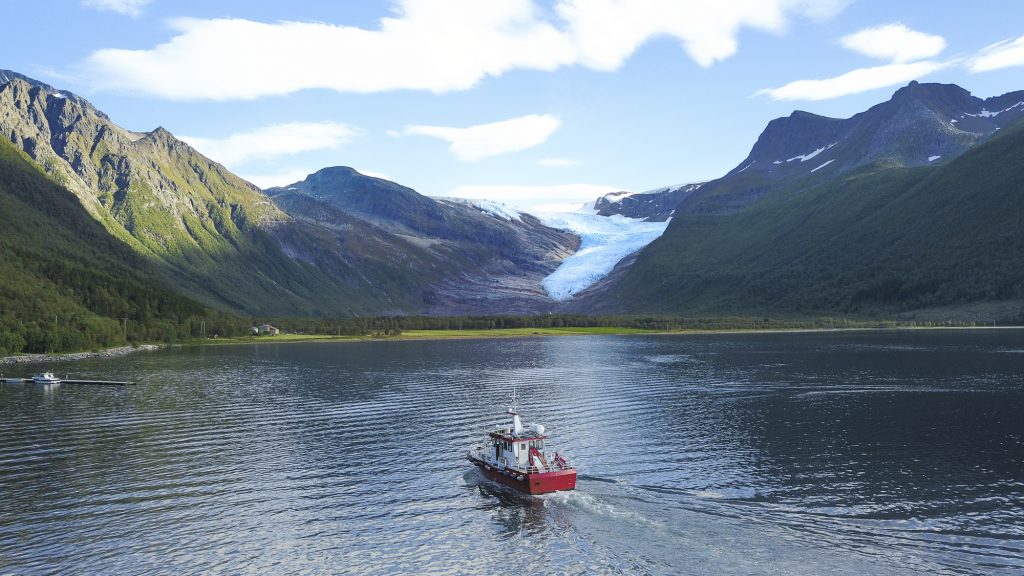 Next on your travel itinerary is the ferry from Ågskardet to Forøy. Upon arrival, head straight for the rest stop at Braset, a viewpoint that overlooks the Engabreen glacier. This glacier arm of Svartisen reaches down to the water on the other side of the fjord. To see the glacier up close, you have to take a shuttle boat across the fjord from Holandsvika, a little further into the fjord. From the quay on the other side, you have a three-kilometre walk to the glacier.
Remember to keep a safe distance from the glacier's edge, which is unstable. Large blocks of ice often suddenly shift or break away, and if you are in the wrong place the consequences can be lethal! If you want to venture onto the glacier itself, please do so only in the company of an experienced glacier guide.
Glomfjord is an industrial town – but it's also a starting point for many excellent outdoor adventures in the Meløy district. Here you can rent a kayak or mountain bike, or just put on your boots and enjoy great hiking in the beautiful mountains by the fjord.
If you continue your drive further north towards Ørnes, you leave the mountains. The landscape opens up giving you a view of the coast and the islands, many of which are worth visiting. We especially recommend an excursion to Bolga or Støtt; both can be reached by boat from Ørnes
Stage 7 (bonus detour) – The islands of Lovund, Træna and Myken
Each of these three islands and their archipelagos are well worth exploring, and to make your Helgeland holiday complete, you really should visit at least one of them. You can take an express boat from Sandnessjøen, Nesna, Stokkvågen or Ørnes. Because these boats are infrequent, you should plan on an overnight stay. All three destinations offer a taste of the islander culture. For generations these hardy Helgelanders have faced many harsh storms, but also time and again experienced the incomparable beauty of calm seas on summer nights. Fortunately, your summer visit is likely to be far warmer and more peaceful than during the autumn or winter storms. Lovund, Træna and Myken all offer comfortable accommodation and great dining.
Lovund is the kingdom of the Puffin, that curious seabird with the colourful beak. Over a hundred thousand of them nest here during the summer months – and seeing them airborne in great numbers in the midnight sun is an unforgettable sight! Lovund is the largest bird colony on Helgeland, placing the island's 500 human inhabitants decisively in the minority! The islanders' offerings to you include sublime seafood, sea golfing, RIB sea-rafting safaris and day excursions to Træna. Lovund also has great hiking opportunities, and the sheltered waters around the nearby Solvær islands are a paradise for kayaking.
Træna and its archipelago, situated far from the mainland, are amongst the outermost islands in Helgeland. Perhaps surprisingly, people have lived here since the Stone Age, and the community of islanders is still thriving. Visitors will find comfortable accommodation. Those who prefer can pitch a tent and enjoy a holiday closer to nature. Træna has excellent opportunities for kayaking.
Even more isolated, and a little farther north, is the fishing community of Myken. This group of islands and islets is relatively flat and thus very exposed to whatever rough weather the Atlantic sends its way. Nonetheless, almost a dozen enthusiastic islanders choose to live here year round. Here you will also find the world's first Arctic whiskey distillery – yet another reason to visit Myken regardless of the weather! If you are surprised, you should know that we Norsemen have always had a keen appreciation of the noble art of distilling, and those who lived far away from the reach of the sheriff, tax collector and other authorities have simply had better opportunity to perfect their craft.
Do you have questions about this voyage? Is there something you want to know more about? Please explore our website for additional information, or contact one of our Tourist Information Offices.
Explore more