Across the more than 6,500 large and small islands in the Vega archipelago, you will find a diverse nature with high mountains, fishing lakes, abundant wildlife, and a wonderful agricultural landscape. And thanks to its unique coastal culture, the Vega Islands are one of only eight areas in Norway listed as a UNESCO World Heritage site.
The varied and stunning landscape of Vega makes it a popular destination for outdoor enthusiasts. In the south and west, the island is dominated by several tall mountains that rise 7-800 meters above the sea, offering a magnificent view of the island and the archipelago. The rest of the island features relatively flat terrain, making it easy to explore by bike. It is a lush cultural landscape, interspersed with deciduous forests, marshlands, and numerous large and small fishing lakes.
The beautiful archipelago and extensive shallow water areas make Vega and Vegaøyan ideal for exploring by water, whether you're kayaking, sailing, diving, or snorkeling. However, it's important to be considerate of nature and wildlife, especially during the nesting season.
The rich diversity of nature on Vegaøyan results in an unusually abundant birdlife. The islands are home to approximately 110 breeding bird species and are listed as one of the most important bird areas in Europe. Additionally, the "main island" of Vega has a large population of moose and roe deer.
Vega world heritage UNESCO
For over a thousand years, the people of Vegaøyan have had a truly unique relationship with the eider ducks in the archipelago. The fishing-farming families built houses and shelters for the birds, created nesting sites for them, and protected them throughout the breeding season. And when the birds left their nests, they left behind exquisite eiderdown feathers. These fine feathers could be collected by bird guardians and sold as luxury goods, such as down duvets. This special interaction between humans and animals is still very alive and is a crucial basis for the World Heritage status of Vegaøyan.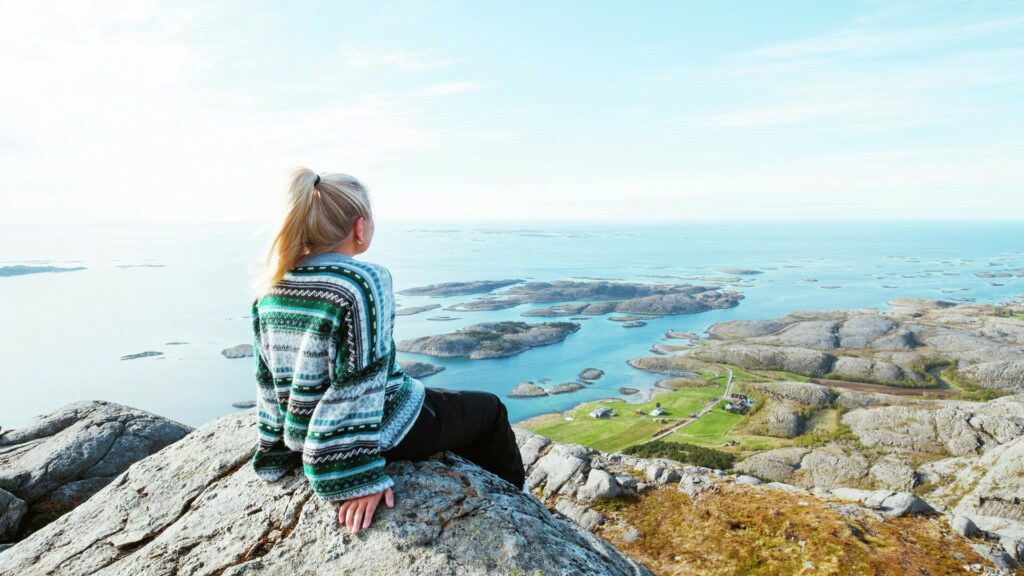 Kristoffer Møllevik / Visit Helgeland
Activities and Attractions – Things to Do on Vega and Ylvingen
Restaurants and cafés
Vega has several great places to eat, where food is prepared with love and care for the ingredients and dining experience. You'll find both seafood and farm-to-table cuisine, featuring mostly local, locally sourced food on a menu that changes with the seasons.
Great hikes and trips on and around Vega
Contribute to sustainable tourism
Thank you for respecting the local communities, and for helping us preserve the natural beauty of Helgeland!
Please:
Strive to leave no trace of your visit. Bring back all your rubbish, including used toilet paper, and discard it in the nearest rubbish bin.

Plan your toilet visits and use the opportunity when you pass a toilet. In the wilderness, make sure you are not a nuisance to others.

Respect the local wildlife. Keep a good distance from wildlife, livestock and birds. Keep your dog leashed.

Respect private property. Keep a respectful distance from houses and cabins.

Show good boating sense. Keep a good distance from shore and drive at a low speed, especially when you are close to anyone or anything on the water, including birds or animals. Avoid loud and disturbing engine noise.

Be aware that some islands and nature reserves are important nesting sites, and that going ashore is prohibited during the nesting season.

Follow the Norwegian Mountain Code (Fjellvettreglene). Plan your excursion according to the weather forecast, your skills and experience.

Join a guided excursion or consider hiring an experienced guide, especially when you don't have sufficient experience or knowledge to guarantee a safe trip.
Book your experience