Seven challenging summit hikes in Helgeland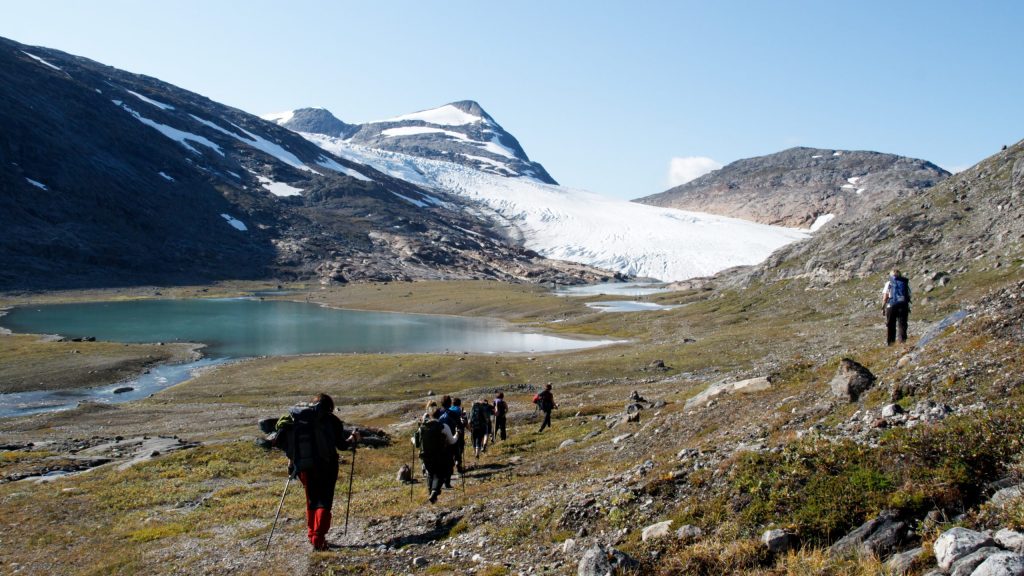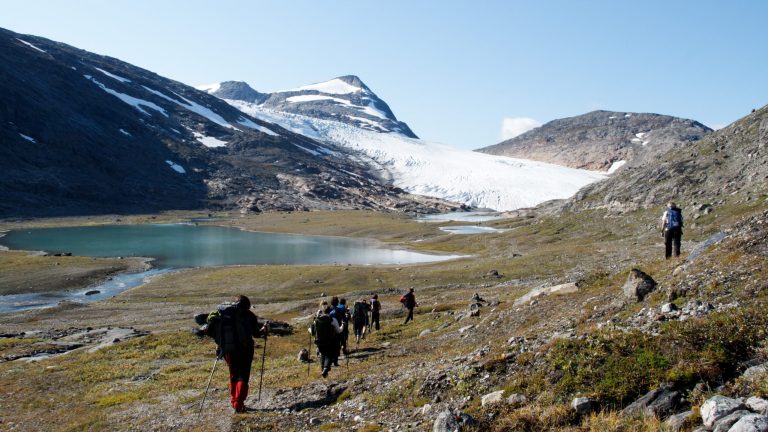 Are you looking for a proper mountain challenge? Here are seven peaks that may require you to "up your game" and hone your wilderness skills!
Just to be clear: these are not trips for beginners who lack wilderness experience. Are you just starting to explore the pleasures of hiking the mountains? That's wonderful! You have many satisfying adventures to look forward to – but please do not start your Helgeland hiking with these demanding excursions! These summit hikes are advisably only for serious hikers with considerable experience who thrive on big challenges.
For these hikes, the common denominators are that you are ascending 1000 metres or more, perhaps through very steep terrain, and you may well be hiking without the help of marked trails. That means you must be skilled in the use of map and compass. GPS is certainly an advantage. And importantly: you are well aware of what kind of equipment a tough mountain hike requires, and you know how to plan it.
Most of these hikes can be completed in a single day. However, some of them should or must be planned with an overnight stay outdoors. Also, you have to be 100 percent certain sure that you are in good enough shape to reach the top, and, more importantly, to make it safely down again. It is all too easy to forget that as you're standing on the summit, satisfied with your achievement, you've only reached the halfway point!

Are you ready? If so, you have some challenging hikes and truly magnificent adventures to anticipate! Below is a selection of some of the toughest and most demanding, yet beautiful summit hikes in Helgeland. For each, we mention the municipality in which they are situated.
Heilhornet, 1058m., Bindal
Demanding. 5.5 km, 963 metre ascent. 5–7 hours.
Starting point: Parking along Fylkesvei 17
Map and more info from DNT Sør-Helgeland
Heilhornet is a majestic and rather solitary peak in the far south of Helgeland, rising to 1058 metres in an open landscape. It's situated on the coast, which means you pretty much have to do the full ascent – well, 963 metres to be exact – on your 5.5 km hike. That's quite an incline. Be prepared for rough terrain, especially just below the summit; if you suffer from vertigo, that last stretch may be too much. The summit of Heilhornet does reward you with a fantastic view over Helgeland to the north and Trøndelag to the south.
Kvigtinden (Voenjelensnjurhtjie in Sámi), 1699 m., Børgefjell National Park
Very demanding. Extra thorough planning required.
16.2 km, 1284 metre ascent. Overnight stay required.
Starting point: Parking in Simskardet
Map and more info from ut.no (published by an amateur contributor)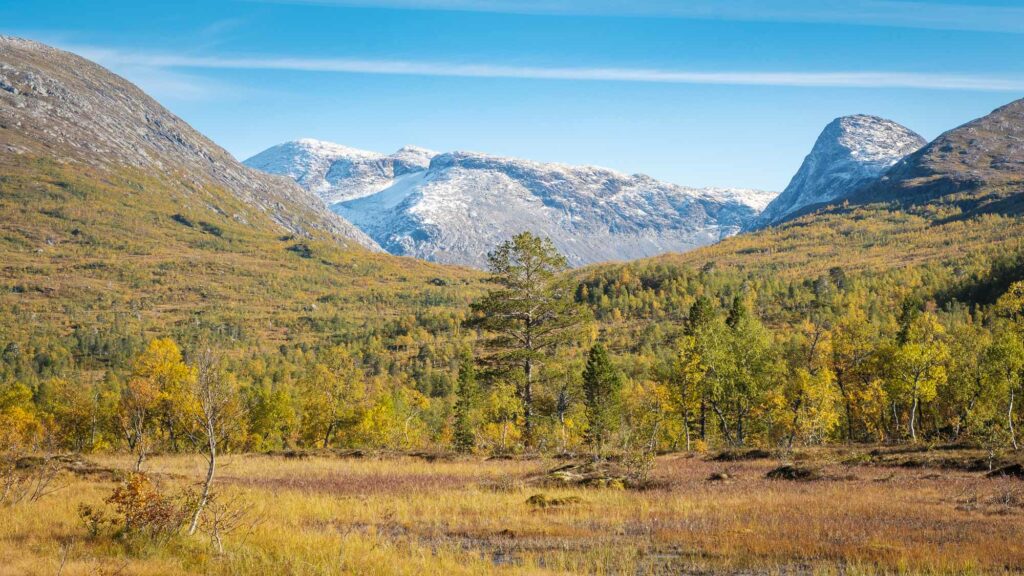 Kvigtinden is the highest peak in the Børgefjell, a national park noted for its dramatic wilderness. Because this summit is situated far inside the park with more than a 16 km hike each way, you will require an overnight stay. Your first leg is to Bisseggskardet; most of the ascent is from this pass. The peak itself is steep and narrow, and not to be attempted if your legs are tired! Take into account that the summit may be obscured by fog or low cloud. Study the weather forecast and be prepared to turn around if weather suddenly changes for the worse. The good news is that the area is so beautiful that we believe you will find even an incomplete hike to be extremely rewarding.
Vistkjærringa (Væstangåmma in Sámi), 1239 m., Vevelstad/Vefsn
Demanding. 8.5 km, 1038 metre ascent.
Starting point: Parking in Eiterådalen.
Map and more info from Lomsdal-Visten Nasjonalpark
This hike takes you into the magnificent wilderness of the Lomsdal-Visten National Park. The Visttindan range includes some of the most dramatic mountain peaks in the park, and the highest of them all is Vistkjerringa, 1239 metres. From the summit you enjoy an amazing view of the mountains situated east of the national park. After a steep climb, you're soon on bare rock above the treeline, and almost all of your hike is on the high mountain, without the benefit of a trail. A GPS is an advantage – map and compass an absolute must! From the mountaintop you can continue to some of the nearby peaks, such as Vistmannen or Litlskardtind, or continue deeper into the Lomsdal-Visten National Park.
Kjerringtinden (Aahkansnjurthtjie in Sámi), 1392 m., Hemnes / Hattfjelldal / Vefsn
Demanding. 4 km, 986 metre ascent.
Starting point: Parking by Stikkelvikelva
Map and more info from ut.no (published by an amateur contributor)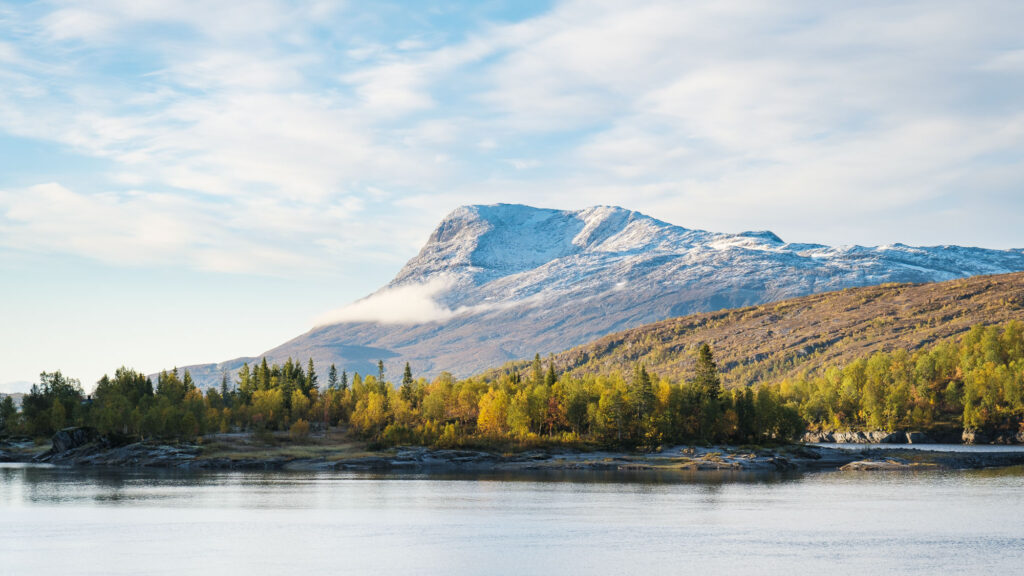 Kjerringtinden is a popular summit destination in the winter, but with good map-and-compass work you can follow the same route during the summer. This is one of the steepest hikes on our list: you are ascending 986 metres in just 4 km. Be mindful that the descent, which often is more demanding than an ascent, it is just as steep. Don't hurry, walk slowly, and save energy for that crucial return hike. The summit rewards you with an unsurpassed view of Røssvatnet, the second-largest lake in Norway. To the southeast you can see mount Hatten (Aarpije in Sámi) in Hattfjelldal, its higher neighbouring peak Geittinden to the west, and Okstindan in the northeast.
Oksskolten, 1916 m., Hemnes
Very demanding. 8.6 kilometres, 1376 altitude meters. Requires crossing a glacier.
Starting point: Kjennsvasshytta cabin
Map and more info from Hemnes Turistforening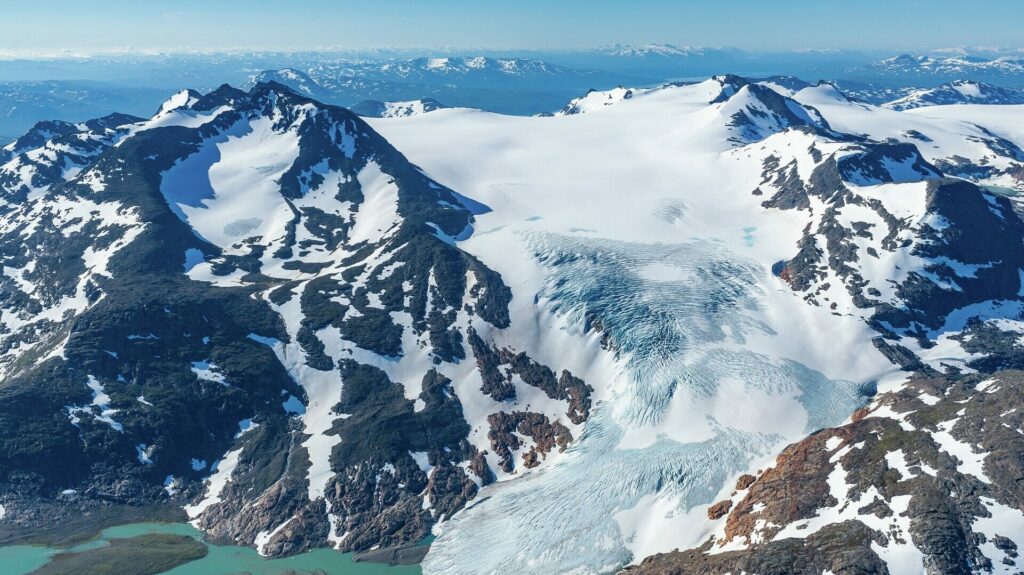 Proud locals consider Oksskolten to be the most majestic of their mountains – and it is the highest peak in all of Northern Norway. It should be on the list of every self-respecting summit hiker! On a clear day, your view spans from the myriad of islands on the Helgeland coast, the Svartisen and Okstindbreen glaciers, and far into Sweden. The most commonly chosen approach is from Kjennsvasshytta cabin. You should allow 10–12 hours for the round-trip hike. Please note that part of this route is a trek over the Okstindbreen glacier, which means that you need specialised equipment and local expertise. Those who are not thoroughly familiar with this glacier would be well advised to hire an experienced guide.
The Seven Sisters (1072 m), Alstahaug
Very demanding. 26.1 km, 3525 metre ascent.
Starting point: Parking in Søvika
Map and more info from Sandnessjøen og Omegn Turistforening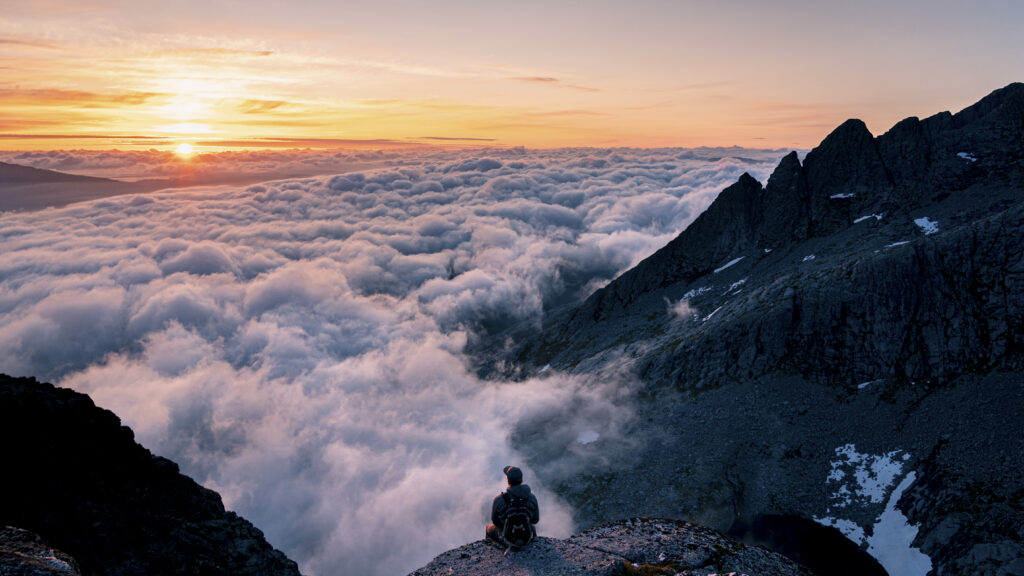 Are you longing to conquer each of the Seven Sisters? These are the seven legendary peaks on the island of Alsta, near the town of Sandnessjøen. Be advised that this extreme endurance test is not to be taken lightly! Each peak rises to about 1000 metres. The total hike is 26.1 km. That may not sound so bad but your total ascent is 3525 metres – and the demanding total descent is just as much. The Seven Sisters demand that you be very fit and that you have trained for endurance beforehand. The Norwegian Trekking Association (DNT) recommends that you approach the mountain range from the south, in order to first tackle the two very demanding southerly peaks. The terrain of this mountain range requires experience and caution, but if you are properly prepared, conquering the Seven Sisters will be a most memorable adventure.
Dønnamannen (858 m), Dønna
Demanding and vulnerable hiking. Recommended only in good weather. About 3.5 km, 833 metre ascent.
Starting point: Parking in Breivika.
In profile, this renowned mountain sits on the southern part of Dønna, an island off the town of Sandnessjøen. Dønnamannen looks like the face of a man lying on his back, hence the name (the Dønna man). The mountain actually consists of three peaks: Nasen (the nose), Leppa (the lip) and Haka (the chin), with the lip protruding highest, at 856 m. The summit offers a stunning view of many of Helgeland's famous mountains and islands, Including Vega, Lovund, Tomma, Træna and the Seven Sisters. You can start your hike from Einvika or Breivika – it really doesn't matter, because both will have taken you to the same mountain trail by the time the climb starts.
While Dønnamannen summit hike is not particularly long, it is steep, and on the most challenging parts of it you are actually climbing. For this reason, many local hikers consider Dønnamannen to be as challenging as the Seven Sisters. You must exercise the utmost caution, as the rock can be slippery when wet. Also note that at several points you are very close to the precipice, so be sure to stay on the trail. And do remember that here on the coast, the fog can arrive suddenly, drastically reducing your visibility