Far out at sea, with only the open ocean and Iceland as its next neighbor to the west, you'll find the Træna archipelago. Out here, the sea people reside, along with fish and birds, amidst hundreds of large and small islands, islets, and reefs.
Træna is an island group located far out at sea, approximately in the middle of the Helgeland coast, north of Lovund and south of Myken. You can travel there by ferry, express boat, or private boat. There are few roads on the island and limited parking options, so we recommend that travelers with cars leave them on the mainland.
Ferry
You can take a ferry to Husøy i Træna from Stokkvågen on the mainland, and from Husøy to Selvær if you are heading there. Click on the names to see the ferry terminals on Google Maps.
View ferry schedules for Stokkvågen – Træna (Husøy)
View ferry schedules for Husøy – Selvær
Express boat
From the north: During the summer, you can take the Nordlandsekspressen express boat to Træna from several stops between Bodø and Myken. Click on the names to see the express boat terminals on Google Maps.
From the south: You can take the Helgelandspendelen express boat from Sandnessjøen, Nesna, Stokkvågen, Onøy or Lovund throughout the year. Click on the names to see the express boat terminals on Google Maps.
Read more about the Nordlandsekspressen and view schedule
View express boat schedules from Sandnessjøen to Træna
The Træna Islands
We say "on Træna," but it is actually the collective name for the island group and municipality. The permanent residents live on the islands of Husøy, Selvær, Sanna, and Sandøy.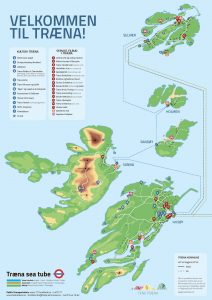 Husøy is the "main island," and it is where most of the Træna residents live. Here you will find the grocery store, café, pub, accommodations, sauna, Petter Dass Chapel, and the main stages of the Træna Festival when it takes place.
Selvær has the second largest population and is home to fishermen, a fish reception facility, a small grocery store, and Træna Arctic Fishing, which rents out sea-house apartments and small fishing boats.
Sanna is home to a few permanent residents and houses the iconic mountains with Trænstaven as the "icing on the cake." Here you will also find the Kjærlighetsstien hiking trail, the large Kirkhelleren cave, the mountain hike through the tunnel up to Gompen, and occasionally coffee service at Grendehuset.
Holmen og Sandøy are the smallest islands, and the houses there are mostly used as vacation homes. If you want to explore these islands, you can get there by speedboat or go island hopping with a kayak. However, please note that they do not have visitor facilities such as toilets or food service, so plan your visit ahead before you go.
The Træna festival
Every July, the Træna Festival takes place on the islands of Husøy and Sanna, turning the otherwise quiet island community into a bustling hub. From just a few hundred residents and vacationers on the islands, there are suddenly thousands of festival participants, volunteers, artists, and other visitors. Most people stay at the festival camp on Husøy.
Norways oldest fising villages
Træna is regarded as one of Norway's oldest fishing villages, and archaeological discoveries from the Stone Age demonstrate that fishing has been practiced here for over 8,000 years!
Contribute to sustainable tourism
Thank you for respecting the local communities, and for helping us preserve the natural beauty of Helgeland!
Please:
Strive to leave no trace of your visit. Bring back all your rubbish, including used toilet paper, and discard it in the nearest rubbish bin.

Plan your toilet visits and use the opportunity when you pass a toilet. In the wilderness, make sure you are not a nuisance to others.

Respect the local wildlife. Keep a good distance from wildlife, livestock and birds. Keep your dog leashed.

Respect private property. Keep a respectful distance from houses and cabins.

Show good boating sense. Keep a good distance from shore and drive at a low speed, especially when you are close to anyone or anything on the water, including birds or animals. Avoid loud and disturbing engine noise.

Be aware that some islands and nature reserves are important nesting sites, and that going ashore is prohibited during the nesting season.

Follow the Norwegian Mountain Code (Fjellvettreglene). Plan your excursion according to the weather forecast, your skills and experience.

Join a guided excursion or consider hiring an experienced guide, especially when you don't have sufficient experience or knowledge to guarantee a safe trip.