5 reasons Helgeland is among Norwegians favorite destinations
Discover why Helgeland might be Norway's best-kept travel secret.
Kristoffer Møllevik / Visit Helgeland
Over the past few years, Norwegians have rediscovered the beauty of their own country, and there's no doubt that the Helgeland region in the south of Northern Norway has captured the hearts of many.
Kristoffer Møllevik / Visit Helgeland
With its stunning natural scenery, rich culture, and endless possibilities for outdoor adventure, it's easy to see why Helgeland has become a top destination for Norwegian travelers seeking an unforgettable experience.
Kristoffer Møllevik / Visit Helgeland
Maybe it's time that you discover Helgeland as well?
1: Stunning landscapes and breathtaking nature
Helgeland stretches like a paradise in the southern part of Nordland, with the Arctic Circle as a belt straight through it. On the coast lies one of the world's most beautiful archipelagos, with thousands of islands along a coast that National Geographic named one of the world's most beautiful road trips. It also boasts a unique coastal culture listed on UNESCO's World Heritage List. Fairytale mountains rise straight out of the sea, and the myriad of islands, islets, and skerries that make the Helgeland coast one of Norway's best areas for kayaking.
And if you take a trip into the beautiful fjords, you will find a mountain range with Northern Norway's highest mountain, Okstindan, several glaciers, including Norway's second-largest and lowest-lying glacier, Svartisen. And wild and pristine nature in three of Norway's most beautiful national parks, Børgefjell, Lomsdal-Visten, and Saltfjellet-Svartisen near the Arctic Circle.
2: Helgeland's amazing diversity; from kayaking to skiing in the same day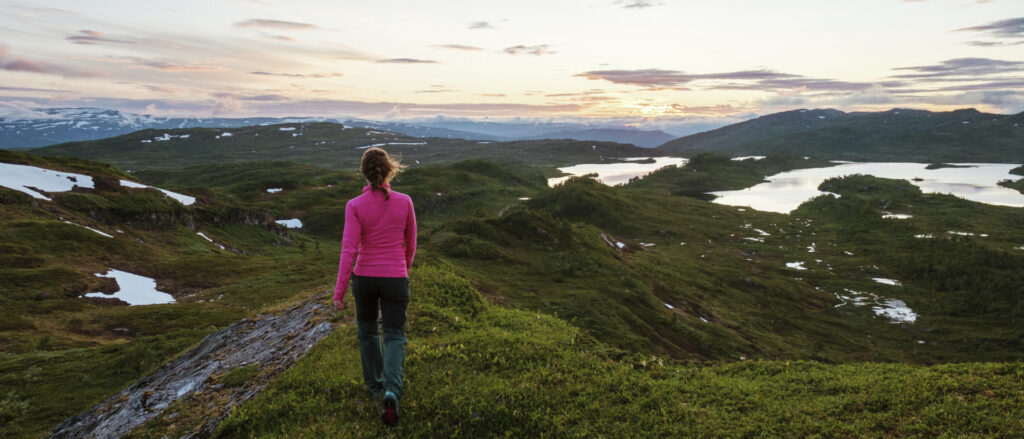 The large natural diversity provides almost endless hiking opportunities and activities. You can start the day with a kayak trip in the beautiful archipelago on the coast and end with skiing in the midnight sun in the high inland mountains. You can go glacier hiking one day and island-hopping by bike or sailboat the next. You can fish for large cod at sea and find nice trout in the mountains. Explore deep caves and enjoy bright summer evenings on the dock.
And with four cozy towns, Helgeland has a good selection of restaurants and cafes to suit every taste. In addition to museums, water parks, and activity centers such as the Nordland Science Center or the Krokstrand High and Low Climbing Park.
You are almost guaranteed to find something for every taste, whether you are a group of friends, a small family with young children, a couple, or traveling solo.
3: Endless opportunities under the midnight sun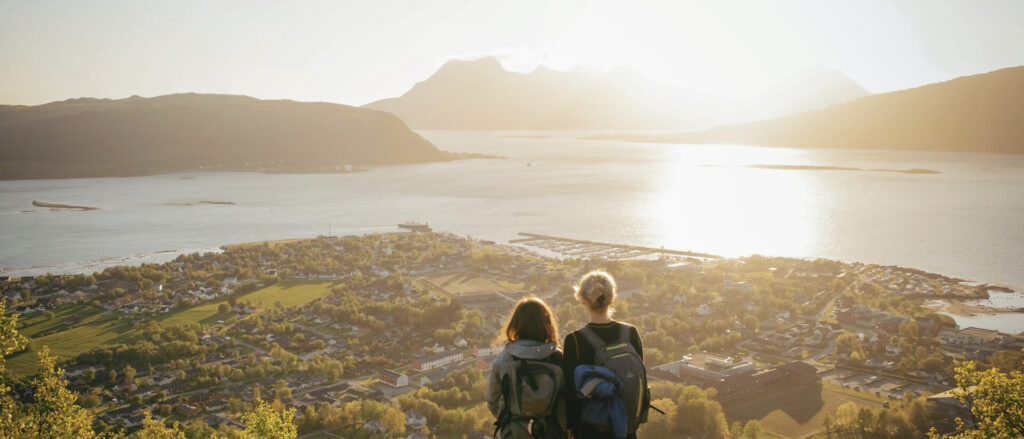 And not only can you do what you want, but you can also do it almost whenever you want. In Helgeland, it is bright all night almost all summer, and from mid-June to the end of July, there is midnight sun here. Do you feel like taking a bike ride at 11 pm? Or taking a midnight swim at 3 am? No problem, in the bright summer nights, you don't have to let the clock control you!
4: Escape the crowds and roam freely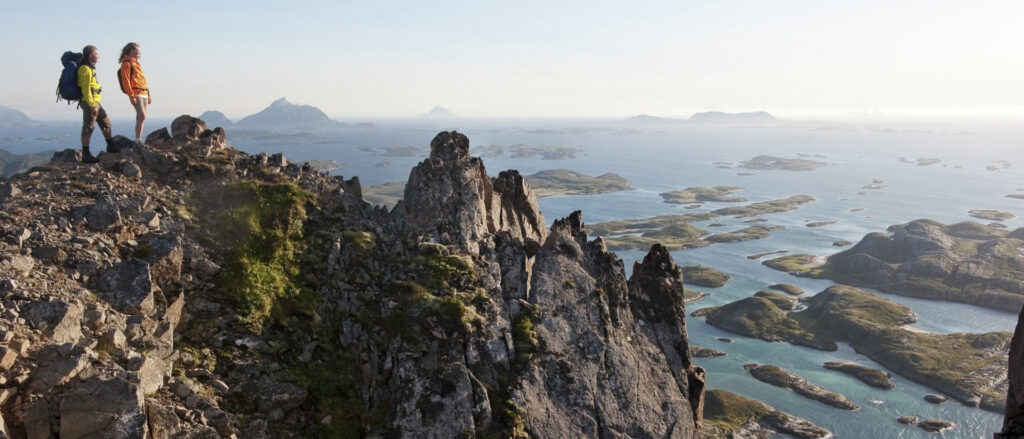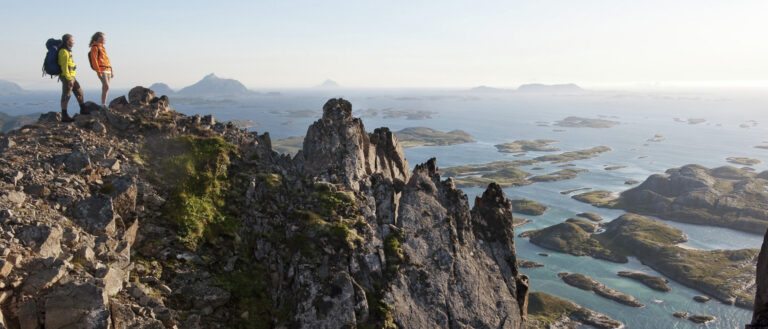 Compared to many popular destinations in Northern Norway, Helgeland is still somewhat undiscovered. You will likely meet many more locals than tourists at the cafes here and experience having plenty of space. Yes, on some of the most popular mountain hikes, you will meet quite a few people on the finest days, but you can also experience having almost the entire mountain or island to yourself. Here, you definitely don't have to wait in line to go hiking.
And did you know, that Norway has it's own right to roam-law? That means that you can go hiking almost anywhere in the country, as long as you show respect for nature, wildlife, and other people's property. This gives you even more freedom to explore and experience the beautiful and unspoiled nature of Helgeland. Just remember to leave no trace and take care of the environment, so that it will stay beutiful and unspoiled for those that come after.
And by the way, a nice side effect of Helgeland being less crowded is that it can also be much cheaper than other, more popular travel destinations in Norway. In several cases, accommodation alone can be as much as 50 to 80 euros cheaper per person per night. And since the Euro is worth more in Norway now than in a long time, you can get a lot for your money in Helgeland.
5: Smooth sailing – Traveling to Helgeland is easy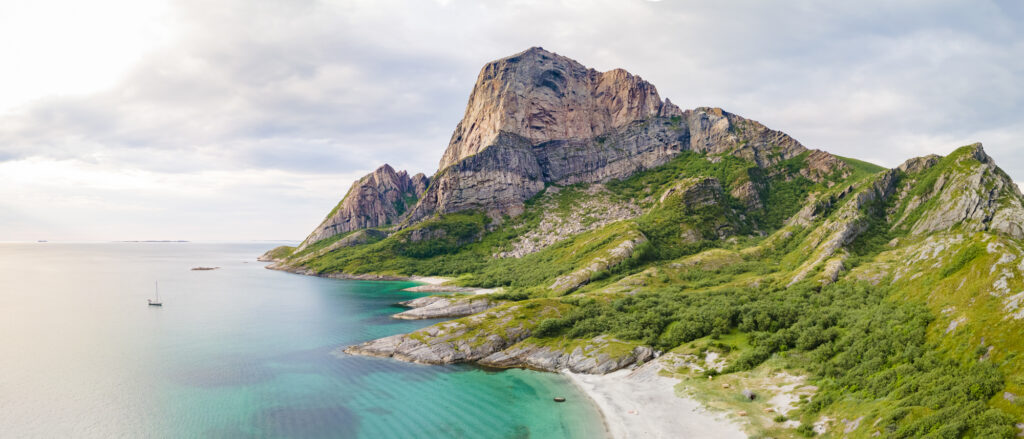 At first glance, it may seem complicated to travel to Helgeland due to its location on the map. However, getting there is actually quite easy. All four cities in Helgeland – Brønnøysund, Mosjøen, Sandnessjøen, and Mo i Rana – have their own airports, and trains run to Mo i Rana and Mosjøen from Bodø and Trondheim. Additionally, the Travel Pass Nordland allows you to travel as much as you want by ferry and express boat along the coast, making it super easy to hop from island to island with the Nordlandsekspressen and take detours to explore the mountains and other experiences further inland.