National Parks
Three of Norway's most amazing national parks await you in Helgeland. You can hike the classic Telegraph Trail In the Saltfjellet-Svartisen National Park, walk the lush river valleys of Lomsdal-Visten National Park, or you can explore the vast wilderness of the Børgefjell National Park where there are hardly any trails at all!
Freemdom with obligations
All respectful travellers are welcome visitors in our national parks, whether you explore them on foot, by off-road bike, on skis or on snowshoes. To face the magnificence of these vast wilderness areas is a lesson in humility. Any individual human being seems insignificant in front of the raging rivers, expansive forests and towering mountains that are found here.
It is imperative to know that extensive excursions into the wilderness require thorough preparation, local knowledge and the right equipment – including good maps and a compass. The few trails you may find will be simple and mostly unmarked, without signposts, and there will be few bridges across the rivers.
The three largest national parks in Helgeland are those already mentioned, and each of them offers great hiking, excellent fishing and magnificent wilderness. But which one should you choose? Here is some additional information.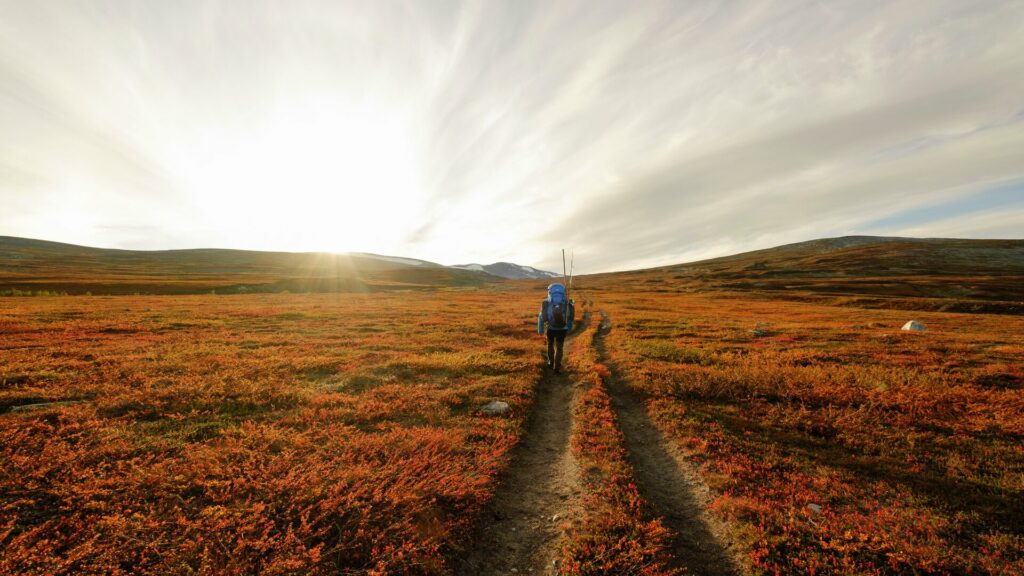 Kristoffer Møllevik / Visit Helgeland
Saltfjellet-Svartisen National Park
The largest and northernmost of the three is Saltfjellet-Svartisen National Park. It is divided by the Arctic Circle, and this is where you will find the famed Svartisen glacier. This is the only national park where you can hike from DNT cabin to DNT cabin. (DNT is the Norwegian Trekking association.) A good choice is to follow the old Telegraph Trail, from the valley of Dunderlandsdalen in the south to Saltdalen in the north
To the west, this national park extends all the way to the coast, more specifically to the beautiful Nordfjord, the spectacular peak of Helgelandsbukken, and the Tåkeheimen DNT cabin. If you hike up Glomdalen valley, which is closer to the town of Mo i Rana, you enter a beautiful landscape between the two glaciers.
However, the most common gateways to this national park are from the east. Along highway E6 north of Mo i Rana, there are numerous trailheads for treks through the valleys Tespdalen and Bjøllådalen. On this route you pass lakes that offer excellent fishing, and you soon reach the Telegraph Trail and DNT's network of cabins.
Børgefjell National Park
The Børgefjell National Park (called Byrkijen Vaarjelimmiedajve by the indigenous Sámi people), is situated in the far south of the Helgeland region, is one of Norway's oldest national parks. It extends eastward all the way to the Swedish border. There are only a few trails here, and only partly marked, some simple suspension bridges across river rapids, and some cabins that are open to all hikers.
Moreover, most of Børgefjell is above the tree line. For this reason, longer excursions in the Børgefjell National Park are only suitable for very experienced hikers. Good planning, thorough preparedness and proper equipment are an absolute must. So is a healthy respect for the weather and the mountain wilderness. That said, some guided expeditions are available. For travellers eager for a true taste of the wilderness, that is probably the best option.
Hikers should pack fishing gear, as Børgefjell is known for excellent trout fishing. It also has impressive wildlife, including foxes and wolverines, reindeer, ptarmigan and several birds of prey. A rare sight would be bear or lynx, which roam vast areas, in and out of this national park
Lomsdal-Visten National Park
Closer to the coast in southern Helgeland is the Lomsdal-Visten National Park, called Njaarken Vaarjelimmiedajve by the Sámi people. Like Børgefjell, it has only a few marked trails, some trail bridges and a few cabins. For a longer hike here, you need to bring plenty of experienced good sense, a map and compass, a good tent, and other well-chosen equipment depending on the season. However, because much more of the park is below the treeline and there are many sheltered valleys, you are far less exposed than in the high mountains of Børgefjell.
There are many gateways to this national park. It can be reached from the coast and from the areas near Trofors and Mosjøen west of highway E6.
What is allowed and forbidden in the national parks?
The same rules apply to all three of these national parks:
You can walk or ski almost anywhere you want, as long as you show consideration for the wildlife, vegetation and cultural monuments in the national parks.
Stick to the trail when following marked paths, even when it is muddy, so that you don't widen the trail or cause erosion.
You can ride a mountain bike, provided you stay on the paths and forest roads. However, please note that some national parks may have stricter protections or permanent bans in certain areas or parts of the year. Motorised traffic is generally prohibited.
You can pitch a tent, but you must move it after two nights so as not to damage the flora.
Campfires are permitted, except in places where there is a fire hazard or where the campfire will leave a trace. Special caution must be exercised if the terrain is dry, especially during the period from 15 April to 15 September.
You may pick mushrooms and berries for your own use. Use only fallen wood for firewood. Chopping down live or dead trees is prohibited.
You are welcome to bring your dog, but it must be leashed during the general leash period. You are also obligated to leash your dog if there are wild animals, grazing animals or other people nearby.
You may fish or hunt small game provided you have the proper license (Statskog's card for inland fishing; Nordland Card for Small Game).
You may sing, dance and laugh as much as you want, as long as you do not frighten the animals and are not a nuisance to other hikers. Avoid making excessive noise. Flying a drone, using a powered ice drill, target shooting or similar is prohibited.
What exactly is a national park
A national park is a large wilderness area, usually state-owned, that due to its unique landscape or distinct habitats has status as protected against human encroachment or exploitation of its natural resources. The objective is to preserve the landscape, flora and fauna for all generations, present and future. The national parks offer an escape from the hustle and bustle of daily life, an escape from human civilization and a taste of what more of our natural surroundings used to be like.
Explore more