Winter adventures near Mosjøen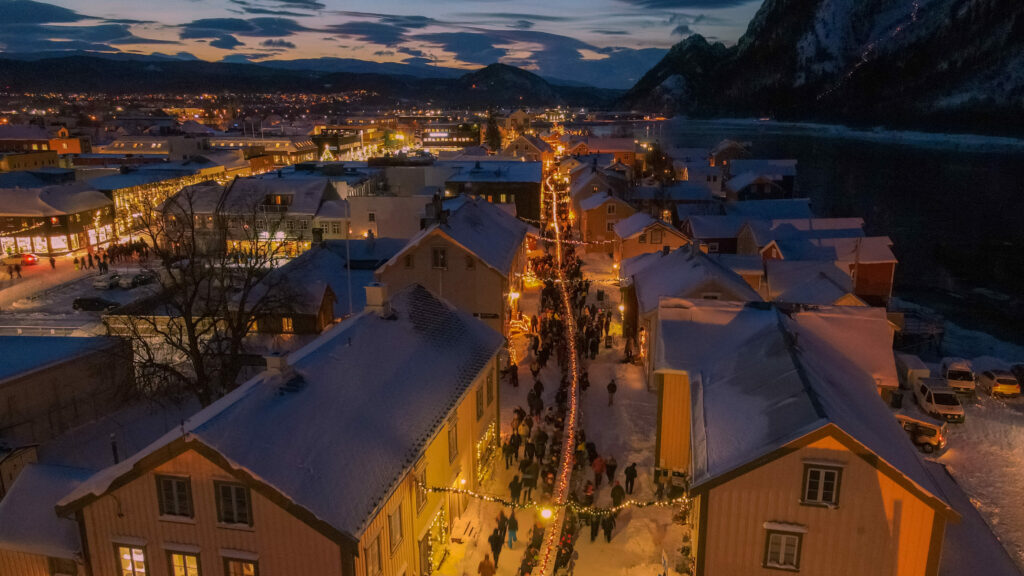 Experience the best of winter in Mosjøen, with its charming cafe scene in the picturesque Sjøgata, its festive atmosphere as a Christmas town, and a wide range of winter activities to enjoy. From indulging in a warm beverage at a cozy cafe, to exploring the beautiful surroundings on skis or snowshoes, Mosjøen has something for everyone who wants to embrace the season's delights.
Mosjøen at Christmas time
Every December, Mosjøen is transformed into a giant celebration, perhaps the most joyous pre-Christmas festivities in all of Norway. The old wooden buildings that line the historic Sjøgata street are decorated with Christmas lights, and its many cafés are filled with smiles and wonderful aromas. The town's joyous Yuletide atmosphere lasts from the beginning of advent, when Mosjøen's huge public Christmas tree is lit, almost until New Year's.
A key tradition is a porridge feast around what Mosjøen claims is the world's longest Yuletide table, running almost the full length of Sjøgata street. Sitting at this table, usually on the second weekend of December, thousands of locals and visitors from near and far are served their Christmas porridge.
But that's not the only thing on the menu, as stands offer all kinds of traditional local foods. Some stands show off locally-produced handicrafts that you won't find anywhere else. In other words, this is an excellent opportunity to buy unique Christmas gifts, while supporting local artists and craftsmen. However, the joy of the festivities is free of charge!
Excellent trails for cross-country skiing
Mosjøen offers some of the best cross-country skiing trails in Helgeland, and one of them is only a 15-minute drive from the town centre. At Sjåmoen you will find more than 4 km of illuminated ski track, as well as a long "wilderness trail" that takes you into the mountains to the east.
If you want to explore the area with a guide, we recommend signing up for a Wilderness Evening with HiNorth, which entails a snowshoe walk to a lavvo. Gathered around the campfire in this traditional Sámi tent in the forest, you will help prepare a hearty dinner, while learning about the heritage and reindeer herding traditions of this proud, indigenous people of the Arctic.
You will find an overview of the cross-country trails around Mosjøen here
Do you prefer something even closer to town? From Mosåsen, a popular recreation area that's a mere five-minute drive from Sjøgata, extend miles of cross-country trails. Yes, the initial uphill does require some effort, but you can look forward to a great downhill run on the way back!
Downhill skiing – and back-country skiing with summit ascents
If downhill skiing is more your style, you should head for Kjemsåsen Alpinsenter. It's an excellent ski resort, with three lifts, a children's ski slope, family-friendly skiing (rated green), as well as more challenging slopes (red and black ). The longest slope is 2.2 km with a 220-metre descent.
Should you prefer off-piste and back-country skiing, there are many summits to challenge Mosjøen. Half an hour's drive north, you will find Kveldstuva and Lukttinden. These are two of the mountains that offer great summit hikes, each with distinct challenges.
Lukttinden (1349 m) offers more than 1100 metres of steep descent. However, you need to be very experienced and exercise great caution, always mindful of the weather and snow conditions. If that sounds too extreme, you will find Kveldstuva to be a friendlier and more accessible mountain. It is less exposed to rough weather and fierce winds, and offers great views from the summit and during your descent.
You will find a tour description for Lukttinden here
Yet another option is to head for the mountains near Røsvatnet lake. This does require a somewhat longer drive, up to higher elevation and away from the fjord, into countryside that enjoys reliable snow conditions and more stable weather during the winter. A favourite destination of the locals, this is where many Helgelanders take their first and last summit skiing excursions of the season. In this area you will have many fine peaks to choose from, with Kjerringtinden being one of the best and most popular. This mountain is steep enough to give you fun and fast downhill skiing, but gentle enough that most of the slope is less than 30 degrees.
You will find a tour description for Kjerringtinden here
Dog-sledding and snowmobiling adventures
If you head towards the mountainous areas around Mosjøen, you'll find yourself in the heart of "wild" Helgeland. Here, you'll discover the Wilderness Road, the Okstindan mountain range to the north, Børgefjell National Park to the south, and the border mountains with Sweden to the east. This is a winter paradise where you can truly take your pick among beautiful mountains, fantastic hiking areas, and thousands of small and large fishing lakes. The region also boasts a well-developed network of snowmobile trails, and on a guided snowmobile tour, you'll quickly become acquainted with some of the most stunning hiking destinations.
If you prefer a slower pace and more natural locomotion, we strongly recommend a guided dog-sledding adventure. It's amazing to move through the winter landscape, pulled by huskies that are just as eager for wilderness adventure as you are! They fall silent when they run, so the only sounds are their paws and the sled-runners gliding on the snow, and whatever sounds are offered by the surrounding wilderness and wildlife. The winter woodlands also have their own scent. It's easy to imagine yourself on one of the Arctic expeditions of bygone times.
Great mountain skiing adventures
Less than an hour's drive north of Mosjøen, is a mountain pass called Korgfjellet. The road across this pass is open only part of the winter. On days when the road is closed, you can catch a ride up to Korgfjellet Fjellstue, the lodge at the top, with their "Alpine Bus" – a powerful snow scooter that pulls a sled with lots of seats. The lodge offers accommodation, including pleasant cabins.
Korgfjellet is a great base for wonderful skiing adventures and snow-filled family fun. Your kids will surely enjoy rushing down the slopes on skis or rump-racers, building caves and castles in the snow, and grilling sausages above a fire. Or don your skis and head into the magnificent mountain wilderness!
Do you yearn for a far more challenging wilderness adventure? Then set your sights on the more remote Børgefjell and Lomsdal-Visten national parks. But be aware that this is wilderness in the truest sense of the word. You won't find cabins or lodges here, and there are virtually no marked trails. This means you must be experienced, have proper equipment and be well prepared. Your safest choice is to sign up for a multi-day trek with a certified guide, who is intimately familiar with this wilderness, for instance with HiNorth. Welcome to an adventure you will remember the rest of your life.