Winter adventures near Mo i Rana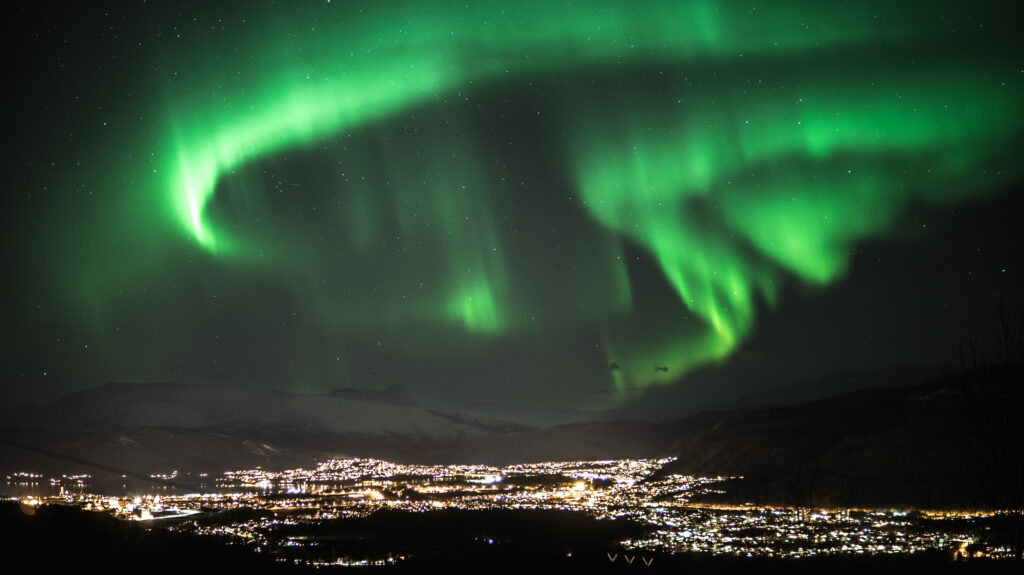 Situated just below the Arctic Circle, the town of Mo i Rana and the magnificent mountains that surround it offer a wide range of winter adventures. From the "Arctic Circle town", it's a short distance to summit hikes, premier downhill and cross-country skiing areas, and exciting caves. Add to this the culinary delights and cultural offerings of Mo i Rana itself, and the town is your perfect winter holiday base.
A paradise for summit hikes
If great summit hikes or on your Adventure To-Do List, Mo i Rana is your dream destination. Within one to two hours' travel, you have impressive coastal mountains such as Tortenviktinden and Tomskjevelen, as well as majestic inland peaks such as Lukttinden and Oksskolten, the highest summit in Northern Norway. And you can add family-friendly peaks such as Høgtuva and Bomfjellet. In fact, no matter how long your holiday stay, you can explore a new mountaintop every single day!
Ice fishing, Northern Lights and short excursions
Mo i Rana, the town at the Arctic Circle, has a lot to offer travellers who seek a tranquil holiday and more relaxed activities. How about taking in the view from the top of the ski jumps at Fageråsen, or from the higher altitude of Appelsinhaugen or the Tjuvtrappa stairs? These are popular year-round, and even in winter there will be a well-trodden path to the latter two that you can walk in winter boots.
All provide a bird's eye view of Mo i Rana, which can be particularly impressive at dusk when the city lights below are matched by the starry sky above – and squeezed between them the pinkish-purple winter sky of the horizon. If you want the evening to be perfect, bring a thermos of hot chocolate and light a warming fire in one of the designated spots.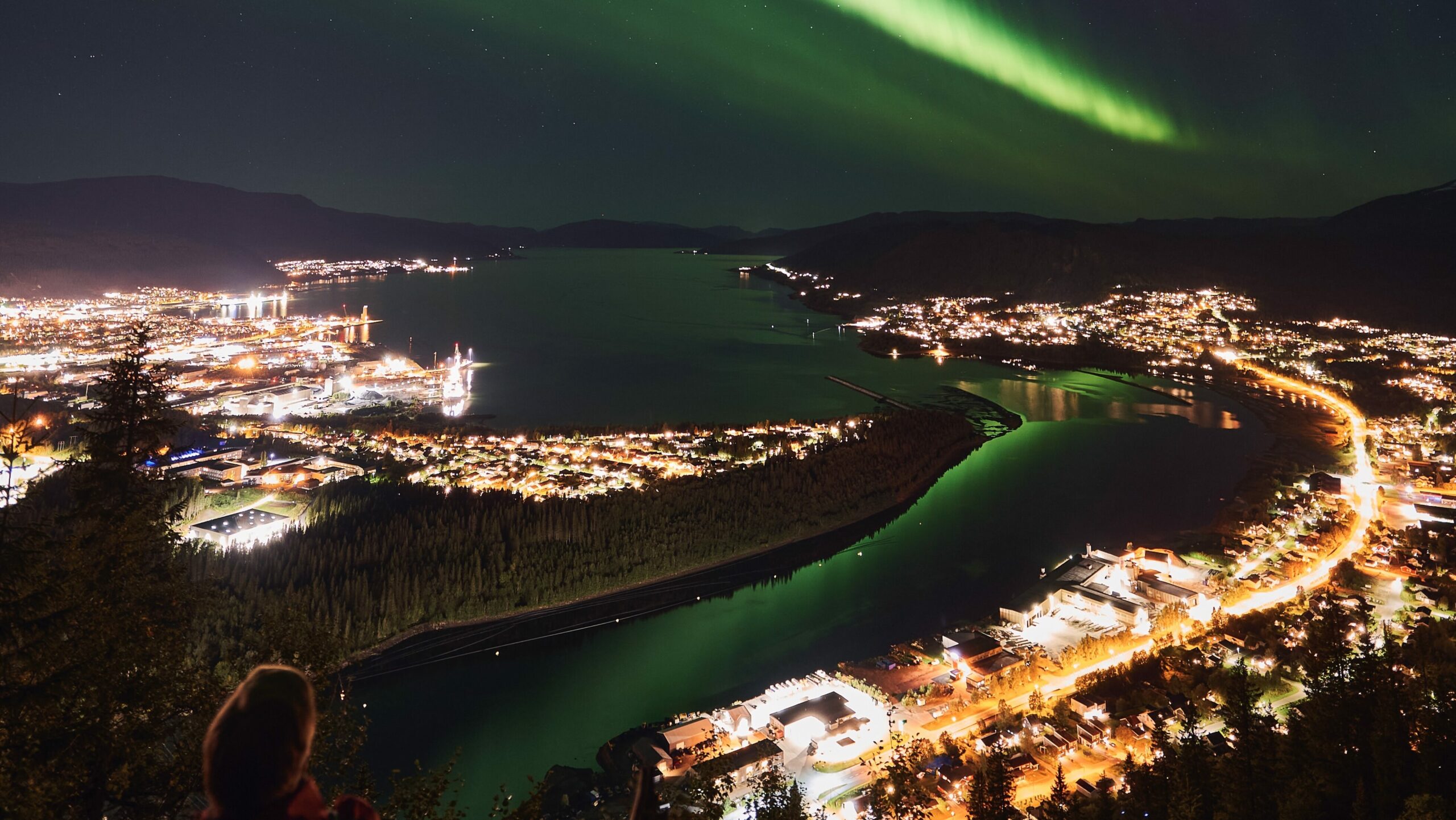 If you're eager for a trek or mountain skiing, you will find great trails by Umbukta, closer to the Swedish border. Just park your car in one of the roadside spots along highway E12, and head off to one of the tempting destinations – perhaps Stangfjellet, Umskardet, the Sauvasshytta DNT cabin, or one of the lakes that offer excellent ice fishing, such as Raudvatnet or Tverrvatnet. Most of the good lakes are on Statskog's property, so you can buy a fishing permit for the entire area.
You can find a map and hiking descriptions on UT.no (Norwegian only)
A little further south, the lodge called Korgfjellet Fjellstue is a good starting point for rewarding day excursions, as well as shorter excursions right nearby. When you've worked up an appetite, the lodge offers a hearty lunch or dinner. As we approach Easter, many miles of cross-country skiing tracks will be prepared over the hillsides, across snow-covered frozen bogs and through beautiful woodlands of mountain birch.
North of town, near Saltfjellet, is Krokstrand Fjellpark in Dunderlandsdalen. It's a great starting point for excursion through beautiful valleys that lead into the Saltfjellet-Svartisen National Park. If you want easier terrain, you can follow the unpaved construction road into Virvassdalen. If you are eager to explore the Saltfjellet mountain plateau itself, or just want a nice stop on your drive across the mountains, be sure to visit the Nordland National Park Centre. The centre is situated in expansive surroundings, and it's great to explore this wide-open landscape and perhaps continue into the surrounding mountains and valleys. If the wind and snow are good, this can be an excellent area for kiting.
People travelling by car should be cautious if it is snowing heavily, especially when combined with heavy winds. Under such conditions you risk getting stuck until the plough-truck arrives ready to lead a new convoy of vehicles across the snow-filled mountains.
Cave adventures
Should the Norse weather gods send too much snow our way, we know of places that are always blessed with clear weather. The surrounding area just happens to make Mo i Rana the unofficial cave capital of Norway. No matter the weather of the season, you can explore Setergrotta, or dive the depths of Pluragrotta!
Pluragrotta is extremely exciting and exotic; this submerged cave system in the Plura Valley beckons visitors into another world. It's an unforgettable experience to float weightlessly through this magnificent, naturally sculpted marble landscape, but it does require skill and considerable preparation. Fortunately, Plura Valley offers diving courses all year round, in which experience instructors will guide you from being a curious beginner to an advanced and self-confident cave diver.
If you prefer to keep your feet dry, we can't blame you. However, we can recommend a guided cave adventure in Setergrotta cavern, which can be just as rewarding. This limestone cave is part of a vast and complex cave system whose total length is 8.4 km; and Setergrotta alone is 3.4 km long. The two-hour guided tour will have you climbing, crawling and snaking your way through its passages, into halls deep within the mountain!
Alpine and cross-country skiing at Skillevollen
Great skiing awaits you just a 10- to 15-minute drive from Mo i Rana's town centre. At Skillevollen, the ski lifts are bringing skiers up the mountain throughout the winter, and you will find miles and miles of prepared cross-country ski trails – 5 km of which are illuminated at night! Near the ski centre is also a "wilderness trail" that leads to a magnificent vista of Mo i Rana and the fjord beyond.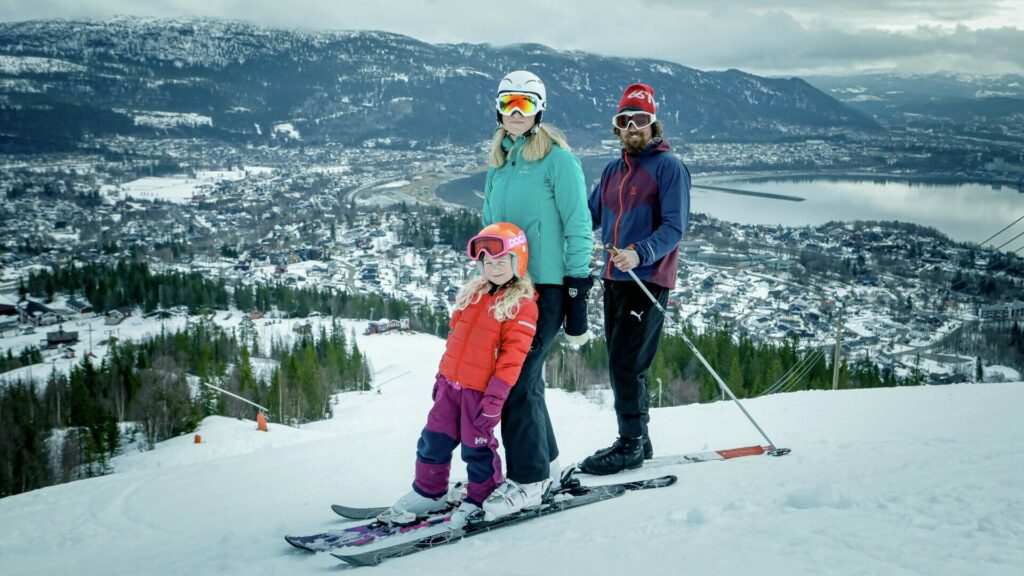 You will also find excellent cross-country trails at Klokkerhagen, a popular recreation area closer to the town centre. The illuminated trail here is 6.4 km long, gently following the Ranelva river upstream. Klokkerhagen is a great destination for a family ski excursion, or a solo ski trip if you prefer that – and you decide your tempo.
Relaxed fun in town
Just remember to have some relaxed fun between your adventures in our great outdoors. And Mo i Rana offers plenty of both.
When you've worked up an appetite, satisfy your hunger and thirst in one of our many good restaurants and cosy cafés. One of the very best in Northern Norway is Til Elise Fra Marius ("To Elise from Marius"), situated on Utskarpen Farm, just outside Mo i Rana. We also heartily recommend you seize the opportunity to sample Sámi food traditions at Aernie's. An essential part of the experience is sitting by the fire helping to prepare your own food, while hearing about Sámi culture from a skilled storyteller.
Mind you, not only our tummies need regular refills! Your visit to our region will be most rewarding if you also immerse yourself in our heritage, which is complex and colourful. At Rana Museum you can learn about the history and culture of the Sámi, the indigenous people of the Arctic, our fascinating industrial history, and dramatic chapters of local World War II history.
Surely all children and every curious adult will enjoy a visit to Vitensenter Nordland, our local science museum, which is situated in the same building as Rana Museum. It's an invitation to explore and gain insights into the natural world that surrounds us, as well as the many livelihoods that intricately rely on it. There is lots of fun to be had here! See who in your family can generate the most energy on the Hamster Wheel or who has the strangest appearance in the distortive mirror!
Nordland Theatre offers performances throughout the winter. If you are here in February, we invite you to the weeklong Winter Light Festival (Vinterlysfestivalen), when the whole of Mo i Rana overflows with great performances, good humour, book events and lectures. In February, as winter darkness gives way to an ever-brighter winter light, this festival is a great multicultural event!