Cross-country skiing trail: Klokkerhagen
Klokkerhagen ski trail is just a stone's throw away from the bustling center of Mo i Rana. The trail is well lit, and offers several kilometers of preppered tracks.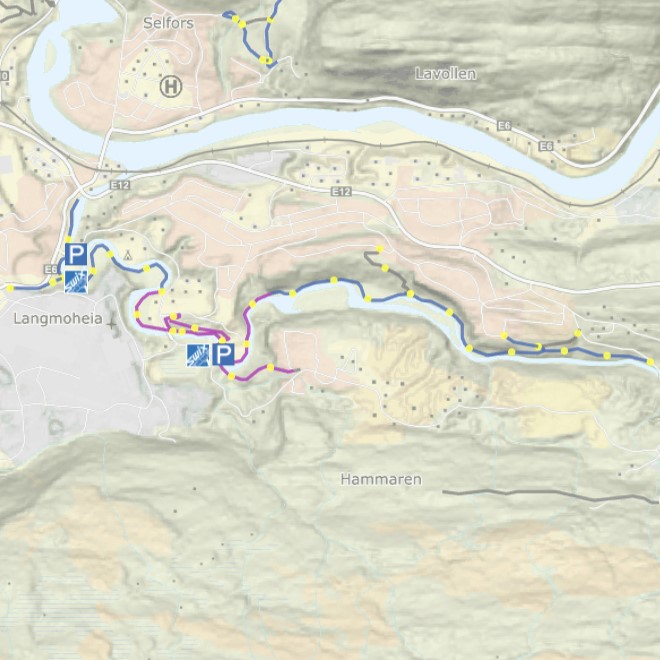 Take a breath if fresh air on the Klokkerhagen ski trail, where you'll find a total of 6.4 km of pristine ski tracks. Glide along the calmly rolling banks of the Tverråga river, and enjoy the winter scenery as you go. Take a well-deserved break at one of the several organized rest areas along the way. The trail is illuminated from Revelneset to the end, making it easy to ski even after dark.
Located just 2.5 km from Mo i Rana Station, getting to the ski trail is a breeze. Simply head to Skansen by Mo Industripark and hit the slopes. And if you prefer a more leisurely pace, you can explore the area on foot, just be sure to stay off the ski track. For a fun family day out, bring your sleds to Klokkerhagen Idrettsplass and enjoy a thrilling ride down the slopes.
Contribute to sustainable tourism
Thank you for respecting the local communities, and for helping us preserve the natural beauty of Helgeland!
Please:
Strive to leave no trace of your visit. Bring back all your rubbish, including used toilet paper, and discard it in the nearest rubbish bin.
Plan your toilet visits and use the opportunity when you pass a toilet. In the wilderness, make sure you are not a nuisance to others.
Respect the local wildlife. Keep a good distance from wildlife, livestock and birds. Keep your dog leashed.
Respect private property. Keep a respectful distance from houses and cabins.
Show good boating sense. Keep a good distance from shore and drive at a low speed, especially when you are close to anyone or anything on the water, including birds or animals. Avoid loud and disturbing engine noise. Be aware that some islands and nature reserves are important nesting sites, and that going ashore is prohibited during the nesting season.
Follow the Norwegian Mountain Code (Fjellvettreglene). Plan your excursion according to the weather forecast, your skills and experience.
Join a guided excursion or consider hiring an experienced guide, especially when you don't have sufficient experience or knowledge to guarantee a safe trip.
Find other winter trails and hikes