Winter adventures near Brønnøysund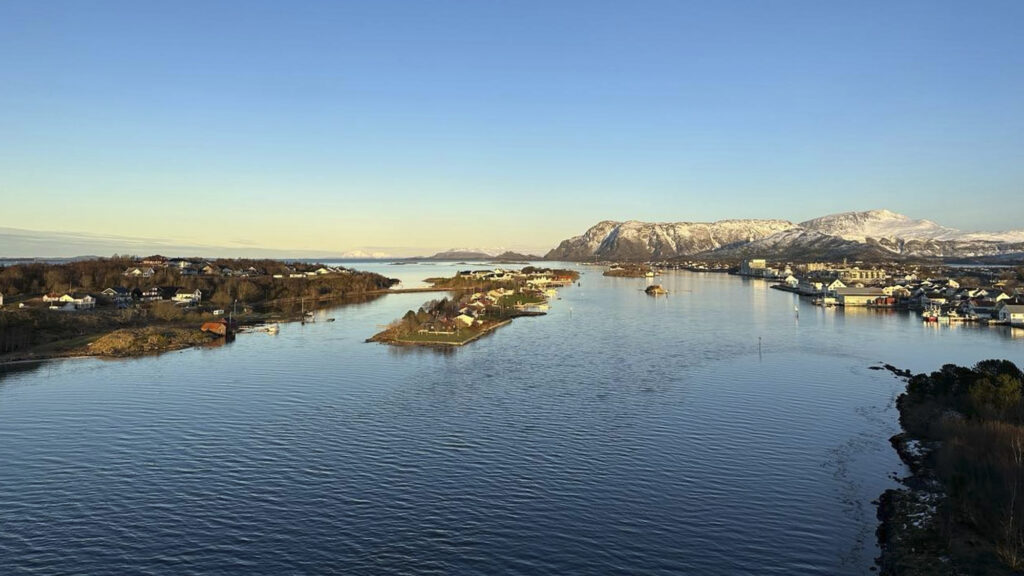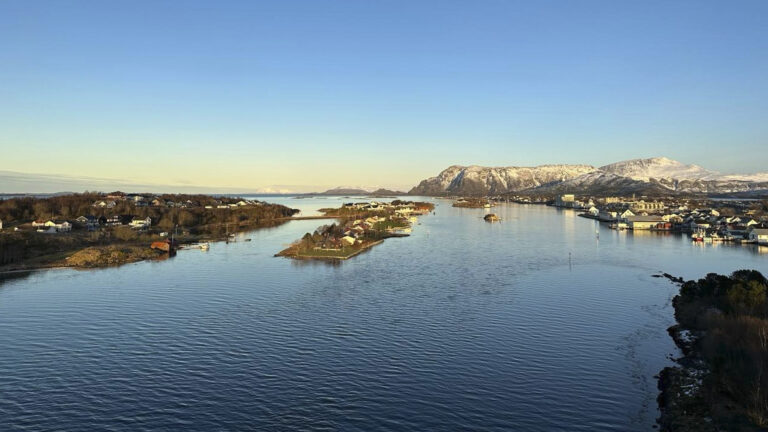 The coastal town Brønnøysund invites you to experience the beauty of winter on the Helgeland coast. Explore the iconic Torghatten, a mountain shaped like a troll hat, wander the World Heritage island of Vega, and soak in the captivating winter light along the coast. And while you're there, indulge in the delicious cuisine this region has to offer.
Calm days on the coast
The town of Brønnøysund and the surrounding landscape enjoy a typical Norwegian coastal climate. The winters out here are mild, inviting you to relaxing days in the town itself and beckoning you to hike some of the beautiful destinations nearby. One such destination is Torghatten, the legendary mountain with a hole through it. We suggest a morning circuit hike around the mountain, before admiring the winter sky as you walk through its naturally carved hole – and then celebrating with lunch at Torghatten Strandrestaurant. Afterwards, you can consider a walk up to the old fortress at Skarsåsen, which also offers an excellent view, before continuing your journey to Hildur's Urterarium.
If you want a more tranquil day, you can simply stroll the town centre of Brønnøysund, feel the fresh salty breeze from its harbour, and when you've worked up an appetite treat yourself to a fine dinner in of the charming restaurants.
Take a boat trip
If you want to fully experience the best of Helgeland, there is no reason to keep your feet planted on solid ground the entire time. Coastal towns such as Sandnessjøen should also be seen from the sea. If you rent a kayak or bring your own, and are warmly dressed and properly equipped for winter, it's a great way to experience the town and its surrounding area. From the town centre, you can chart a course to the nearby islands and islets, enjoying the coast's magnificent cultural landscape on the way there. If you head towards Torghatten, there is a beautiful archipelago to explore on your way to the legendary mountain.
If you want a very special adventure, contact Torghatten Strandrestaurant and ask them about their "Torghatten Inside". This great concept includes a boat trip with fishing gear, which means you can catch your own dinner! Back at the restaurant, you can help the chef clean and prepare a great five-course dinner featuring fresh seafood. Torghatten Strandrestaurant has a reputation for great food, but nothing is as satisfying as dining on fish that you caught yourself!
Visit Vega – the World Heritage islands!
Vega is only an hour's ferry or express boat ride from Brønnøysund, and since the boats run from early morning until late evening, it's easy to make Vega a day excursion. A good place to start is at the World Heritage Centre. The exhibitions here will give you insight into a coastal culture of Helgeland's fishermen-farmers, as well as the unique traditions of the islanders. Since time immemorial the people of Vega have been guardians of the migrating eider ducks that nest here, protecting the birds and harvesting the valuable down after the hatchlings have left their down-lined nests.
As we approach Easter and the days grow longer and brighter, the archipelago is especially beautiful. It's a great time to go kayaking on the sheltered waters of the Vega islands. We suggest exploring the areas around Vega Havhotell and Base Camp Vega on the northern side of the main island. As spring unfolds its colours on the islands and islets, it's an amazing sensory experience to explore the archipelago at your own pace.
After the day's adventures, you really must treat yourself to dinner at Vega Havhotell, renowned for some of the best dining in Helgeland and its great view. A key ingredient of your evening will be the beautiful sunset or, perhaps, even the dance of the Northern Lights!
Illuminated skiing trails
Thanks to the warming Gulf Stream current, Brønnøysund enjoys a coastal climate with uniformly mild winters. That's a blessing for those locals who dislike shovelling snow from their driveways. Fortunately, the locals and visitors who yearn for great skiing don't have to go very far.
At Hommelstø, half an hour's drive from town, is an illuminated 4-km-long prepared ski track. The trail takes you through varied terrain up towards Hillstadfjelet, and the slopes are gentle. You will also find a nice little ski centre, with a family-friendly ski lift and a café that offers hot dogs, fresh waffles, juice and coffee.
At a similar distance from Brønnøysund, near Berg in Sømna, is Kvervet ski centre. Here you will find a 3.7 km illuminated trail that leads you through gently sloping woodlands up into mountains that enjoy a beautiful view of the fjord and farmlands below. Along this trail is a heated ski hut and several lean-to shelters. If you wish, you can light a fire and grill sausages or hamburgers before continuing your exploration of the great wintry outdoors.
Explore more