Summer fun in Mosjøen
How would you like to stay in historic surroundings, soar through the air, go on an underground exploration, and engage in challenging water sports? Well, the town of Mosjøen offers all this and so much more!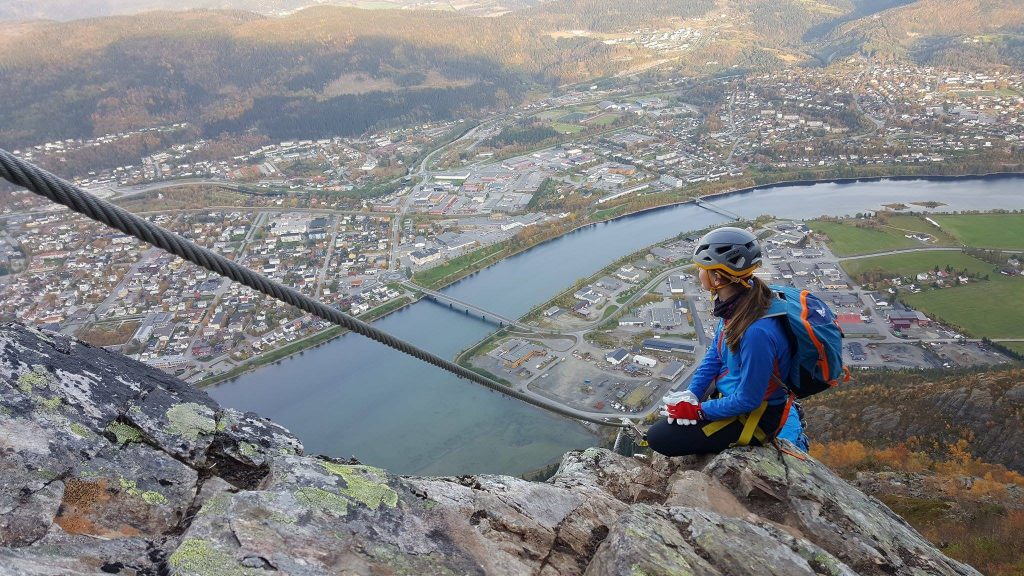 visithelgeland.com
A historic hotel in a historic district
The oldest town in Helgeland, Mosjøen, is situated at the foot Øyfjellet, where the rivers Vefsna and Skjerva join and flow into the Vefsnfjord. At the heart of town is the historic Sjøgata, a street lined with a long row of wooden houses and wharf buildings that date back to the 18th and 19th-centuries. They are beautifully preserved and fully in use, which lends the town a wonderful, lively atmosphere.
At the end of the Sjøgata is the oldest hotel in Northern Norway, the stately Fru Haugans Hotel. It has two restaurants, two bars, and an attractive terrace that overlooks the river and the beautiful hotel gardens. Down by the rivers is a dock for guests who arrive by boat. In short, Fru Haugans offers everything you need for a rewarding summer stay. And when you're ready to explore, Mosjøen has many attractions and exciting activities to offer.
The Helgeland Stairs
Mosjøen is especially grateful to the Sherpas who in recent years visited from Nepal. They built the incredible Helgeland Stairs, over 4000 stone steps that ascend Øyfjellet (818 m). This is one of the world's longest stone stairs, fully 3.2 km long. Your thigh and calf muscles are destined for a good workout.
Adrenaline-filled action on the Zip-line and Via Ferrata
Proud, beautiful rivers are to be admired – and crossed. After you walk or drive over the renowned salmon river Vefsna, you arrive at Øyfjellet, a mountain that rises a sheer 818 metres from the sea. Here you will find Northern Norway's most spectacular zip-line. From where it starts, 70 metres up the mountainside, you can soar 700 metres across the river, an adventure that is guaranteed to raise your pulse.
If you are in reasonably good shape, you can ascend Øyfjellet by climbing the world's northernmost Via Ferratta. It's a challenge that will reward you with a feeling of mastery and accomplishment. For the ultimate adventure, we suggest you combine the Mosjøen Via Ferrata and Zip-line. Both may be booked from Naturlige Helgeland.
Øyfjellgrotta – into the dark unknown
Spelunking is a fancy word for cave exploration, and that's precisely what you are invited to do in Øyfjellgrotta, a limestone cave outside Mosjøen. With narrow passages that require crawling, and even an underground river, it beckons you to an exciting adventure! A tour of the 500-metre-long cave takes about three hours.
An adventure with RiverNorth Rafting
For great river-rafting adventures, head for Grane, situated just 40 km south of Mosjøen. Here you can challenge miles of river, and even white-water rapids. It's an unforgettable adventure for young and old.
RiverNorth offers family rafting on Svenningelva, a calm and slowly-flowing river. Half-day and full-day rafting trips, and wilderness rafting, are offered on the swifter and more challenging eastern branch of the Vefsna river. If the water level is suitable, we'll stop so you have a chance for a swim, and perhaps do some diving from the cliffs along the river.
Also offered is river snorkelling, stand-up paddle boarding (SUP) on the river, river kayaking, and rappelling down a mountain wall. To extend your enjoyment of the great outdoors, you can also stay overnight in a lavvo in the wilderness camp.
Mosjøen's own beach
Just outside the town centre is Mosjøen's very own beach – 200 metres of coral sand, framed by large palm trees, climbing frames for kids, barbecue pits, tables and benches. And at least in July and August, you can count on the water being warm enough for a swim. Near the beach is the marina, which is also nice for a walk. Parking is available in designated spots.
Explore more