A cycling adventure: The Wilderness Road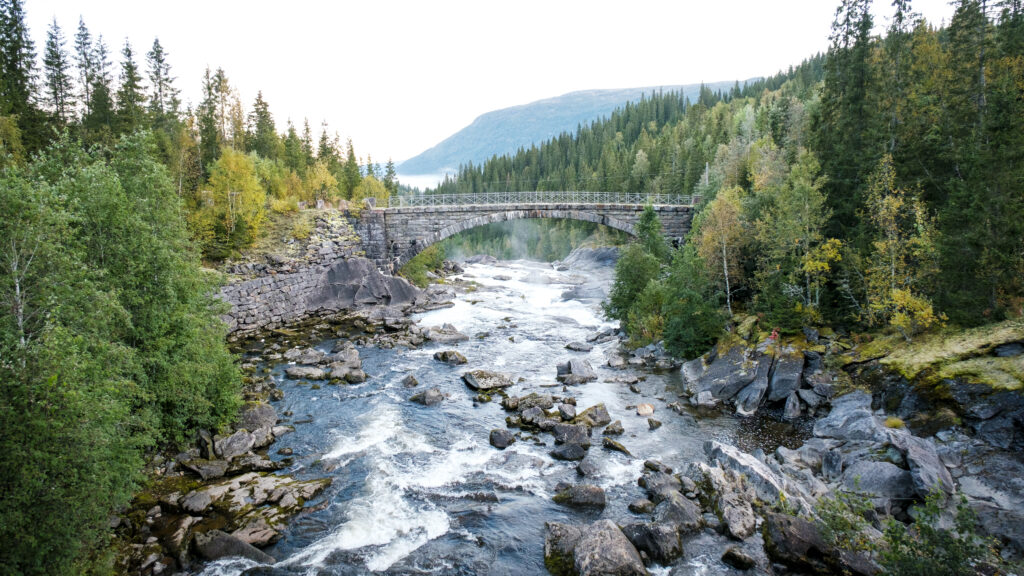 Join us on a beautiful bike ride close to the nature in the heart of Helgeland, with views of both Børgefjell and Okstindan.
Turinfo
Length: About 161 kilometers or 100 miles

Recommended duration: 3 to 5 days
Stops along the way:
Børgefjell
Hattfjelldal
Bleikvasslia
Korgen
Rabothytta
Bjerka
Stage 1: Majavatn to Hattfjelldal
80 kilometers
709 meters elevation gain
See the stage in Google Maps
Hop on the train and get ready for a train journey through stunning scenery along the Nordlandsbanen. Please note that only regional trains between Trondheim and Bodø allow bikes, and you must book in advance. If you're coming from Trondheim, you'll arrive at Majavatn in the mid-morning, while from Bodø, the arrival is in the late afternoon.From Majavatn train station, you'll need to cycle approximately 6 kilometers along E6 before encountering a sign indicating the way to Fiplingdal, where Villmarksveien begins. This road winds through mountain and forest villages and along shimmering mountain lakes. The road is asphalted, varying in quality, and quite narrow, but it's enjoyable to cycle on, offering beautiful scenery and fewtraffic encounters.
After about 12 kilometers, you'll reach the first junction. If you take the road towards Børgefjellskolen (FV274), you'll soon come across signs for Simskardet, one of the entry points to Børgefjell National Park. Here, you can embark on the well-maintained Simskardet loop, a six-kilometer trail with several beautiful suspension bridges over wild streams. It's a fantastic hiking experience, but the entire loop takes at least two hours without breaks, so plan accordingly considering your available time. You still have over 50 kilometers remaining on your bike journey.
A detour to river rafting?
From Simskardet, it's approximately 15 kilometers to Fiplingdal Landhandel. It's a great place to stop for coffee and food in the cozy store. From here, you have a choice to make: whether to cycle directly to Hattfjelldal or to detour to Trofors and spend the night there. If you choose the latter, keep a steady course until you cross the Auster-Vefsna River and reach the "main road", National Road 73. From there, it's about 11 kilometers of steady downhill cycling to Trofors and Grane Bygdetun, where RiverNorth has its base. Here, you can join a river rafting adventure and spend the night in a lavvo or gamme (a traditional Sami hut).
Continuing along the river
Whether you take the detour and return the next day or cycle on the same day, you now have two options to reach Hattfjelldal. You can either continue cycling to the main road and tackle the "Kløvimo climb." Or, as we recommend, you can cycle along the old gravel road towards Jerpåsen (see the crossroads in Google Maps) parallel to the Auster-Vefsna River. It's a slightly longer journey, but it's much more enjoyable to cycle through the stunning nature along the way.
Shortly after you start on the gravel road, you'll come across a bridge that crosses the mighty Storfiplingdal River. Take a moment to enjoy the view of the river gorge with its waterfall and rapids.This is where timber used to be floated downstream in the old days! Just below the bridge, at the meeting point of the rivers, there's a great fishing spot with a bonfire site. Remember to purchase a fishing license on inatur.no before casting your line into the water. Moving further towards Hattfjelldal, the river is now called Stillelva, as it takes a breath and flows smoothly through the largeforest.
At the next junction, you'll have the opportunity to experience one of the region's finest beaches, with white sand and a tranquil river. It's a quick detour to the left, about 200 meters down to Holmen. By the way, Auster-Vefsna changes its name five times on its journey from Børgefjell to Vefsnfjorden – from Tiplingelva to Susna, then adorning itself as Auster-Vefsna and Stillelva before finally becoming Vefsna at the meeting point in Trofors.
The road continues uphill through the gravel slopes towards Hattfjelldal, passing through a completely untouched area where the ancient forest peacefully stands along the road, meandering away from Auster-Vefsna. At times, Auster-Vefsna flows through a nature reserve, where ancient forests and rare species thrive undisturbed by modern life – precisely what you experience when taking this detour from Villmarksveien into the heart of inner Helgeland
Hattfjelldal: South Sami culture, accordions, and a friendly village atmosphere
Once you arrive in Hattfjelldal, you can safely take a rest day if you wish. This mountain village is known for its long-standing traditions in craftsmanship and folk music. The South Sami culture is partof the community, and we recommend a visit to Fjellfolkets Hus. There, you'll find a fantastic exhibition about Sami culture and an accordion display. Another recommended visit is to the South Sami language and culture center, Sijti Jarnge, where you'll find exhibitions and cultural events
If you feel like stretching your legs and going for a hike, we suggest a trip up Hatten (1,128 meters above sea level), the mountain that gives the village its name and is a popular hiking destination. Butif you prefer to stay in the village, you can take a stroll and admire the over three-meter-tall sculpture "Alveborg," created by Icelandic artist Hreid Fridfinnsson. The sculpture is part of the Nordland Sculpture Park, an international art collection consisting of 36 outdoor artworks in 36 municipalities in Nordland.
Stage 2: From Hattfjelldal to Korgfjellet
81 kilometers or about 50 miles
1209 meters ascent
Alternatively 73 kilometers and 665 meters if you take a taxi for the last stretch up to Korgfjellet. The taxi needs to be booked a few hours in advance to accommodate bicycles
See the stage in Google Maps
Continuing along Røssvatnet, Norway's second-largest lake, you'll cycle through a beautiful, open mountain landscape. You'll come across several well-maintained farms and houses and enjoy one stunning viewpoint after another. Feel free to stop and stretch your legs while enjoying your packed lunch wherever it suits you. Take in the beautiful views of both mountains and water. Towards the
north side of the lake, the massive Okstindan mountain range rises, home to Northern Norway's highest peak, Okskolten.
At the end of Røssvatnet, you'll find the mountain village of Bleikvasslia. Here, we recommend a stopat Sørfjelltunet, which houses the old school, an authentic Sámi "køte" (traditional dwelling), a nature park for children, a great bathing spot, and a year-round bakery where the local "kamkaka" (cake) is made. If you're interested in paddling, the local community offers canoe and kayak rentals, as well as sauna rentals. Sørfjelltunet has been awarded Olavsrosa, a quality mark for Norwegian cultural heritage. In Bleikvasslia, you'll also find the Bleikvasslia Chapel, a wooden long church from 1955.
From here, you have around 22 kilometers left to Korgen, mostly downhill for now. First, you'll pass Stormyrbassenget, a dammed lake known for its rich birdlife, including a population of Canada geese. Along the way, you can make a stop at the potholes before Korgen, which have a signposted exit from the road. There are over 20 potholes in this area, and a hiking trail leads to the largest one,which is 10 meters in diameter and 11-12 meters deep.
Alittle further from the potholes, you'll reach the beautiful Sjøforsbrua, indicating that you're almostin the village. The bridge, built for car traffic in 1905, showcases hand-cut stones and represents some of the best of old Norwegian bridge craftsmanship.
After Sjøforsbrua, you'll soon arrive at the junction where you turn towards Korgfjellet. From there, it's around 9 kilometers and a 550-meter ascent to Korgfjellet Mountain Lodge at the top. If you need to catch your breath before starting the climb, you can take a break in the lovely park Svartebukta , which offers restrooms and grills.
Alternatively, you can cycle straight into the town center and take a taxi for the final ascent. In that case, you'll need to book in advance to ensure that Korgen Taxi has a vehicle available to transport the bikes. While waiting, you can enjoy an ice cream, do a quick shopping trip at the grocery store, take a bike ride to Korgen Church from 1863, or simply take a break by the Røssåga River, which has a nice hiking trail from Sjøforsbrua down to the village. It's perfect for stretching your legs after a long day in the saddle.
The road ahead
It's well worth spending a day or two at Korgfjellet before continuing your journey. There are many easy and beautiful hiking trails right outside Fjellstua and the cabin area. If you're up for it, you can take a day trip to Rabothytta. This would involve cycling into and up Leirskardalen and then hiking to the cabin itself. Keep in mind that you should bring appropriate clothing and equipment for safe travel in the high mountains.
From Korgfjellet, it's also a short distance to Bjerka and the train station there. You can also choose to cycle along the scenic coastal road to the charming town of Hemnesberget or continue your journey to Mo i Rana in the north, Mosjøen in the south, or the Helgeland coast in the west.
Contribute to sustainable tourism
Thank you for respecting the local communities, and for helping us preserve the natural beauty of Helgeland!
Please:
Strive to leave no trace of your visit. Bring back all your rubbish, including used toilet paper, and discard it in the nearest rubbish bin.

Plan your toilet visits and use the opportunity when you pass a toilet. In the wilderness, make sure you are not a nuisance to others.

Respect the local wildlife. Keep a good distance from wildlife, livestock and birds. Keep your dog leashed.

Respect private property. Keep a respectful distance from houses and cabins.

Show good boating sense. Keep a good distance from shore and drive at a low speed, especially when you are close to anyone or anything on the water, including birds or animals. Avoid loud and disturbing engine noise.

Be aware that some islands and nature reserves are important nesting sites, and that going ashore is prohibited during the nesting season.

Follow the Norwegian Mountain Code (Fjellvettreglene). Plan your excursion according to the weather forecast, your skills and experience.

Join a guided excursion or consider hiring an experienced guide, especially when you don't have sufficient experience or knowledge to guarantee a safe trip.