Hiking Description: Old Stavassveg Trail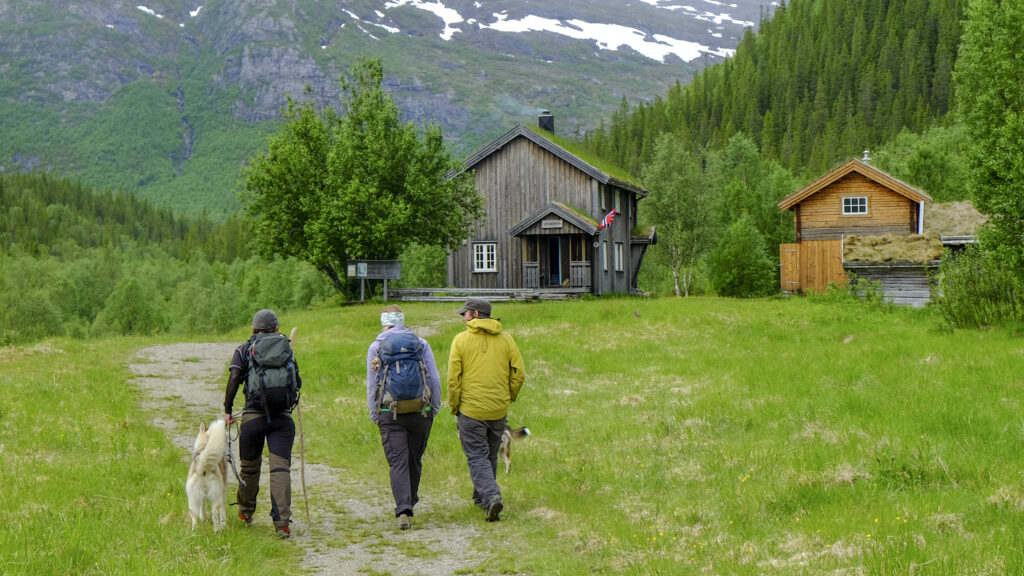 Are Halse
This fantastic hike takes you through magnificent and diverse nature, from Trofors Station to Stavassgården, at the threshold of Lomsdal-Visten National Park (Njaarken vaarjelimmiedajve).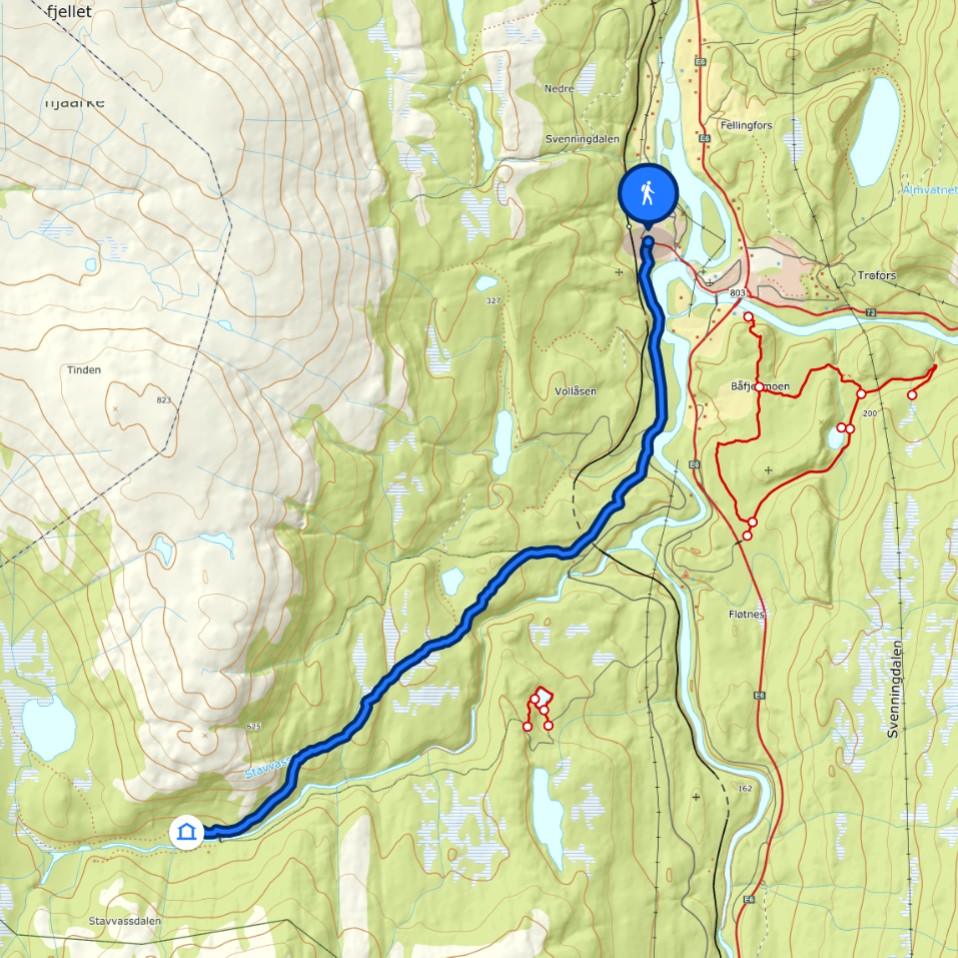 Hiking Information
Difficulty level: Easy to moderate. Gentle terrain and good trail markers, but the hike is relatively long.
One-way distance: Approximately 8.4 kilometers
Elevation gain: Around 200 meters
Estimated time one-way: 2 – 3 hours
Season: June – November
Starting point: The hike begins at Trofors Station, where there is also parking available if you arrive by car.
View the starting point on Google Maps
View the hiking description on UT.no
The Old Stavassvei is a beautiful and popular gateway to Lomsdal-Visten National Park (Njaarken vaarjelimmiedajve), where you can hike directly from Trofors train station to the old Stavassgården on the outskirts of the national park. The trail is well-marked and maintained, taking you through a varied landscape of old-growth forests, newly planted forests, clear-cut areas, and marshes. Along the way, you'll also have views of the majestic mountains that border Lomsdal-Visten (Njaarke).
The hike starts at Trofors train station, and from there, you follow Vestersivegen (West Road) for about 2 kilometers southward. This initial stretch is on asphalt and a nice gravel road, making it possible to cycle if you want to save some time on this part of the journey. Follow the road until you see a sign for "Gamle Stavssveg" (Old Stavass Road). Here, you can find directions from Trofors train station to approximately where the trail starts.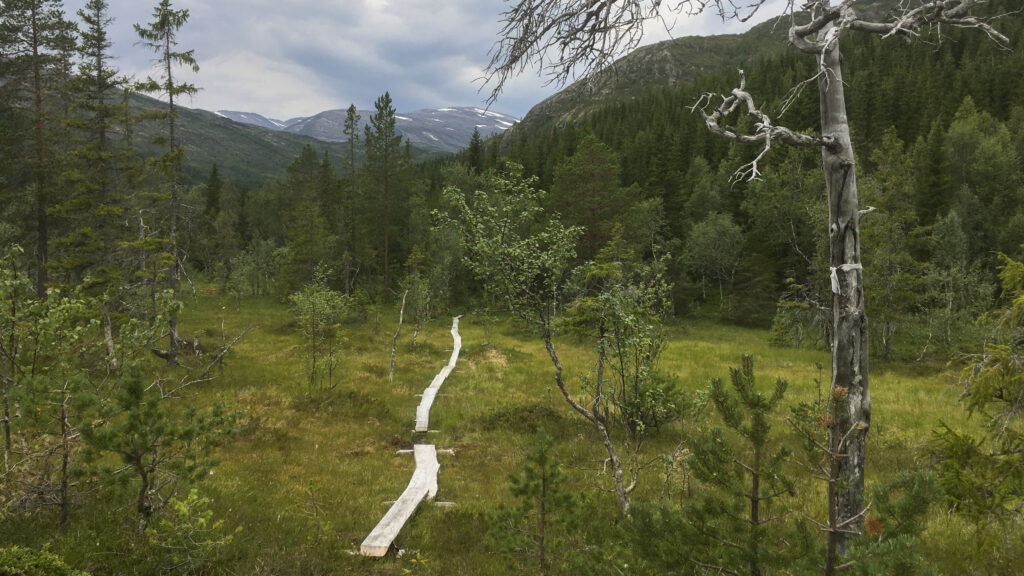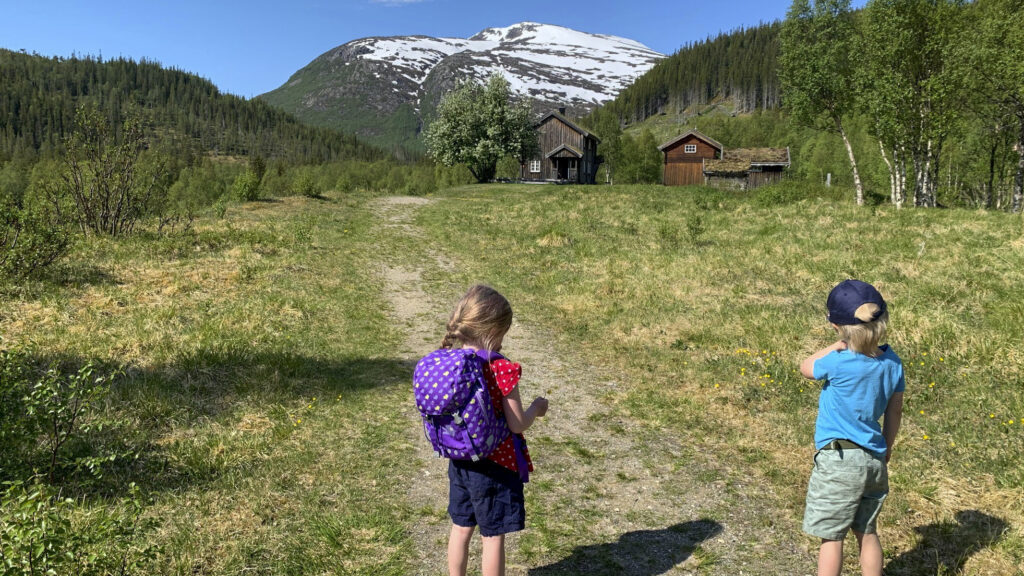 Approximately halfway through the hike, you will come across a lean-to shelter (gapahuk) that is perfect for taking a break or as a shorter hike destination. However, we recommend continuing on because after a while, you will reach a fantastic viewpoint where you can gaze directly into the impressive gorge of Stavasselva.
Once you arrive at Stavassgården, you can enjoy your packed lunch while the children play in the wonderful playground located just behind the farm. The kitchen in the farmhouse is open, while the rest of the premises are locked and available for rent through Stavasdalens Venner (Friends of Stavasdal).
Leave no trace and sustainable tourism
Thank you for helping us take care of the nature and local communities in Helgeland. Thank you for:
Practicing Leave No Trace principles and bringing back any waste and toilet paper to the nearest trash bin.

Planning restroom visits to ensure they are done without causing inconvenience to others.

Respecting the local wildlife, keeping your dog on a leash, maintaining a safe distance from both wild and domesticated animals and birds.

Respecting private property and keeping a distance from private houses and cabins.

Exercising responsible boating practices, keeping a safe distance from the shore, maintaining low speeds near others on the water, including animals and birds, and avoiding unnecessary driving that creates disruptive motor noise.

Respecting the prohibition of entry and landing in seabird reserves during the breeding season.

Following mountain safety guidelines and planning hikes according to your abilities and experience.

Hiring an experienced guide for trips where you lack the knowledge or experience required for a safe journey.
Find accommodation, food, and activities nearby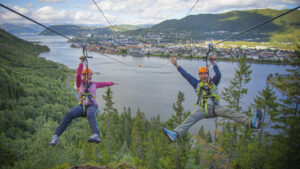 Mosjøen Zip-line
At the heart of Nordland County, in the geographic middle of Norway, is the friendly town of Mosjøen. On Storfjellet, right near Øyfjellet just outside town center, is Northern Norway's most spectacular zip-line.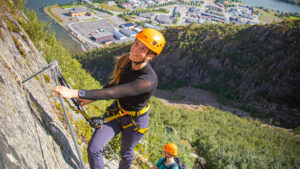 Mosjøen Via Ferrata – The first in northern Norway
At the heart of Nordland County, in the geographic middle of Norway, is the friendly town of Mosjøen. Here you can join Hi North on an exhilarating mountain adventure on the world's northernmost via ferrata. Take the challenge and feel the satisfaction as you reach the summit!