Four tips for your winter holiday in Helgeland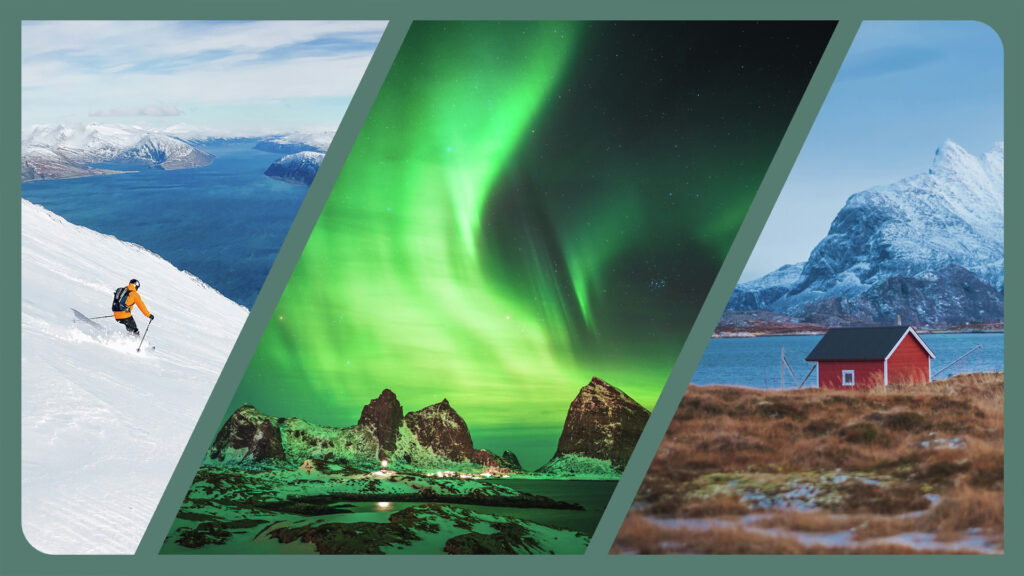 Cross the Arctic Circle
The Arctic Circle runs straight through Helgeland and can be crossed both along the coast and in the mountains. On the coast you'll cross the cricle on the ferry from Kilboghamn to Jektvik, and they annonce the crossing as you pass the Arctic Circle monument. Another popular crossing is by taking the E6 highway over Saltfjellet mountain. The route is marked by Arctic Circle monuments and can be traveled by car or train. If the weather is favorable, we recommend taking a car as you can stop and explore the snowy mountain landscape, perhaps even make some arctic snow angels.
See the Northern Lights
The Northern Lights, or "aurora borealis", are a natural phenomenon that occurs when solar winds hit the polar regions. And in the Northern hemisphere, with our location just by the arctic circle, Helgeland is ideally located. The northern lights can be active at all times, but of course, it has to be dark outside for us to see the magical dance in the sky. And the long polar nights will give you plenty of opportunities for just that.
With few large cities and ample open spaces between villages and towns, Helgeland offers excellent viewing opportunities with minimal light pollution.
Wonderful winter activities
Do you want to go dog-sledding? Or winter kayaking? Maybe you'd like to go on a guided snowshoe hike in the wilderness? And what about deep-sea fishing on a proper fishing boat, followed by a two-day snowmobile expedition the very next day? Thanks to the wonderfully varied landscape of Helgeland, you can do it all!
In the inner parts of the region, you'll find wild national parks, large mountain ranges, and some of the tallest mountains in Northern Norway. But if you drive just an hour or two, you'll reach the coast and the archipelago, where thousands upon thousands of islands and islets dot the landscape like a mosaic masterpiece created by nature. You can arrange your activities however you like, and have your winter holiday adapt to you, rather than the other way around.
Experience the local culture
Although similar, each part of Helgeland has its own distinction, pace, and activities. No matter where you choose to go, take the time to truly experience it. Enjoy a cup of coffee and local pastries in the cozy cafes of historical Sjøgato in Mosjøen. Do some Christmas shopping in the small villages. Try traditional Sami food and learn about the local Sami culture. Visit museums, like the Vega World Heritage Center, to find out how life used to be on the outer islands of Helgeland. Or go on a boat tour and see for yourself. Take the time to breathe in the air, talk to the people, listen to their stories, and taste their food. It's only then that you'll truly have been to Helgeland.