Motorcycle tour: From Hattfjelldal to Nesna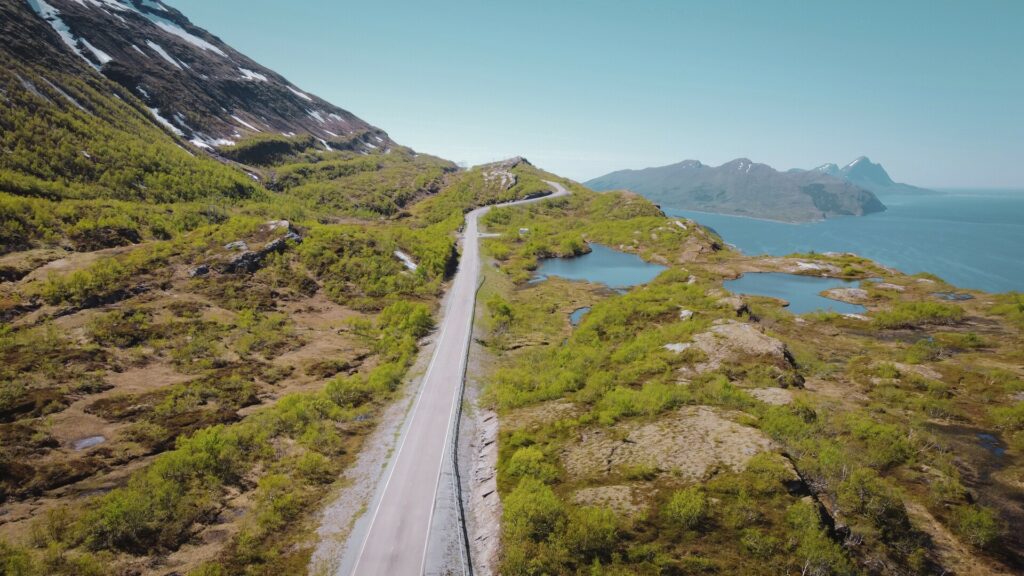 A beautiful route that takes you from the magnificent mountain areas around Hattfjelldal, eastward to the Swedish border town of Hemavan, before turning your wheels back towards Helgeland and rolling northwest to Mo i Rana, and further to the Helgeland coast and Nesna.
Trail information
Length: 273 kilometers
Recommended duration: 2 til 3 dager
Stopping points:
Hattfjelldal Hotell
Hemavan
Mo i Rana
Yttervik
Melfjordbotn
Sjonfjellet
Nesna
Topcamp Havblikk
Day 1: Hattfjelldal to Rana
190 kilometers
View in Google Maps
The first stage takes you from Hattfjelldal Hotell, along the narrow and scenic mountain roads heading east and crossing the border into Sweden. It takes about one hour to drive to Hemavan, where it's nice to make a stop for a meal and perhaps a short hike in the mountains before getting back on the bike. From Hemavan, it's approximately an hour and a half drive to Mo i Rana, and the road is easy and pleasant to ride. In Mo i Rana, you can make a stop in the city if you need to do some shopping for the evening and the next day. Today's destination, the accommodation at Yttervik, is only 15 minutes outside the city center, so it's possible to check-in and then head back to Mo i Rana to experience everything the city has to offer.
Day 2: Yttervik to Nesna via Melfjordbotn
196 kilometers (85 kilometers without detour to Melfjordbotn)
View in Google Maps
The second stage takes a significant detour, but what a detour it is! From Yttervik, you once again head north, driving through Mo i Rana and up towards Melfjellet and Melfjordbotn. The road to the mountain is beautiful in itself, along the large glacial lake Langvatnet and the Glomådeltaet at the end. But the most spectacular stretch is the ascent and descent of Melfjellet, where you'll encounter long, sweeping curves on the way up from the southern side and Helgeland's own little Trollstigen on the way down to Melfjordbotn on the northern side.
After Melfjellet, the journey takes you back to Mo i Rana and towards the Coastal Route (Kystriksveien) and Nesna. You'll drive through a lush cultural landscape in Utskarpen before the road takes you up and along Sjonfjellet. From Sjonfjellet, you'll enjoy a magnificent view of the Helgeland coast, and on clear days, you can see Tomma, Lovund, and Træna from many of the resting areas along the road.
In Nesna, you'll find accommodation at the Topcamp Havblikk campground. Nesna is a great place to let your bike rest for a few days. There are many fantastic hikes in the mountains behind the village, and Nesna serves as a hub with ferry connections to many of the stunning islands along the Helgeland coast.
Continuing your journey, you can safely follow the Coastal Route (Kystriksveien), and if you're looking for an extraordinary detour, we recommend heading down to Sandnessjøen and embarking on island hopping with your motorcycle in Dønna and Herøy.
Takk for at du hjelper oss med å ta vare på naturen og lokalsamfunnene på Helgeland.
Takk for at du:
Praktiserer sporløs ferdsel, og tar med avfall og toalettpapir tilbake til nærmeste søppeldunk.
Planlegger toalettbesøk, slik at du får gjort det du må der det ikke er til sjenanse for andre.
Respekterer det lokale dyrelivet, holder hunden i bånd og holder god avstand til både ville og tamme dyr og fugler.
Respekterer privat eiendom, og holder avstand til private hus og hytter.
Viser godt båt-vett, holder god avstand til land, lav fart nært andre på vannet, inkludert dyr og fugler, og unngår unødig kjøring som skaper forstyrrende motorstøy.
Respekterer ferdsels- og ilandstigningsforbudet i sjøfuglereservatene i hekketiden.
Følger fjellvettreglene, og planlegger turer etter evne og erfaring.
Leier en erfaren guide på turene der du selv ikke har kunnskapen eller erfaringen som trengs for en trygg tur.